CityWalk opened in 1999, when the single-park Universal Studios Florida expanded to the full Universal Orlando Resort. And while it has seen its fair share of venues come and go over the past decade-and-a-half, it's never had a major shake-up or rebranding – until now. Earlier today, Universal held a small press conference at the dining/shopping/entertainment district, officially revealing what it's touting as the biggest expansion in CityWalk's history.
The new roster, part I: The (partially) well-knowns
Here's the deal: eight new venues are coming by the end of next year. Half of these are established brands, such as Cold Stone Creamery (a perennial favorite of my wife's and mine), Menchies Frozen Yogurt, Cowfish Sushi Burger Bar (which, I'm proud to say, we were the first to introduce to the world last month), and the Hot Dog Hall of Fame.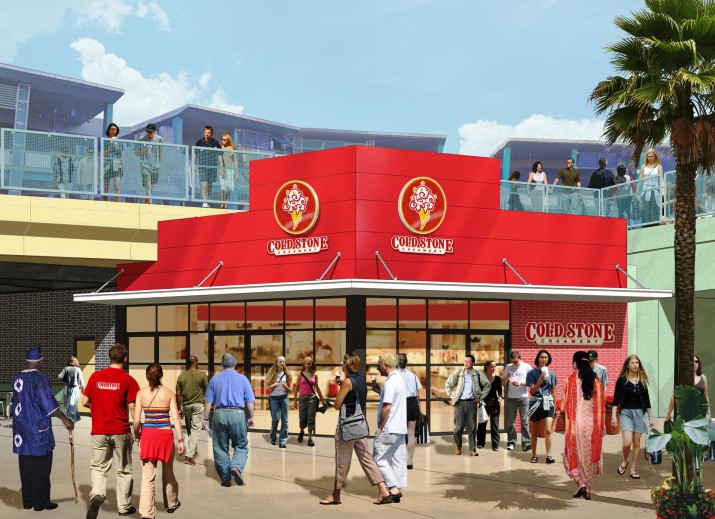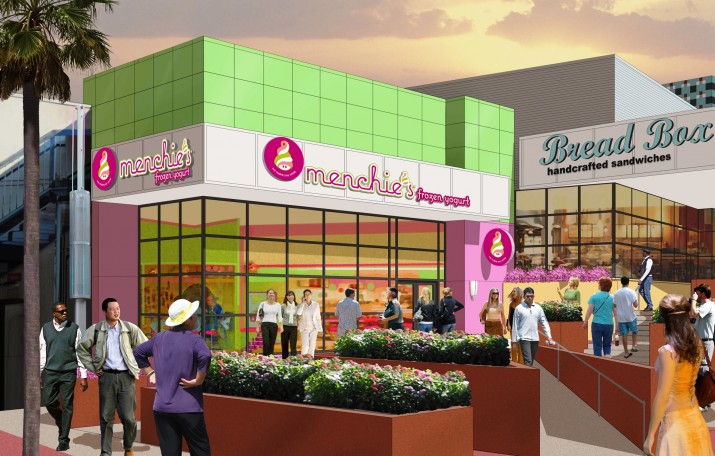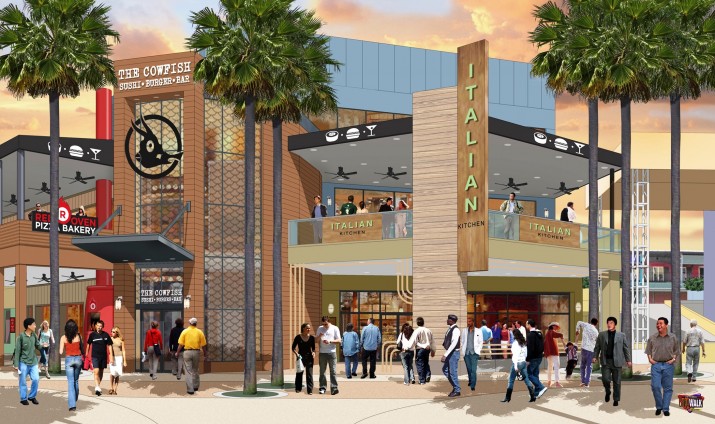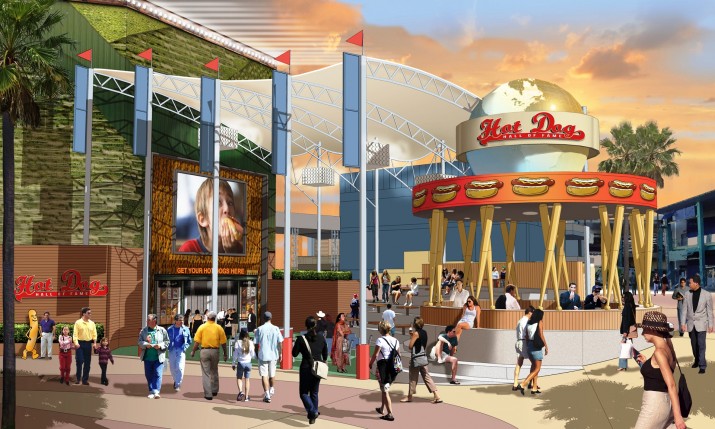 Let's pause for a moment on these last two restaurants, as they're rather intriguing; instead of being the traditional chain-style franchise, such as Burger King or Menchies, they're actually specialized properties that are expanding to only their second or third locations in Orlando (the two previous Cowfishes are in Charlotte and Raleigh, North Carolina, while the first Hot Dog Hall of Fame is in Wilkes-Barre, Pennsylvania). This adds a certain flavor of uniqueness to the new CityWalk while still keeping Universal from investing in and building up an all-new brand all by itself – the best of both worlds, as it were.
(Which is not to mention the pedigree found in at least one of these new properties: the Hall of Fame, which will serve all different styles of hot dogs from all across the nation's ball parks, is the brainchild of restaurateur Steve Schussler, who has such venues as the Rainforest Café and T-Rex under his belt, along with several others. If these two examples sound familiar, it's because they're currently residing in Downtown Disney, making this even more of a win for Universal – chalk it up as another example of the company "stealing" away designers and other personnel from its rival down the road.)
The new roster, part II: The originals
The other half of the new restaurants are original concepts, consisting of: Antojitos Authentic Mexican Food, a tapas eatery; Bread Box, a "home-style" sandwich shop; Pranzo Vivo Italian Kitchen, where "guests can watch as the culinary team handcrafts their pasta from scratch"; and, of course, the already-open Red Oven Pizza Bakery.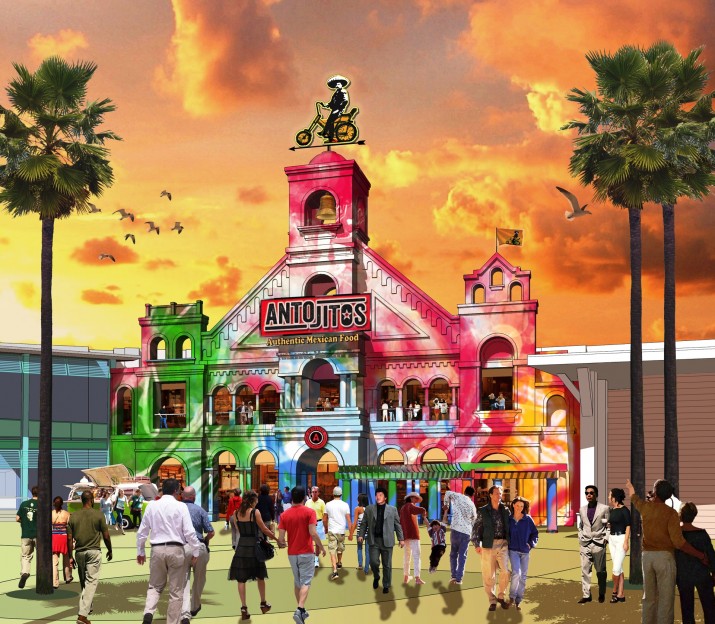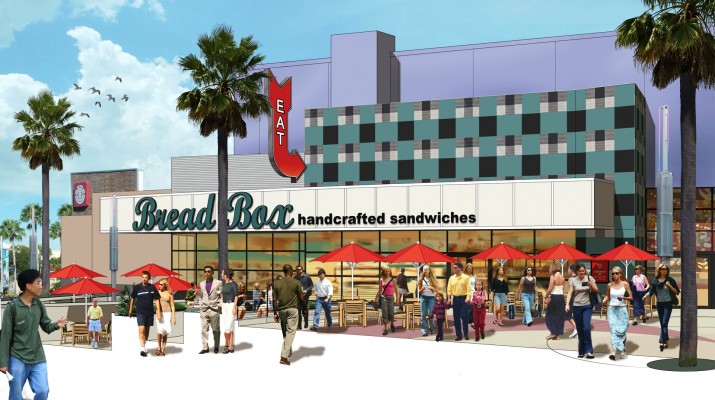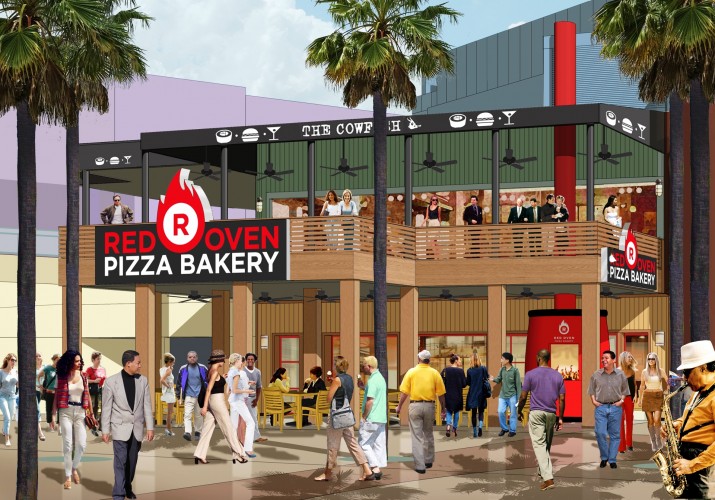 With Universal willing and able to choose from any type of cuisine or restaurant layout for its new lineup, the question must be asked: why these? It's obvious that some choices are meant to service certain culinary mainstays – Mexican, for example, or the ever-popular Italian – while others are designed to help plug the holes that have been present in CityWalk for the past several years, such as the lack of a Neopolitan-style pizzeria or a sandwich-on-the-go cafeteria. There's a certain breadth and depth being established here, which is an increasingly important target for Universal to hit as it enters what is undoubtedly going to be its busiest era yet with the debut of Cabana Bay Beach Resort next spring and the Wizarding World of Harry Potter – Diagon Alley following in the summer.
CityWalk 2.0
More holistically, Universal itself says that, whether a franchise or a new creation, there were certain criteria it wanted to hit with these new venues; the selections come "after a nationwide search for culinary concepts that include a mix of established national brands, up-and-coming concepts, and Universal's own creations. The new venues will share an overall theme that includes inviting common areas, al fresco dining, open kitchens, and more."
It's this last sentence that should catch your theme-loving eye, as the company will be quietly (or not-so-quietly) continuing to revamp certain sections of CityWalk, a process which it started early last year when first implementing its new post-Harry Potter plan. Part of this entails moving Starbucks down from its second-level perch to the ground floor, doubling its size and dramatically modernizing its look, while another piece of the puzzle is giving the Universal Studios Store a similarly sleek facelift.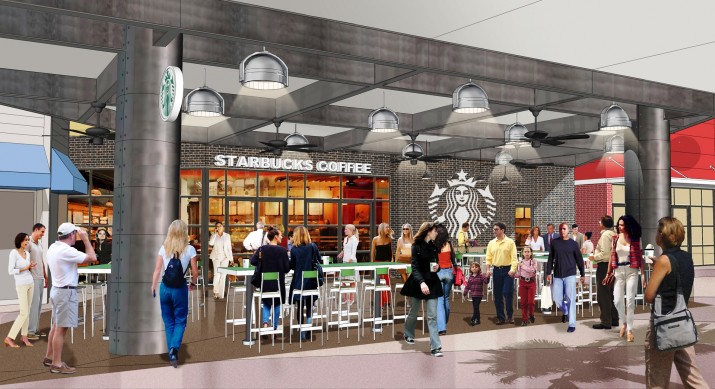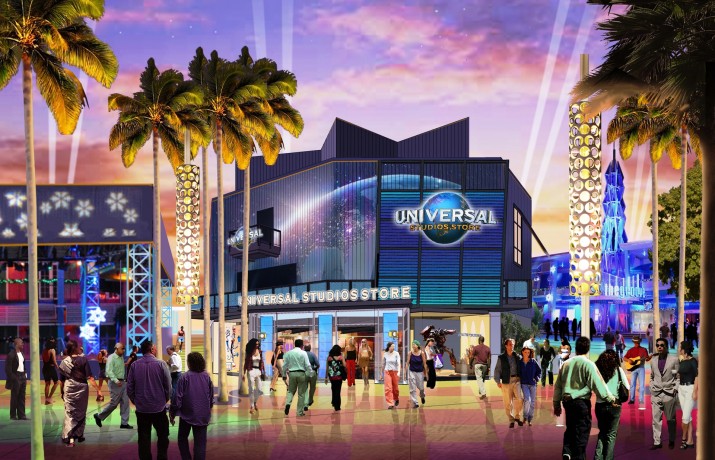 All of it is meant to make the entire area look comfier, more inviting, and more visually interesting – a move to capture families, younger children, and older couples, since Universal already has the night-life segment down pat. Consider this an early counter-move against Disney Springs, which is meant to replace and expand upon the appeal of Downtown Disney when it opens (in phases, of course) within the next two or three years.
The lay of the land
Phew.
That's a lot of changes in CityWalk's lineup, and it can be a bit confusing to keep track of what is opening where, what is moving locations, and, of course, what is closing down to make room for all of the culinary musical chairs. That's why we've compiled this handy-dandy list for your convenience, arranged alphabetically:
Antojitos – formerly Latin Quarter
Bread Box – formerly Cigarz (and Katie's Candy Company)
Coldstone – next to the new Starbucks location on the first floor
Cowfish – formerly Starbucks (on the second floor), with an added entrance sandwiched between Vivo and Red Oven on the first floor
Hot Dog Hall of Fame – formerly Galaxy Bar, a rarely-open walkup counter next to Emeril's
Menchies – formerly TCBY
Vivo – formerly Pastamore's full-service location
Red Oven – formerly Pastamore's quick-service location
New Starbucks – formerly Endangered Species Store
For the record, these are the current CityWalk venues closing at or near the end of this year: Cigarz, TCBY, Katie's Candy Store, and Pastamore.
Finally, as far as an opening date for the new venues, Universal says all will be open by the end of 2014.
Harry Potter and the Giant Tease
While CityWalk was clearly the focus of Universal's presser today, executives couldn't resist the temptation of sneaking in – or, perhaps, wish to avoid the fan/media backlash of not including – a little tidbit on the highly anticipated Diagon Alley. A video was shown of Mark Woodbury, the president of Universal Creative, Dale Mason, Diagon Alley's lead designer, and Stuart Craig, the production designer of all the Harry Potter films, discussing the upcoming Wizarding World expansion. Unfortunately, nothing new was announced, and even all the comments made by the three were carefully ambiguous; the Hogwarts Express and Leaky Cauldron, they promised, are going to provide for exciting new experiences – and that's it. (Well, okay, they did say this: Diagon Alley will be bigger than Hogsmeade, with "more alleys, more shops," and, just perhaps, more verticality in all the areas. That's something, I suppose.)
The only tidbit of note to trickle out from the sidebar? Expect to see a series of new announcements and reveals starting as soon as next month, building up to the crescendo that is opening day.
If you'd like something a bit more concrete to end this week's column with, enjoy these images of Diagon Alley's London facade that Dan shot only a few hours ago, including a first look at 12 Grimmauld Place without scaffolding: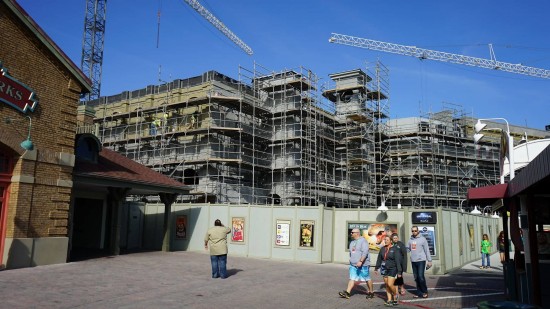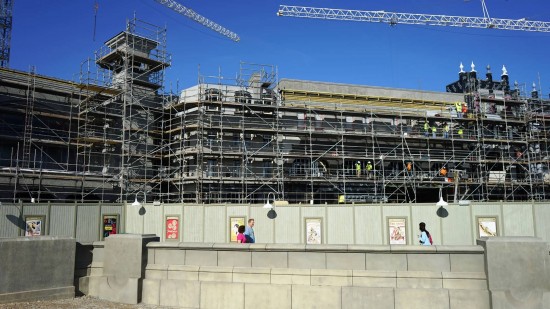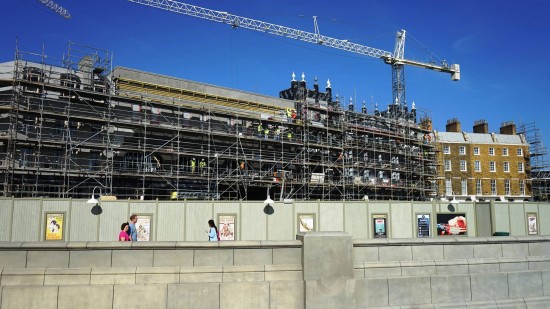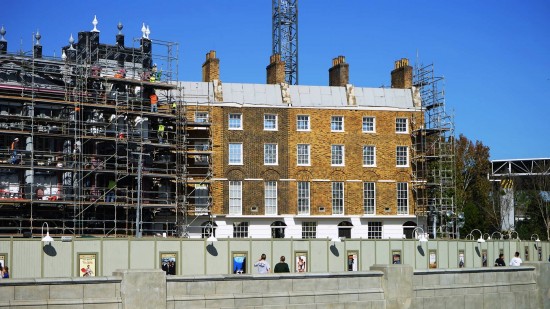 [youtube_video]VXktYOBTFcw[/youtube_video]
Would you like to see more? Dan has uploaded the 83 photos from his Universal tour to the OI Flickr page (December 12 photoset).
Would you like to learn more? We provided a great recap of the Gringotts coaster rumors in last week's RRU. Otherwise, to start from the beginning, check out the Harry Potter expansion page in the OI Universal Center.
DISCLAIMER FROM THE EDITOR
Please remember when viewing this post that a rumor is a piece of unverified information of uncertain origin; a statement whose veracity is not quickly or ever confirmed. So even though we try our best to present solid speculation, there's no way to guarantee any rumor will come true (then it wouldn't be a rumor anyway).
Thanks to Marc for researching the latest rumor buzz from sources across the Internet and condensing it down into a single post for us each and every week!
View all of our Rumor Round-Ups
[sws_author_bio user="msunyata@yahoo.com" size="105″ authorposts="More OI posts by Marc" name_format="About the author"] [/sws_author_bio]