Universal Orlando prides itself in being a family-orientated theme park for all ages. You see their dedication to this mission by hosting attractions and shows for a wide array of age groups, from young children to teens to adults. While I do personally believe anyone can have a great time at Universal Studios Florida and Islands of Adventure, I also understand that everyone has different health concerns and mobility levels, and some older adults may be inclined to think there just isn't anything for them to do at Universal. After several visits with my grandparents, I can tell you that this is not true!
Please keep in mind that my blog post is meant to be a helpful overview of what's available for older adults at Universal Orlando. For any specific health concerns or restrictions, view Universal's health restrictions by clicking here (PDF file) or contact Guest Services.
Universal Studios Florida for older adults
My grandparents can walk short distances, but walking around a theme park is a no-go for them. With bad knees and back pain, wheelchairs and electronic convenience vehicles (ECVs) are necessary on our vacations. At Universal Studios Florida you have a better chance of being able to do more because of the lower impact of the rides, since Universal Studios has fewer thrills rides and more shows and other attractions than Islands of Adventure. Rides that are great for the older adult and easily accessible if in a wheelchair include Shrek 4-D, Despicable Me Minion Mayhem, Twister, and Terminator 2: 3D. Shrek, Terminator, and Despicable Me can also accommodate with non-moving seats, or stationary platforms, while Twister is a standing attraction in which wheelchairs are welcome. For the thrill-seeking grandparent who is able to ride higher impact rides, The Simpsons Ride, MEN IN BLACK Alien Attack, and Disaster are fun and interactive, but be warned that these do have special effects including spinning and fast movements, which may not settle well.
Universal advertises that guests can stay in their wheelchairs throughout the experiences at: Shrek 4-D, Twister, MEN IN BLACK, E.T. Adventure, Terminator 2: 3D, Disaster, Fievel's Playland, and Curious George Goes to Town . While I do not personally recommend all of these for my own grandparents, having this knowledge in your back pocket may come in handy for the daring older adult.
As I mentioned above, Universal Studios Florida also offers an array of shows in which special wheelchair areas are designated and easy to get to, such as Fear Factor Live, Beetlejuice's Graveyard Revue, Animal Actors on Location, and the Universal Horror Make-up Show. These all offer great entertainment; in particular, my grandparents thoroughly enjoyed Animal Actors and the Horror Make-up Show right from their wheelchairs/ECVs.
Islands of Adventure for older adults
Islands of Adventure, the more "thrill ride" filled of the two parks, is more of a struggle when traveling with older adults. However, even though it may offer less accessible-friendly attractions, I definitely recommend still having them go! Rides in which guests are allowed to stay in their wheelchairs include Cat in the Hat, Caro-Seuss-el, Camp Jurassic, and One Fish, Two Fish, Red Fish, Blue Fish. This is not a large array of rides for the older adult, but Islands of Adventure can still be a full experience. Traveling from island to island with the scene and musical changes is enough of an experience to allow for a great time. My grandparents thoroughly enjoyed seeing the reactions of their grandchildren loading off the high-speed rides and taking photos while enjoying the different foods and décor of each island.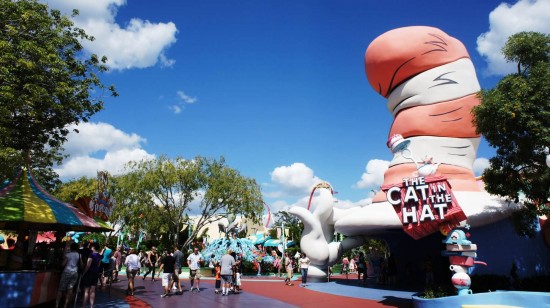 My grandfather is able to walk a bit more than my grandmother, who did not leave her wheelchair when inside the parks. At Islands of Adventure my grandfather joined us on Jurassic Park River Adventure, Dudley Do-Right's Ripsaw Falls, and Flight of the Hippogriff, all of which also offer specially designed vehicles for easy transfers from wheelchair to vehicle. While these rides are definitely a bit higher impact, my grandfather was still able to enjoy them since they are not as intense as some of the larger roller coasters or high-speed attractions. Additionally, one of his favorites (though full of spins) was the Amazing Adventures of Spider-Man. And even though guests in wheelchairs cannot ride Harry Potter and the Forbidden Journey, keep in mind that they are more than welcome to take a tour through Hogwarts Castle, which both of my grandparents enjoyed.
Islands of Adventure offers a lot of amazing shows with handicapped seating or lower levels, so there is not a lot of walking. Some of the shows include Poseidon's Fury, The Eighth Voyage of Sinbad and Oh! The Stories You'll Hear.
Additional accessibility concerns
For grandparents who use oxygen tanks, these accessories are unfortunately not allowed on many attractions. The exceptions include Shrek 4-D, Terminator 2: 3-D, Curious George Goes to Town, Fievel's Playland (except the waterslide), and Despicable Me. My grandfather is also hard of hearing, but Universal is very helpful in this field. Many of the queues are equipped with amplified audio for assistive listening along with many attractions, some of which include Cat in the Hat, the Amazing Adventures of Spider-Man, Twister, Men in Black Alien Attack, and Terminator 2: 3-D. This is also offered at many of the shows. Captioning in the queues is offered by request through the use of personal transmitters and scripts outlining the dialogue of many attractions are offered at Guest Services. Along with these options, Sign Language interpreting is available at both parks free of charge. The show schedules provided at the front gates of the parks note which times and shows this is offered at.
A vacation destination for all ages
While every case is different and accessibility ranges widely, grandparents and older adults can definitely still enjoy a trip to Universal Orlando. Accommodations are made within both of the theme parks for those who need wheelchairs or ECVs (note that ECVs are not allowed in line queues), and for those who just prefer lower impact attractions, there is a wide variety at Universal Studios Florida and Islands offers great shows. At the end of the day, Universal Orlando is a vacation destination for all ages, and team members are always willing to help for those who have special accommodations or preferences.
For those who would like to learn more about visiting Universal Orlando, including descriptions, photos, and videos of each attraction, please visit the OI Universal Center. If you would like to learn about Universal's Attraction Assistance Pass, which can be used by qualifying guests to bypass longer lines, visit the Attraction Assistance & Guest Assistance Passes page. Finally, our Special Needs Are Universal blog series can also answer many of your questions.
[sws_author_bio user="AllyPfeiffer" size="105″ authorposts="More OI posts by Ally" name_format="About the author"] [/sws_author_bio]