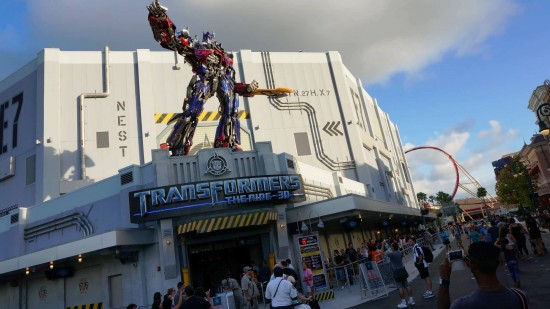 Today is the fourth day in a row Universal has invited guests to ride Transformers. Here's what the scheduled has looked like:
May 30: The very first technical rehearsals opened to the public at approximately 7:05pm and lasted to 8:45pm.
May 31: Transformers opens for a second night in a row for technical rehearsals, from approximately 6:50pm to 8:45pm.
June 1: Transformers opens for a third night in a row for technical rehearsals, from approximately 6:00pm to 9:30pm.
June 2: Technical rehearsals opened at 2:35 and was still open as of the time this post was published.
Going forward, Transformers should be running on an almost daily basis, and we hope that Universal will soon settle into a routine so we can reliably expect the ride to be open at certain times. Of course, as soon as that happens we'll update our Transformers page!
FAQ: What's the best way to find out about Transformers technical rehearsals?
There is never a published schedule for for technical rehearsals, often called soft opens, so until Universal starts getting in a routine the easiest way for you to learn about technical rehearsals is to follow us on Twitter, where we will bring bleeding edge coverage…
#Transformers @universalorl is open for technical rehearsals – third night in a row! twitter.com/OrlandoInforme…— Orlando Informer (@OrlandoInformer) June 1, 2013
If Twitter isn't your thing, you can also like our Facebook page, where we will certainly post updates — just not as up-to-the-minute as our Twitter updates.
FAQ: What's a soft open / technical rehearsal and how do I sign up?
Before major attractions like Transformers celebrate their grand opening, they open periodically to the public during the two or three week period leading up to the grand opening. This allows the park to get team members fully trained in running the attraction with actual guests, and it also allows the park to work out any remaining kinks in the system. These unannounced, unpublished openings are often called soft openings. The catch is that there is never a schedule given to the public, and these rehearsals may last an hour, a few hours, or just a few minutes… it all depends on how much training is needed and whether or not problems develop.
In many ways this is a "gotta be in the right place at the right time" situation. Hopefully when you get the word via our Twitter account that Transformers is currently open to the public, you'll already be at the park! If you're not already at the park, be aware that the ride could close again to the public before you have a chance to arrive, park, and run to Universal Studios Florida.
FAQ: So what did you think of the ride?
I am very happy to share with you some quick thoughts about Transformers: The Ride, as I got my first chance to ride it Friday night.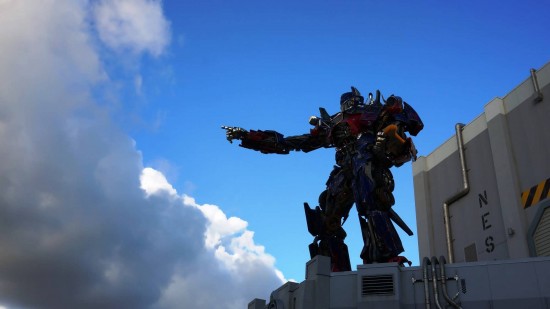 I LOVED IT.
I will be perfectly honest — when I rode Transformers in Hollywood I was not very impressed. I felt that it was so similar to The Amazing Adventures of Spider-Man at Islands of Adventure that I couldn't even get into it. I felt like I was just riding a re-branded Spider-Man ride, and I've been on that a hundred times, so what is one more ride?
It was with that mindset that I entered Transformers at Universal Studios Florida — ready to be underwhelmed.
When I left the building, I had a new mindset — amazement.
There's no doubt that many aspects of Transformers are similar to Spider-Man. But I would like to suggest that Orlando's iteration of the Transformers ride is a very different experience than Spider-Man. It is sort of like saying that, in many aspects, driving a minivan is like driving a high performance sports car. Sure, you have to press down on the accelerator to get both to move — but when you press down on that pedal in each vehicle, two very different things happen. This isn't a slam against Spider-Man, I think we all love that ride. This is just my attempt to explain how much more intense Transformers felt to me.
Comparison between Transformers Hollywood and Transformers Orlando: In terms of intensity, Hollywood was like seeing a movie on an expensive home theater, whereas Orlando was like seeing a movie in a premium IMAX theater. The effects were so sharp and the imagery was so engrossing that I actually used the word "ethereal" to describe my experience riding Orlando's version to a fan on Twitter.
So yes, I loved the ride, I love that it is in our park, and I love that I get to share this new attraction with so many other Universal fans this summer.
I know this is a very brief review of the ride. I wasn't trying to give you a full rundown, I just wanted to share my initial reaction. Once I've had a chance to ride it a few more times and see the full queue, I'll be writing much more.
Ready to see some photos? Below you will find my large photo gallery from Friday night.
Keep in mind that this is just a quick blog post to bring you up to speed with the latest that's happening at Transformers (and to show off some photos!). For the very latest information, and to see our complete guide to the attraction, you gotta visit our Transformers: The Ride page in the OI Universal Center.
Transformers: The Ride – photo gallery
Click any image to view it full-screen. When the full-screen image is open, click to the right or use the right arrow on your keyboard to advance through the gallery.