Starting the week of March 4, Optimus Prime and Bumblebee have begun daily appearances for guest meet and greets inside Universal Studios Florida. Although as of today the hours are unpublished, the buzz around town is that they will be trading shifts between 10:00am and 4:00pm each day.
These characters are AMAZING, and this is one photo opportunity you do not want to miss…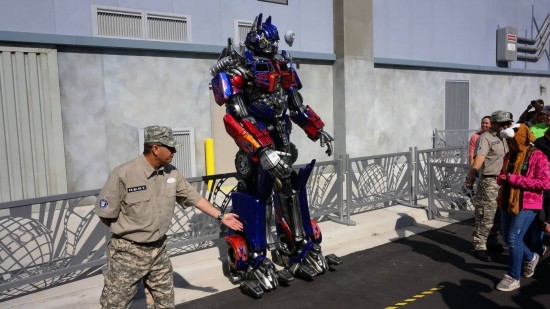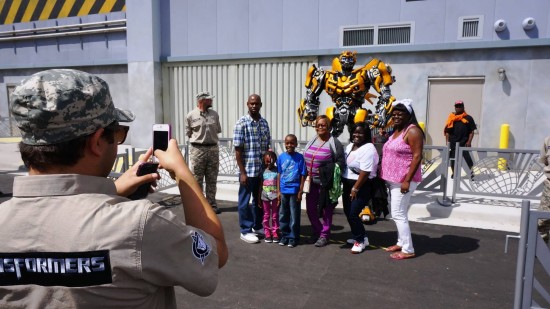 The appearances are a clear sign that Universal wants to build up a lot of buzz RIGHT NOW for the Transformers opening, which has to be a sure sign that the ride will be having technical rehearsals soon. And of course all this supports our estimate of an April soft open and a May grand opening (even though Universal hasn't announced a date other than "summer" 2013).
In addition to our 19 photos, we also got this pretty incredible HD video of the characters. Enjoy!
[youtube_video]wmkDAfket-Y[/youtube_video]
For those of you who are interested in have Universal take your photo, I'm happy to let you know that they have an official photographer stationed at this meet and greet.
By the way, did you hear that the parks recently overhauled their Universal Photo Connect system? There were lots of changes, so I'd recommend that you check out our completely updated guide before you head to Universal!
And of course, to view our complete collection of Transformer information including over 200 images going all the way back to the start of the construction project, check out our Transformers: The Ride page in the OI Universal Center.
Transformers characters at Universal Orlando – photo gallery
Click any image to view it full-screen. When the full-screen image is open, click to the right or use the right arrow on your keyboard to advance through the gallery.