Given the immense amount of excitement that is building for the opening of Transformers: The Ride at Universal Studios Florida in Orlando, I thought I'd take a few moments and bring everyone up to speed on the very latest developments.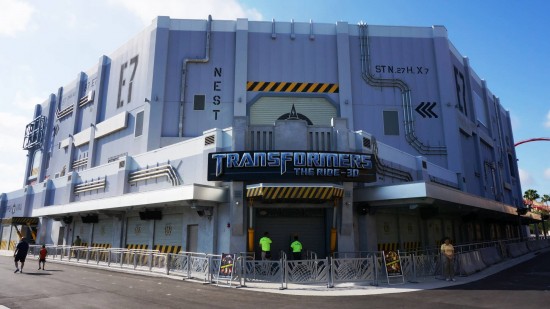 Here's the question I get about a dozen times a day, so let's knock it out right away:
When is Transformers at Universal Studios Florida going to open?
Here is the timeline to the best of our knowledge (keep in mind we don't work for Universal, so none of this is official):
April – Construction to be finished and ride testing.
April 19th – Select media invited for no-cameras sneak peak at Transformers queue. Your friends at Orlando Informer were not invited, but we've got something even better — keep reading.
Early May – Team member training begins, we've heard either on May 2nd or May 5th.
Late May – Team member rides begin.
Early June – Technical rehearsals first open to the public.
June 20th – We've been told by five different sources that this is the working date for the Transformers grand opening.
Let me mention again that we don't work for Universal, so the timeline presented above is an educated guess based on information we've been given from several sources. However, these dates are approaching quickly, so we all can be certain an official announcement is imminent.
What's the best way to find out about Transformers soft openings?
Soft openings, or technical rehearsals, will likely begin in the first week of June. The easiest way for you to learn about them is to follow us on Twitter, where we will bring bleeding edge coverage just as we did for the Despicable Me technical rehearsals last summer…
We've received multiple confirmations now that @uornews Despicable Me is open, just in time for the first #SCS night 🙂 — Orlando Informer (@OrlandoInformer) June 9, 2012
By the way, remember when Universal Orlando's Twitter handle was @UORnews?
If Twitter isn't your thing, you can also like our Facebook page, where we will certainly post updates, just not as up-to-the-minute as our Twitter updates. (By the way, for those of you who don't like Twitter, did you know you can view our Twitter feed on Facebook at any time? Here's the link)
What is a soft open?
Before major attractions like Transformers celebrate their grand opening, they open periodically to the public during the two or three week period leading up to the grand opening. This allows the park to get team members fully trained in running the attraction with actual guests, and it also allows the park to work out any remaining kinks in the system. These unannounced, unpublished openings are often called soft openings. The catch is that there is never a schedule given to the public, and these rehearsals may last an hour, a few hours, or just a few minutes… it all depends on how much training is needed and whether or not problems develop.
As a guest who wants to experience the ride during technical rehearsals, it really comes down to following us on Twitter — as we will post anytime we hear that Transformers is open to the public — and being able to get to the attraction once you hear it's open for guests to ride.
What's this I hear about Evac, the new Transformer?
Yesterday Universal released its first piece of "classified intel" as the resort's social medial channels amp up for the opening of Transformers. This first piece of intel was a rendering of Evac, the character which serves as the Transformers attraction narrator and ride vehicle. Technically this isn't the first spotting, as the attraction starring Evac is already open in Universal Studios Singapore and Hollywood. In fact, we had the good fortune to visit Universal Studios Hollywood last weekend, and that's how I can present this image with Universal's Evac rendering on top and the actual ride vehicle on the bottom: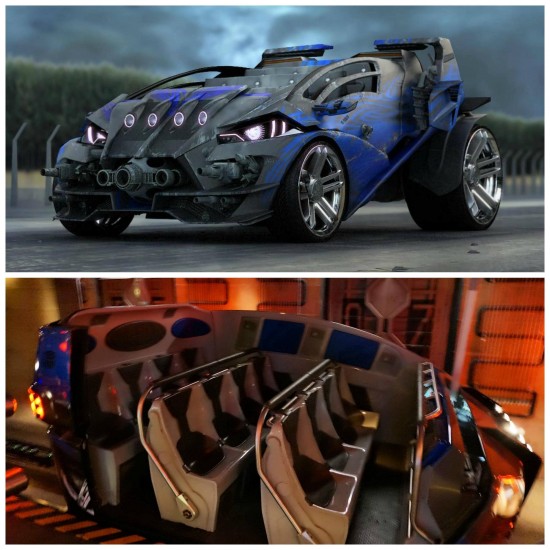 Look familiar?
Indeed, if you think Evac looks a lot like the Scoop ride vehicle featured in The Amazing Adventures of Spider-Man at Islands of Adventure, you are right on: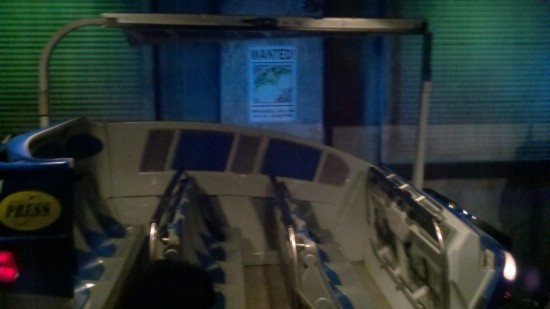 Since I got a chance to ride Transformers at Universal Studios Hollywood, are you wondering what I thought of the attraction? Without getting into a lengthy discussion, here is my opinion: A lot of fun, very intense, but for us Universal Orlando fans it is really similar to Spider-Man. No matter — it'll be an amazing addition to the lineup at Universal Studios Florida!
Can we see inside the Transformers queue?
As I mentioned, select media were invited last Friday to a preview of the Transformers queue. No cameras were allowed, so no one got footage of the actual Transformers Orlando queue. But our visit to Transformers on the west coast provided us with the perfect opportunity to get full coverage of the Hollywood queue, which I am happy to show you now. It is our understanding that the Orlando queue is shorter than the Hollywood queue, but the elements are essentially the same.
[youtube_video]XYGLM0GF5v0[/youtube_video]
If you'd like to see more, check out the photo gallery below, which includes 50 full-screen images of Transformers at Universal Studios Hollywood.
So that is a summary of the very latest news. Of course, this is only the tip of the iceberg when it comes to our Transformers coverage. To see it all, including all the news and a complete construction photo gallery going back to the demolition of Soundstage 44 at Universal Studios Florida, please visit our Transformers: The Ride page in the OI Universal Center.
Transformers queue at Universal Studios Hollywood – photo gallery
Click any image to view it full-screen. When the full-screen image is open, click to the right or use the right arrow on your keyboard to advance through the gallery.