I've been to Walt Disney World many times since my first visit in the mid 90's. But somehow, in all those visits, the one place I had never managed to get to was Disney's Fort Wilderness Resort & Campground. I decided that this oversight had to be remedied during my last visit.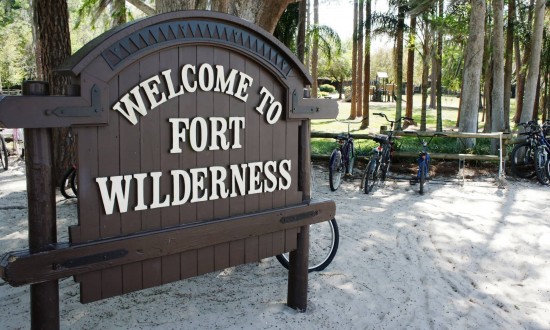 We hopped the boat from Magic Kingdom and took the relaxing, approximately 15 minute, trip to Fort Wilderness (this boat ride is an awesome way to see the lakes near Magic Kingdom, and remember, it is complimentary for all guests). Now I'll admit, for the most part, I'm really not in to the whole camping thing, which is probably why I'd never bothered to visit Fort Wilderness before. But I was pleasantly surprised by the tranquil setting and rustic atmosphere of this unique Disney World "hotel" property, whose residents rely primarily on tents and campers for accommodations. After enjoying the sights and sounds of camping at Disney, we headed to the Trail's End Restaurant.
Pioneer Hall, where the Trail's End Restaurant is located, is a short walk from the boat dock. If you're trying to get here by bus, you'll need to take a bus into the Outpost Depot, and then make a connection to another bus which will take you to the Settlement Depot, which is also a short walk to Pioneer Hall. (While we didn't take the bus in to the resort, we did take this transportation option out, and they seemed to run quite frequently between the two stops.)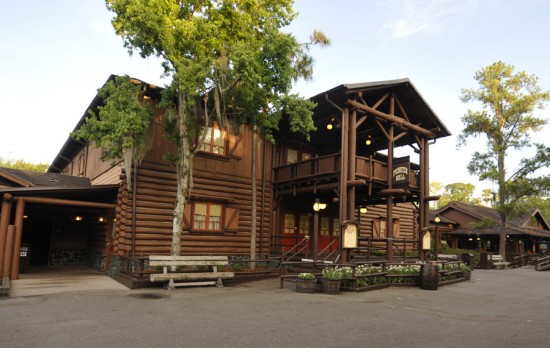 My husband and I hadn't made a reservation for lunch, as I didn't think we'd need one for lunch as guests are often at the parks at that time of day. Fortunately, I was right. Our server, Donnell, was at our table shortly after we sat down to take our drink order, and this is where the tale of some of the best customer service I have ever experienced at Walt Disney World begins.
As you likely know by now, I manage the Drinking Disney blog. Because of that, I usually make it a point to order a cocktail of some sort to try when I dine at Disney's table service restaurants. So here, at the Trail's End, I proceeded to order a Scottish Lemon Drop.
At this point, Donnell hesitated for a moment. Then he proceeded to apologize and told me the bartender wasn't there yet. Of course, I immediately told him that that was no problem (it wasn't), and I'd just have a Coke instead, which was something that I know I professed at least half a dozen times during the ensuing chain of events. But Donnell said that if I wanted that drink, then he was going to make sure I got it.
Our server attempted to find the book to make the drink himself (I'll be honest… when he told me he didn't know how to mix drinks, I was a little scared). Then Donnell conversed with the manager on duty, and the two of them tried to figure out how to make the drink together (neither of them knew what it meant to "muddle"). They then asked around to see if someone who used to work as a bartender was working in the kitchen that day (she wasn't). And then finally, as if the Patron Saint of Cocktails had smiled down upon me, the bartender decided to come in hours ahead of schedule that day.
At that point, the best Scottish Lemon Drop EVER was procured.
It was absolutely delicious, and I'm not even a big gin fan.
The version of the story I've shared here doesn't fully relate the lengths to which Donnell went to get that drink made for me. But I do hope it relates what a fine example of "old school" Disney customer service this was.
Now it was time to order our meal. The Trail's End has a fairly good-sized lunch menu, filled mostly with southern homestyle cooking. We decided to start with an appetizer of Housemade Cornbread ($3.49), which arrived quickly, along with a generous portion of whipped honey butter. The butter was sweet, but not overly so, and complimented the cornbread well.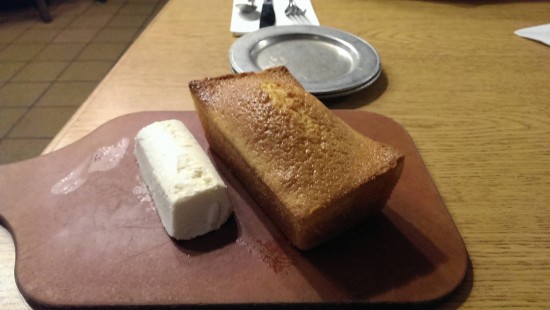 For lunch I decided to get the Angus Chuckburger, which comes with with Candied Bacon, Hickory-smoked Sharp Cheddar, and Piccalilli served with house fries ($13.99). My husband went with the Spicy Shrimp and Grits, served with Andouille Sausage and Red-eye Gravy ($16.99).
The burger was cooked to my specifications and came out hot, accompanied by plenty of options for toppings. And that candied bacon? Oh, hello! It was great. I've tried quite a few Disney burgers over the years, and I'd say this one qualifies as one my favorites. The "house fries" that accompanied the burger were a decent-size portion of regular and sweet potato fries mixed, which delighted my husband as he loves sweet potato fries.
We found the shrimp and grits to be a little on the greasy side, but we figured the andouille was the cause of at least some of that. Regardless, the shrimp and grits came out hot and while the dish was spicy, it wasn't overly so. My husband said he would definitely consider ordering this dish again.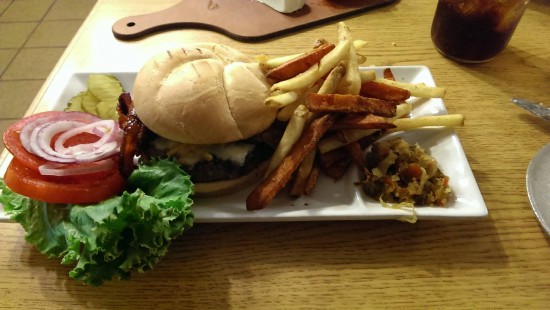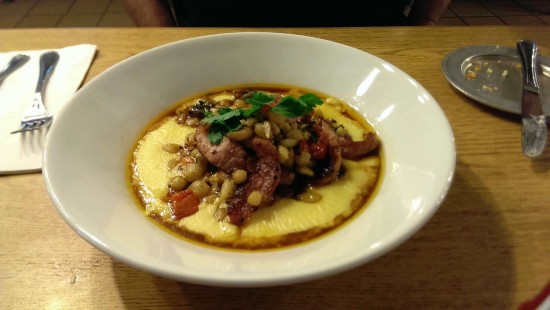 Neither of us could even entertain the idea of a dessert after this meal, though the restaurant did have some offerings that sounded delicious: Wilderness S'mores, a combination of dark chocolate mousse layered with graham crackers, topped with toasted marshmallows, and drizzled with chocolate sauce ($4.99); and Pecan Pie with Jack Daniels ganache and whipped cream ($5.99). Maybe we'll have to start with dessert next time and work our way backwards to see if we have room for the meal!
Throughout the course of our meal, Donnell checked in on us to see if we needed anything and made sure everything was good. We assured him it was and thanked him again for such wonderful customer service. After the meal we went on our way with smiles on our faces.
Our experience at Trail's End turned out to be the highlight of this trip to Walt Disney World. Needless to say, I recommend it to all — and combined with the boat ride and a walk around the Fort Wilderness campgrounds, you can easily make an afternoon out of it. Take a trip off the beaten path at Disney, and if you go, say hi to Donnell for us!
These posts are a little older, but if you'd like to learn more, visit:
A full day of free activity around Disney's Magic Kingdom resort area
Scenes from Disney's Fort Wilderness & Wilderness Lodge – photo gallery, video
Disney's Wilderness Lodge & Fort Wilderness Transportation: Tips and help
Trail's End Restaurant – map & links
Click any marker to display the attraction or venue name. To scroll or zoom, use the controls on the top-left of the map. You may also switch to different map views by using the buttons on the top-right of the map.
Official website: https://disneyworld.disney.go.com/…/trails-end-restaurant/
[sws_author_bio user="KatSRQ" size="105″ authorposts="More OI posts by Kat" name_format="About the author"] [/sws_author_bio]