With Disney holding the grand opening for its New Fantasyland on December 6, as well as opening other completed projects on this date (Test Track, Splitsville), this seems like the perfect time to go over the best new experiences in Orlando for 2013.
In this post we will countdown from number 10 to 6. Keep in mind that most of what I write about here is confirmed, but I do rely a little bit on rumor. After all, isn't speculation a big part of the fun of being a theme park fan? Here we go…
10. The Land of OZ
The whimsical Land of OZ is being built for the Disney's 2013 Flower and Garden Festival. The rumor is that the attraction will be an immersed play area for children of all ages. One can only hope that after all this effort, Disney can find a permanent home for an OZ attraction, perhaps to compliment the Great Movie Ride and Disney's new film "OZ: The Great and Powerful," with James Franco and Michele Williams to be released in 2013.
[youtube_video]yyywumlnhdw[/youtube_video]
9. Fun Spot America
This amusement park is giving the "Big Boys" a run for their money. The fun begins with not one but two roller coasters will be coming online in 2013. Plus, a third attraction, a 250 foot tall Sky Coaster, will help draw some extra attention to the north I-Drive location. This "little engine that could" is taking a calculated risk in trying to borrow time from everyone's vacation and steal profits from the larger theme parks. Two top ride manufacturers, Chance-Vekoma (family suspended coaster) and Great Coaster Incorporated (Steel-Wood Hybrid) are building the two theme park quality coasters. Visit FunSpotAttractions.com to learn more about their parks.

8. Starbot Café
As Universal Studios Classic Monsters Café has demolition permits already filed, it seems only natural that Starbot Café from Universal Studios Singapore will soon join Transformers: The Ride for its summer debut.
With streaks of blue lightning and unusual diagonal forms, this cafeteria style restaurant is bizarre, yet inviting. The floor is divided into two areas: a large indoor seating area, and a queue lane that wraps around the edge of the cafe. It's kind of like IKEA's restaurant.

Stations in the Human Refueling Center:

Bottle drinks and desserts
Cube Station (Salads and chilled dishes)
Snack Station (Finger food and friend snacks)
Main course station
Drinks and more desserts
Thank you to Dejiki.com for that description and this image: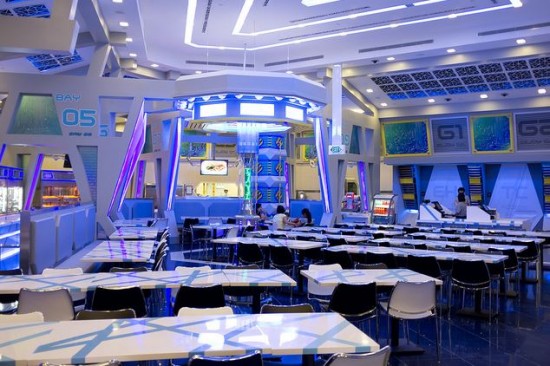 7. Princess Fairytale Hall
Expectations have been raised for "character meet and greets" in the Magic Kingdom's Fantasyland expansion. Let's hope this one incorporates more of Disney's Next Generation Tech like Enchanted Tales with Belle and not regress to a generic meet and greet akin to Buzz Lightyear's in Tomorrowland. Disney promises a royal experience with all of the classic princess available for pictures and more. As this attraction now occupies the space of the original Disney classic ride Snow White, expectations are as high as they should be.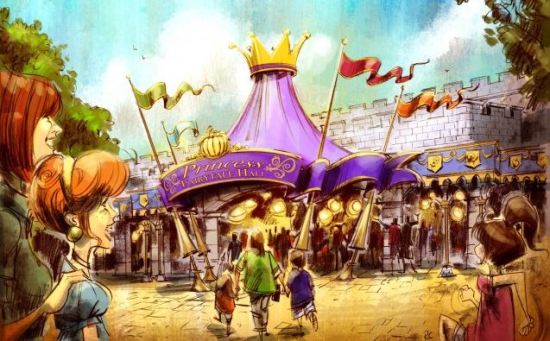 6. Wicked The Musical
The props and supplies from Wicked The Musical were moved to Orlando when the theme park version closed at Universal Studios Japan, so the speculation begun: Would it replace Blue Man (rebuffed), or take over the Toon Lagoon amphitheater, Fear Factor's home, or Terminator?
Wicked would be the only new show added amongst all the rides being built on Universal's property. In my opinion, the prime location for Wicked is the adjoining soundstage to Twister, where the show and the Twister attraction would create a new synergy that has been lacking in that area of the park.
If you are curious, here is a description of the show produced in Japan: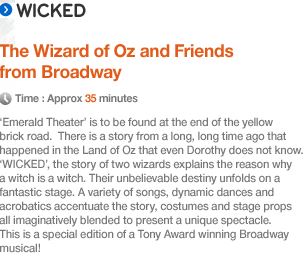 Thanks for checking out part 1 of my list. When you're ready for more excitement, you can go to part two.
[sws_author_bio user="RobertMorris" size="105″ authorposts="More OI posts by Robert" name_format="About the author"] [/sws_author_bio]