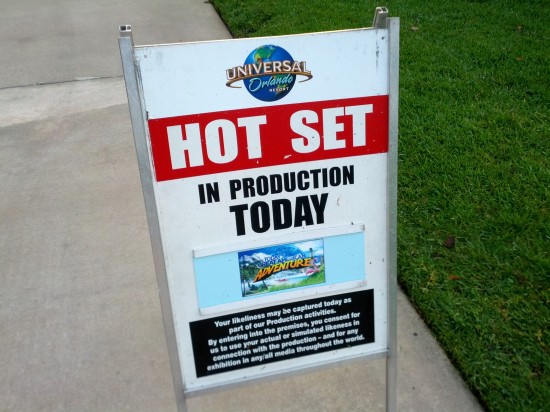 On Tuesday, May 14, Universal Orlando sent out a "casting call" of sorts: NBC's TODAY Show would broadcasting live from the Universal on Thursday, May 23.  The first 1000 fans to RSVP to an email address would receive a complimentary one day park-to-park ticket and a chance to interact with the show's hosts. By Wednesday all spaces had been filled and, due to the demand, Universal announced they would open at 7 am so those already with paid admission could get a glimpse of the broadcast. This special show was part of Today's Great American Adventure beginning Monday, May 20.
However, on Monday — the first day of this series — an EF5 tornado ripped through the town of Moore, Oklahoma. In respect for this natural disaster, the show decided to pare down the broadcast because at this time, they felt the hosts of the show might still be in Moore.
TODAY Show live broadcast
I was able to tune in shortly after 8 am (Take 2 – the first hour was Take 1). Since I was expecting a pared back version, I wasn't surprised to see a couple weather reports from Al Roker and most of the hour was from the New York studio with Matt Lauer, Savannah Guthrie and Tamron Hall. The coverage I was waiting to see (along with all Universal fans) started at about 8:40: Al spoke with Optimus Prime and Bumblebee, announced the opening of the Transformers ride opening June 20, while standing on the bridge next to the Universal Globe.
Al accidentally said one of OP's lines, so he gave his famous "That's what's going on around the country, now here's what's happening in your neck of the woods" line to Optimus Prime.  Pretty cool voice, actually.  The hour finished with a movie trivia challenge between the New York and Orlando hosts.
Can you believe, when asked how many Harry Potter movies were produced, the New York team answered 7? Questions were asked by Universal Orlando's MC, Greg Fawcett.
At 9 am (or Take 3) the show started on the plaza outside the Universal Studios gates with Al, Natalie Morales and Will Geist siting in director's chairs.  The Studio Brass Band played while the ENTIRE cast of Universal characters danced. Al gave a report on Moore, since he'd just flown in from Oklahoma. He was impressed by the first responders and how many people showed up to help, not knowing anyone else but working together, hand in hand, to try and make it better for the citizens of the town. After taking care of other news business, the hosts talked about their first theme park experiences. Natalie told about her trip to Universal's "Harry Potter World" with her children and Willie sampled some Bertie Bott's Every Flavour Beans; he said he got a sulfur flavored one. The Street Break dancers and Power Skips performers took it to Al's weather and a commercial break.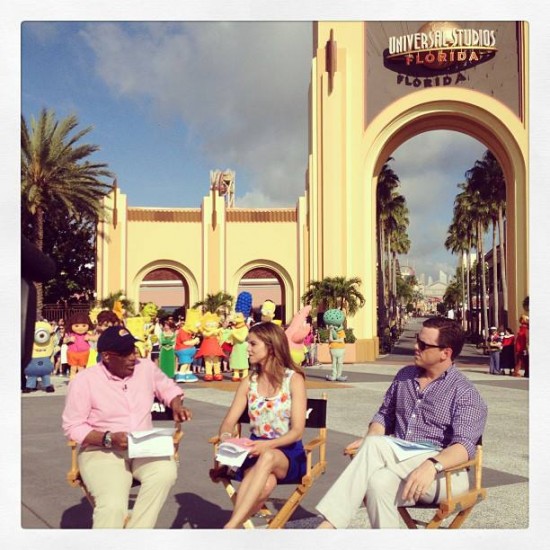 When the show returned, the show hosts had moved inside Universal Studios. It was obvious at this point that this hour would not be scaled back, although there was little coverage from inside Islands of Adventure. My Downs daughter, Erin, sat and watched the whole hour, pointing and smiling, using sign language to indicate she KNEW what she was seeing and wanted to "go", NOW!  Her reaction to the production really tickled me!
Shown during both hours were wonderful shots of the Universal property, CityWalk, rides and crowds that really did show how inviting Universal looks and IS. The TODAY Show presented our favorite landmarks very well.
In line with the Great American Adventure theme, a previously taped video was shown about America's love affair with theme parks, beginning with the 1893 Chicago World's Fair, the introduction of the midway and the progression of theme park rides from rudimentary to the high-tech ones we enjoy today.  Did you know that the Universal Orlando Resort covers 107 acres, has 26 rides, 16 dinosaurs, 24 Simpson characters, countless minions and 76 restaurants? Not to mention our favorite resort has a whole lot of nostalgia.
Al did the "Vitameatavegamin" health tonic skit with Lucy – shown in black and white, it was a hoot! At the intersection of Rodeo and Ivan, Al sang with the Blues Brothers. The Superstar Parade had an early morning step-off, and was shown as it passed Despicable Me. There was another weather update and another video, this time a behind-the-scenes peek at Universal Orlando — see it here. More facts by the number were given: the preparation of food for the restaurants is a 20 hour operation, with 1000 confections produced, 2000 cups of gelatin and 500 pounds of chocolate chip cookie dough for 15,000 cookies.  They showed the inside of the guarded Universal Creative department and as they showed the story board for the Wizarding World of Harry Potter, I paused the frame to see if anything on the wall resembled what might be for Diagon Alley.  No such luck, darn it.  The creative director described the shows and parade as "organized chaos".
They showed the regular Thursday installment of "Steals and Deals" with Jill Martin set up in front of The World's Largest Betty Boop Collection" shop. Nothing offered was Universal-related. I was hoping for a deep discount on a wand. At the end of this segment Minions over-took the displays creating, of course, mayhem. The last pre-taped video was a by NBC reporter Kerry Sanders on other Central Florida attractions, including the Kennedy Space Center, which will open the "Atlantis" exhibit in June. He ended his report sitting on the back of an alligator at Gatorland.
Today's Great American Adventure ended with Natalie, Willie and Al driving up Rodeo Drive in a red '57 Chevy convertible, confetti in the air.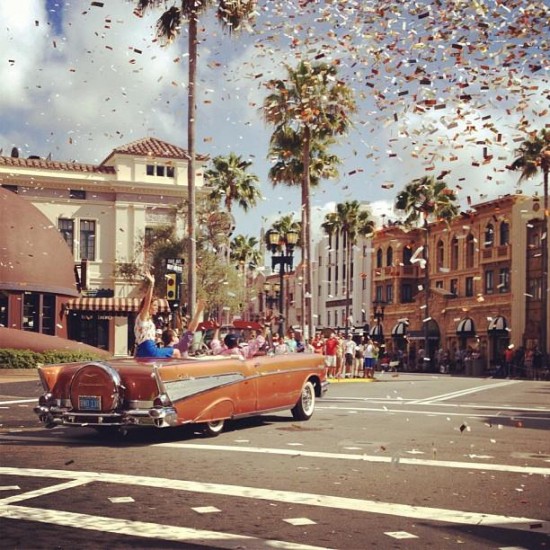 All in all, it was a very informative piece that made Universal Orlando a vacation spot that just should not be missed this summer.  My daughter sure is excited to get going – she's bugged me all day long…
[sws_author_bio user="iamdollie" size="105″ authorposts="More OI posts by debi" name_format="About the author"] [/sws_author_bio]