This week government officials gave their a-okay to NBCUniversal's $1.6 billion expansion plan for Universal Studios Hollywood. This 25-year project includes the building of Hogwarts castle and ultimately a west coast version of the Wizarding World of Harry Potter. What's important to note is that this is not new information, as Universal officially announced their Hollywood expansion plans at the end of 2011 — see our blog post. This is the same media event where Universal announced an expansion was coming to Orlando too, but did not give a single detail about the Orlando project.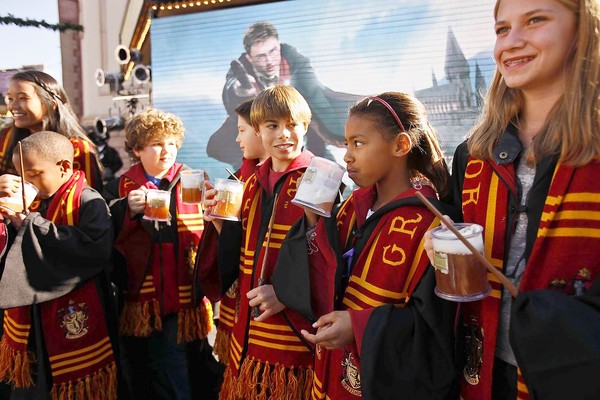 It is also important to note that Universal still has not given a single official detail about the Orlando project since it was formally announced in the late 2011 media event mentioned above. So if this week you've heard anything about an amphitheater closing, stunt shows closing, or Curious George closing, please be aware that these are all development plans for Hollywood, not Orlando.
Why hasn't Universal announced Harry Potter expansion details for Orlando yet? Our good friend Derek took that very question on in last week's rumor round-up, so let me quote him directly:
Previously we mentioned that Universal may not be announcing the Simpsons' Springfield expansion because Kentucky Fried Panda – one of the rumored dining locations in the area – is now off the table and will be replaced by a different restaurant. This week we are also hearing a reason why they haven't said a peep about all that construction for London side of the Wizarding World… and it isn't what you think.

Wizarding World of Harry Potter expansion – April 16, 2013.

Conventional wisdom would indicate the reason Universal is keeping their mouths shut on Potter is because they don't want to take away from the any-day-now opening of Transformers: The Ride 3D and – eventually – the Simpsons expansion. Another reason may be that Harry Potter author JK Rowling has to sign off on everything related to WWoHP, and we mean everything, including press releases. However, we're also picking up chatter that Universal isn't going public because of lesson they learned the hard way when building the original Wizarding World in Islands of Adventure, one that affects the bottom line.

Universal announced it was building WWoHP in summer 2007 and opened the area in summer of 2010. Word going around is that Universal lost 30% of its Annual Passholders (APs) during those three years. Having been burned once, it makes sense that Universal doesn't want to make the exact same mistake now , which could be an even bigger financial loss considering how many more APs there are now combined with the price increases. Even though WWoHP phase 2 is much further along than phase 1 was at the same time frame, there's not much to gain in an official announcement while there is a big potential to lose a lot of money if some AP holders decide to not renew until everything is finished. In addition, countless one-time guests will delay their vacations to Universal once they learn the new Harry Potter area won't open until next year.
Are rumor round-up posts can be very enlightening. You can see them all by clicking here.
For those of you who'd like to learn more about the Hollywood expansion plans, here's the official news release:
UNIVERSAL CITY, California, April 23, 2013 – NBCUniversal announced today plans to begin construction of the first projects of its 25-year Evolution Plan. The Evolution Plan represents a $1.6 billion investment in tourism and production. This long-term investment in two industries that are vital to Los Angeles will create more than 30,000 jobs and generate $2 billion of economic activity during operations for the region.

"After nearly a decade of work on the Evolution Plan, today's vote sets the stage for our next 100 years in Los Angeles," said Ron Meyer, president and COO of Universal Studios. "We are thankful for the support and leadership we have received from both the County and City of Los Angeles and are ready to get started investing in these important tourism and production projects in the next few months."

Starting in late summer, NBCUniversal will begin construction of The Wizarding World of Harry Potter themed land at Universal Studios Hollywood theme park, as well as new and upgraded television production facilities, office space and infrastructure on the Universal Studios lot. These projects represent a nearly $500 million investment in the Los Angeles economy and the creation of more than 2,000 construction jobs alone.

"We thank Los Angeles County Supervisor Zev Yaroslavsky, the entire Board of Supervisors, and County staff for providing us the path to bring much needed jobs and investment to Los Angeles," said Corinne Verdery, Chief Real Estate Development and Planning Officer, NBCUniversal. "The working relationship we have built with the community was invaluable in developing our future plan and we are grateful to our nearly 7,500 supporters and union partners who have been with us every step of the way. We look forward to bringing The Wizarding World of Harry Potter to Hollywood, forever changing the face of tourism in Los Angeles."

The Wizarding World of Harry Potter at Universal Studios Hollywood will be a fully immersive experience for the entire family designed to bring the Harry Potter fiction and films to life with impeccable detail and authenticity. Similar to the dynamic Universal Orlando Resort themed land that opened in 2010, the Hollywood experience will be faithful to the visual landscape of the fiction and films, including Hogwarts castle that will serve as the centerpiece of the impressively themed environment. The Wizarding World of Harry Potter is a collaboration between Warner Bros. Entertainment and Universal Parks and Resorts.

On the Universal Studios lot, NBCUniversal will upgrade existing production facilities and add new capabilities to better respond to the needs of television production. In addition, NBCUniversal is looking to create modern offices that will house everything from post-production services to traditional office space.
So what about the Harry Potter expansion at Universal Studios Florida? Although Universal may not have officially announced details, we already know so much information. Here are two tweets I just posted yesterday…
The outline of the top of the Gringotts Bank entrance is now as distinct as you can get #HarryPotter @universalorl twitter.com/OrlandoInforme… — Orlando Informer (@OrlandoInformer) April 24, 2013
A whole team of workers digging out trenches around Diagon Alley #HarryPotter @universalorl twitter.com/OrlandoInforme… — Orlando Informer (@OrlandoInformer) April 24, 2013
Want to learn more? We have an unbelievable amount of information and photos on our Harry Potter expansion at Universal Studios Florida page.