As a theme park family, we have been to both Universal Orlando and Walt Disney World during some of the busiest times of the year.  We've been at the parks on 4th of July, Thanksgiving, and Christmas — we were even at Islands of Adventure the day the Wizarding World of Harry Potter opened! Even though the busiest of the holiday season may be behind us, Spring Break is right around the corner followed by the summer rush, so there are always more crowds to contend with!
Since I push my daughter's wheelchair, I see the crowd attitude from a different angle and perhaps with a bit more of an eye towards improvement. With that in mind, I now present my list of easy ideas intended to help guests maneuver through the heaviest of traffic and keep tempers at bay.
(By the way, if you know someone who is visiting the parks for the first time, you're encouraged to help us all out and forward this post to them!)
Leave space in front of your wheelchair/stroller/ECV
Don't get too close to those in front of you, so if they do stop suddenly or turn on a dime, you have time to react. It's no fun walking around with a sore ankle or calf. If you run into a person with a medical condition, you could cause a threatening injury and not even know it. As the walker, look around before you change direction to save yourself that possible injury. Everyone needs to be aware of their surroundings. If you were driving a car, would you stop in the middle of the highway to read a map?
And please make a big note: if you see a space between a wheelchair party and the next group, it is not an invitation to take the space. Recently, when taking the long walk to Soarin' at Epcot, a very tall twenty-something pushed his way by, lost his balance and ended up sitting in our daughter's lap!  Thankfully she wasn't injured.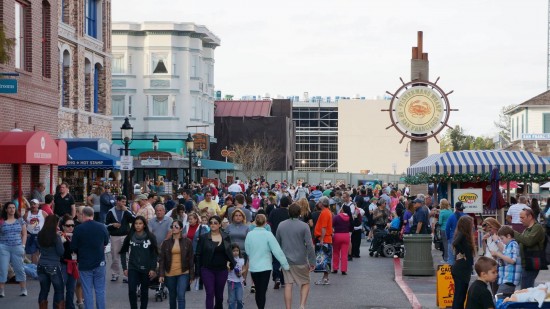 Don't stop in the middle of a walkway/hallway/doorway
Need to figure out where your party is going to eat lunch? Then be sure to move to the side and discuss — please don't stop in the middle of traffic.  There are others still walking in that same area, just like you were moments ago, and unless you're inviting them to eat with you they plan to keep moving. It's just common sense to leave some room for others.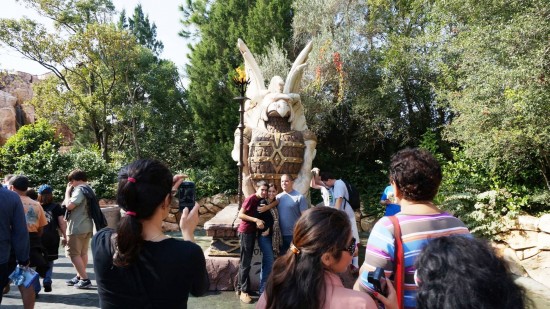 Keep your children near you
Don't just let them run amok. Children still need rules in theme parks — perhaps even more so in theme parks — because they can be injured very quickly. I once watched a child get run over by an un-trained ECV user backing up while on a water taxi. Young children do not have the ability to anticipate danger as well as you do, so let the kids cut loose in the parks' free-play areas, which they all have.
In fact, if you are traveling with young kids, it is really important that you budget time for them to run around in the designated play areas, just as you've budgeted time for you to do the things you like.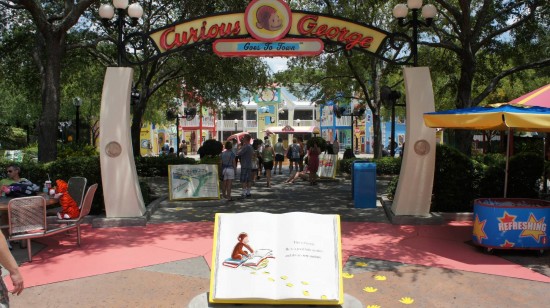 Do not wait for an elevator right in front of the door
More times than not the person getting off the elevator will have a wheelchair/ECV/stroller. How can you get on with your stuff if they can't get off with theirs? Move to the side and wait for the lift, and have a companion beside the door so they can hold it open, not only you, but the people exiting (they will really appreciate the gesture).
Finally, I highly recommend that you back your wheelchair/ECV/stroller onto the elevator while someone else holds the door, so you will be moving forward upon exiting. Really, it's easier, especially since most theme park elevators are not designed to hold more than one device at a time.
Be kind: hold a gate or door for someone using a wheelchair/ECV/stroller
There is such a thing as theme park karma, and you will reap great benefits if you practice kindness in the parks — and teach the young ones with you to do the same. One of the simplest forms of this is to hold a gate or door for others.
Unless there is a motorized entry available, it is difficult to open a door and maneuver a wheelchair/ECV/stroller through it. I've had people exiting a building only to let the door slam on our daughter because they just weren't paying attention (or didn't care!). On the other hand, holding a door is not so hard to do — and it can change everyone's mood for the better.
Don't smoke in line
Even if you're from a European country, there are still plenty of areas set up for smokers. I saw a little girl burned by a person holding a cigarette at their side last month. 'Nuff said.
Quick hints
Try singing while waiting in line and see if the crowd joins in: try carols during the holidays, or the theme song for the ride you're on. Or, say hello to the person on the other side of the rope and ask where they live. Give up your seat to a person with a cane.  And most importantly, say Please and Thank You, even to cast and team members.  A little compassion goes a long, long way.
Help us out with this list by leave a comment below with your ideas!
[sws_author_bio user="iamdollie" size="105″ authorposts="More OI posts by debi" name_format="About the author"] [/sws_author_bio]