One could argue that Universal's official announcement last week of its Simpsons expansion isn't that big of a news story. In addition to the pre-existing ride (easily one of the best at the park) and Kwik-E-Mart gift shop, the company is just adding a slew of fast food stops and a second, spinner-style attraction.  Once a couple of in-jokes are thrown into the area, such as the statue of Jebediah Smith and the Android's Dungeon and Baseball Card Shop, it becomes a nice little slice of amusement and amazement for the more diehard Simpsons enthusiast. For the rest of Universal Studios Florida's guests, however, it remains something of a basic diversion – a nicely themed, unabashedly fun diversion, but a basic one nonetheless.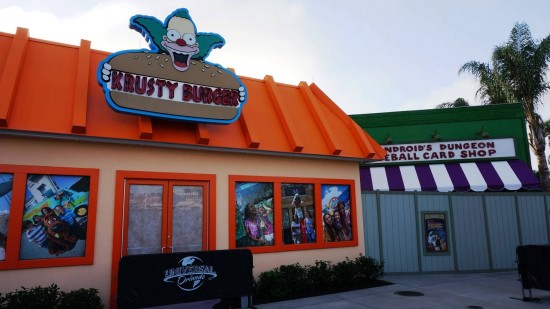 On the other hand, there's something more than meets the eye here (sorry to mix catchphrases). For the longest time, the breadth and depth of theming was relegated just to the ride itself – how it moved the guest or enveloped him in its story. Slowly, over decades, the design started to creep over to the queue, priming all the riders for the adventure that was to come, and then to the physical area immediately surrounding the show building, such as a giant AT-AT perched over the exit at Star Tours or a Kwik-E-Mart-themed store just off to stage right of The Simpsons Ride.
Universal upped this ante when rolling out the Wizarding World of Harry Potter, taking the idea of theming from physical objects and applying it to an unexpected medium: food. Butterbeer was a quickly-identifiable staple from JK Rowling's books (and movie adaptations), but it wasn't necessarily iconic – not in the way that, say, lightsabers from Star Wars or the Iron Throne from A Song of Ice and Fire is.  Still, it became the flagship experience for most fanboys and -girls, something to simultaneously experience as a drink and to photograph as a keepsake. Somehow the technological marvels of Harry Potter and the Forbidden Journey or the quaint recreations of Ollivander's Wand Shop didn't seem quite as defining.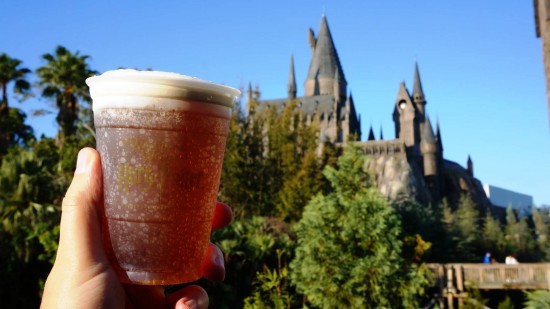 It's easy to see why this transition was made.  A ride, after all, is a five-minute ephemeral trip, over and done with basically before you can blink. A drink or a meal is very much the same, although on a slightly more elongated time scale and with plenty more opportunities to upload pictures to Facebook. (And then there's the growing "foodie" movement, placing an emphasis on organic over processed, local over corporate, sustainable over slash-and-burn food.) The only surprising element here, really, is just how long it's taken for either Disney or Universal to understand our fundamental connection with food and drinks, and to systematically build their "theming" of that connection into the bigger immersive experience that is New Fantasyland or Hogsmeade.
And now that the cat's out of the bag, there's no stopping it. Duff beer will be made available exclusively for USF, attempting to give enthusiasts something to savor along the lines of butterbeer and adults something to enjoy along the lines of Hog's Head Ale. Alongside what will undoubtedly be special, can't-enjoy-'em-anywhere-else dishes offered up at Krusty Burger or the Frying Dutchman, the main focus of The Simpsons at Universal will decisively, irrevocably move from a motion simulator to one's stomach, no matter how many extra attractions or spraying fire hydrants there may be crowding around. The ride has finally become a backdrop to the meal, instead of the other way around; there's a reason that Universal has dubbed this new area Fast Food Boulevard, after all.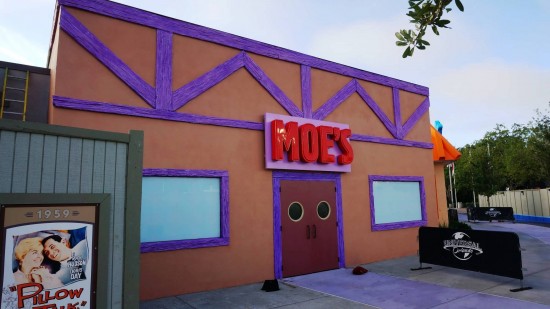 But what does this mean for the future? Disney has already attempted to replicate this next-generation success with its own Cars Land expansion in Anaheim and the Be Our Guest restaurant in Orlando, and Universal is currently hard at work serving up a second helping of the Wizarding World in the form of Diagon Alley, just right around the corner from Fast Food Blvd (it's unknown what, exactly, the next delicacy du jour will be here, but the tag-team of Universal's chefs and accountants will surely come up with something). While it's doubtful that an entire theme park will become, essentially, an overblown restaurant, there's no denying that the audience's palette has become an integrated – and perhaps even fundamental – part of the theming experience, one to be ignored at a corporation's peril.
Now please pass me a Duff.
To learn more about The Simpsons expansion at Universal Studios Florida, visit the Springfield page in the OI Universal Center.
[sws_author_bio user="msunyata@yahoo.com" size="105″ authorposts="More OI posts by Marc" name_format="About the author"] [/sws_author_bio]