Transformers: The Ride 3D opens June 20. Kang and Kodos's Twirl 'n Hurl will more than likely be open by July. Despicable Me Minion Mayhem has been up and running since last summer. When this trifecta goes fully on-line, it will join the likes of Revenge of the Mummy, The Simpsons Ride, and Hollywood Rip Ride Rockit (which have all been operational for the past several years) to create a theme park lineup that is, literally, world-class – and this is even before Gringotts Wizarding Bank and Hogwarts Express are unveiled at the Wizarding World of Harry Potter – Diagon Alley. By the end of next summer, Universal Studios Florida will be in serious contention of being one of, if not the, best parks in the world.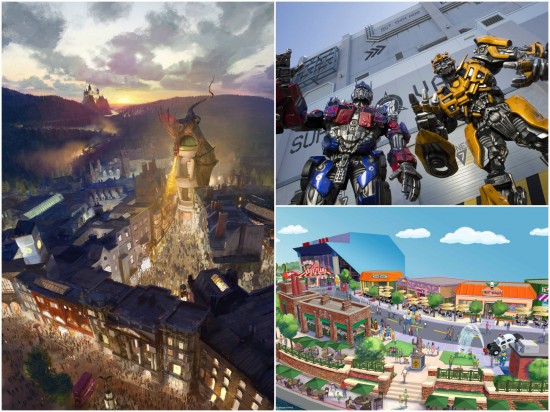 What this means for USF is that it will have finally and definitively ended its gradual transformation from film studio backlot to traditional theme park, replete with different lands centered around dedicated themes or properties (a process which was thoroughly detailed in a previous post). There is not a hint of the filmmaking process in the slightest with Despicable Me, Transformers, or the Simpsons expansion; Fast Food Boulevard and Diagon Alley will take up entire swaths of the park instead of being confined to single "soundstage" buildings. Universal is now just a stone's throw away from being Islands of Adventure or, even, Magic Kingdom.
This allows Imagineers more freedom to whip up future attractions or dream up more immersive experiences (such as Despicable Me's after-the-ride dance party or the Fast Food Blvd-exclusive Duff beer), and it allows more opportunities for park guests to be whisked away on a multitude of adventures. But it also provides some potentially serious drawbacks, mostly centering around the simple fact that USF will be a hodgepodge, patchwork collection of rides that may or may not be part of a larger unifying footprint; nearly the entire northern half of the park will be two large(ish) lands, with just one or two single attractions sticking out like a theming sore thumb, while the southern half will be almost exclusively devoted to single rides still dominated by the soundstage motif.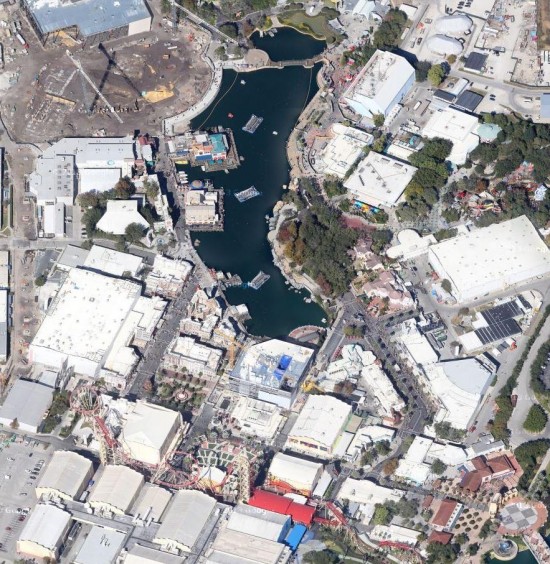 What's the problem with such an ad-hoc layout? It's – well – weird. Imagine Magic Kingdom being comprised of only Fantasyland and Tomorrowland, with the rest of the park being a willy-nilly explosion of random rides, shows, and gift shops. And besides being disorienting, it's off-putting in a design or thematic sense. What constitutes which license is important enough to warrant multiple locations or features? At what expense of other potential rides do these burgeoning areas continue to expand? Just what is Universal Studios Florida's identity, anyway, if it's no longer a film studio but still not really a traditional park?
Whether overtly or subtly, Universal Creative will have to address these questions, as a park without a coherent, organizing identity is a sad and schizophrenic mess – just ask Disney's Hollywood Studios. It may be that the current area overlay will have to be revised, removing the "World Expo" name and simply replacing it with "Springfield (Also: Men in Black)". Production Central is a designation that no longer makes any sense whatsoever, as the series of filmmaking and television production attractions that originally opened with the area have all been ripped completely out and replaced with traditional rides: Shrek 4D, Hollywood Rip Ride Rockit, Despicable Me, Transformers. (And Universal took its first step towards more-theming-specific lands all the way back in 1999, with the creation of Woody Woodpecker's KidZone out of the boring half of World Expo that housed only a recreation of the Psycho mansion and an earlier, gaudier version of Orlando's Hard Rock Café.)
Of course, this just may be the inner theme park nerd in me speaking; the average guest may never think anything of USF's puberty phase, if she even bothers to notice it. It may be that Universal won't need a grand redesign or new design ethos – or that there will be any further lands to be wedged into the pre-existing status quo, for that matter.
I'm hopeful for Universal Studios Florida's next decade, though to continue its current rise to the top of the theme park world will require a remarkable amount of forward thinking.
[sws_author_bio user="msunyata@yahoo.com" size="105″ authorposts="More OI posts by Marc" name_format="About the author"] [/sws_author_bio]