Blue Man Group Bluephoria Lounge: Experience VIP treatment and a best-kept secret at Universal
Blue Man Group has been a beloved part of Universal Orlando since 2006, when the former Nickelodeon Studios was revamped into a theater for the immersive experience. Commonly referred to simply as BMG, the show combines music, unconventional instruments, toilet paper, and comedy creating an unparalleled experience, and one of the most unique in Orlando.
When you purchase tickets to Blue Man Group, you will be offered an additional opportunity to participate in a VIP experience entitled the Bluephoria Lounge.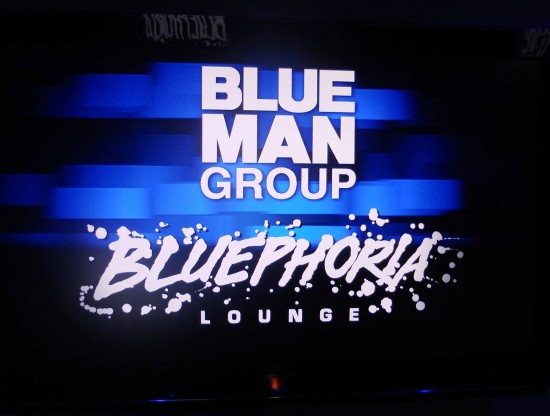 This experience is not very well known to many guests, but is an amazing experience that should not be missed when attending a BMG show. For just an additional $20 per person (in addition to show admission), you gain access to the Bluephoria Lounge 45 minutes before the doors open for the general audience. You meet with a Bluephoria member at the bottom of the stairs on the outside of the Blue Man performance center, provide your tickets and in exchange get a wristband.
The wristband entitles you to two drinks in the Lounge (alcoholic or non-alcoholic), which is an incredibly relaxing environment. Alcoholic drink options include mixed drinks with vodka, tequila, and rum, and a selection of beers and wines. The Bluephoria Lounge also offers non-alcoholic options such as juice, soda, and water.
When you enter Bluephoria you immediately see the neon colored pipes on the ceiling, the entire room is tinted blue, and you are welcomed by a bartender (the drinks are delicious!).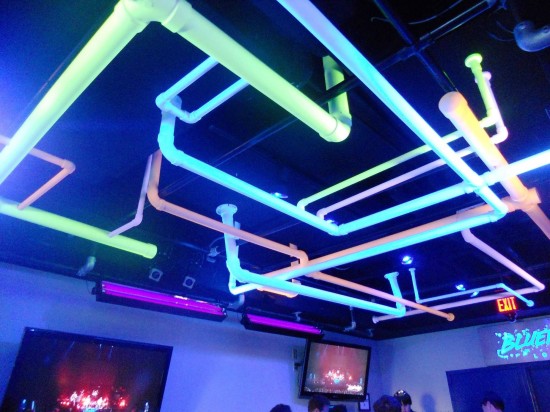 While relaxing in the Lounge, you can either stay inside and watch a behind-the-scenes video detailing the original Blue Man Group, how they were formed, what their original intentions were, or you can choose to go outside to a makeshift patio that provides a great view of Universal Studios Florida, the Hard Rock Café, and the back of Islands of Adventure (where you can see some awesome props that are not in use).
Most people opt to have one drink while in the Bluephoria Lounge and then head into the show with their other drink.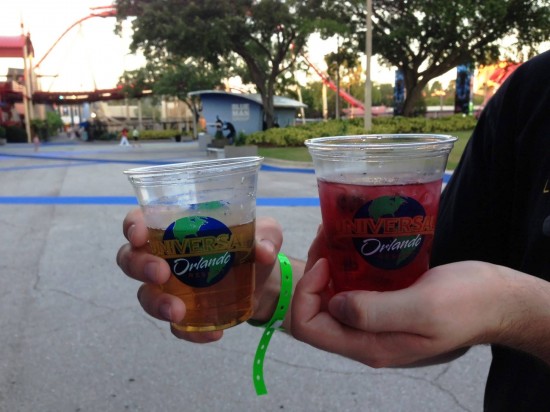 While some who purchase the Bluephoria Experience think that those are the only benefits they receive, there's even more. After the show is over, while flocks of people are rushing to the lobby in an attempt to meet a Blue Man, with your Bluephoria wristband you get to head right back up to the Lounge where you will get a Blue Man all to yourself. Within ten minutes after the show ends, one of the Blue Man comes up the elevator into the Lounge to 'sign' autographs and take photos. You also get a free Blue Man photo, which the Blue Man will stick some of his own blue paint on.
I was lucky enough to receive a one-of-a-kind painting from the Blue Men during their show, which was kissed by the Blue Man who came up to the Lounge after the show. They will hang around for a good period of time to take photos, providing an unforgettable experience. Drinks are available for purchase before the show (in addition to your two free drinks), but limited after the show. We stayed in the Bluephoria Lounge for about fifteen minutes after the show without any problems, and when we left, there were still a good number of people heading in, leading me to believe that the Lounge will be open for at least thirty minutes after each show.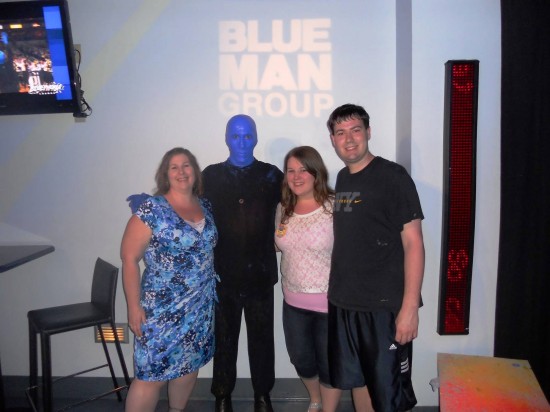 Drink prices ranged from $6-10 per drink (for alcoholic options) in the Bluephoria Lounge, so the ticket nearly pays for itself just in the two drinks. But In addition to the free drinks, you are provided with early access, a souvenir, and a one-on-one meet and greet opportunity with a Blue Man that generally would not happen otherwise!
This experience is one I will not be forgetting anytime soon, and it is one that guests should not skip to get a full Blue Man experience.
The Bluephoria Lounge VIP pass can be purchased by visiting the BMG Box Office or calling (800) BLUE MAN. To learn more about CityWalk, check out our OI Blog archive, or discuss with friends in the OI Forums.
Blue Man Group Bluephoria Lounge – photo gallery
Click any image to view it full-screen. When the full-screen image is open, click to the right or use the right arrow on your keyboard to advance through the gallery.
[sws_author_bio user="AllyPfeiffer" size="105″ authorposts="More OI posts by Ally" name_format="About the author"] [/sws_author_bio]