Welcome to THE BIG 5, a definitive top five list of various Orlando related, uh, stuff. THE BIG 5 is wide ranging, and will run the gamut from the top five restaurants in Walt Disney World, to the top five gift shops at Universal, to the top secrets of Disney's Art of Animation resort, and everything in between.
To view all of THE BIG 5 posts so far, click here.
This week's list is the top five features of the Springfield concept art you have to look one more time.
View/download the full resolution version of the concept art by clicking here.
Universal has gone and done it again! Even though we still haven't picked our jaws up off the ground from them releasing the new concept art for Diagon Alley — see that SPECIAL EDITION of the BIG 5 —  they went and released even more concept art for the upcoming major expansion of the area by The Simpsons Ride. Done in the classic Simpsons cartoon style, this piece of artwork has quickly become one of my all-time favorite pieces of theme park art. There's a lot of stuff here, including the statue of Jebediah Springfield, the incredible façade for the Android's Dungeon & Baseball Card Shop, and even a new entrance arch for Krustyland which includes the phrase "the Krustiest Place on Earth".
Let's look at the five features that should make almost any theme park fan smile from ear to ear…
#5 – Kang & Kodus' Twirl 'n' Hurl
"Foolish earthlings, don't you know that all rides must end in the gift shop!" – Kodos
While some believed Universal was bringing in a Ferris wheel for the Springfield area, this new concept art proves that the park is getting a Dumbo-like spinner for everyone to enjoy. Not only does this add another attraction that younger guests can ride in the park, but it seems in the art – and the attraction name itself – that this spinner will come with a twist: the flying saucers may rotate individually while going around the spinner. Think Storm Force Accelatron in Marvel Superhero Island mixed with One Fish, Two Fish, Red Fish, Blue Fish in Seuss Landing.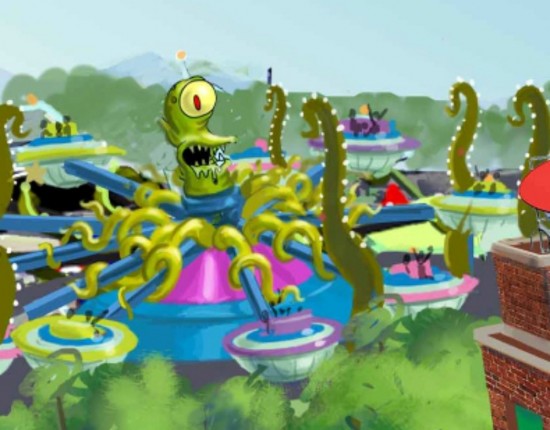 If you look closely at the "tentacles" of the ride, you'll also see what looks like a whole bunch of lighting components. So look for this attraction, and several other areas of Springfield, to have a whole new wow factor at night, much like Hollywood Drive-In mini golf in CityWalk.
#4 – Duff Gardens
 "Duff Beer for me. Duff Beer for you. I'll have a Duff. You'll have one too."
The lagoon area of USF just got a whole lot better with the addition of a new watering hole in Duff Gardens. Not only will guests have the perfect place to kick back and relax while enjoy the day (or Cinematic Spectacular nighttime show), but Universal also released the news that Duff Beer itself will be brewed exclusively for Orlando.
Back in 2007 when The Simpsons Movie was released, many 7-11 stores were converted to Kwik-E-Marts and carried exclusive Simpsons related food and beverages. But while you could finally get your hands on Buzz Cola, KrustyO's cereal and even Squishees, one thing you couldn't get was a Duff Beer. Look out Hog's Head Ale, you have some competition coming in the 21-and-over signature drink competition.
#3 – Lard Lad Donuts
"Mmmmmmm, forbidden donut." – Homer Simpson
Lard Lad donuts is the Springfield sweet shop where many a pink frosted donut with sprinkles will be sold.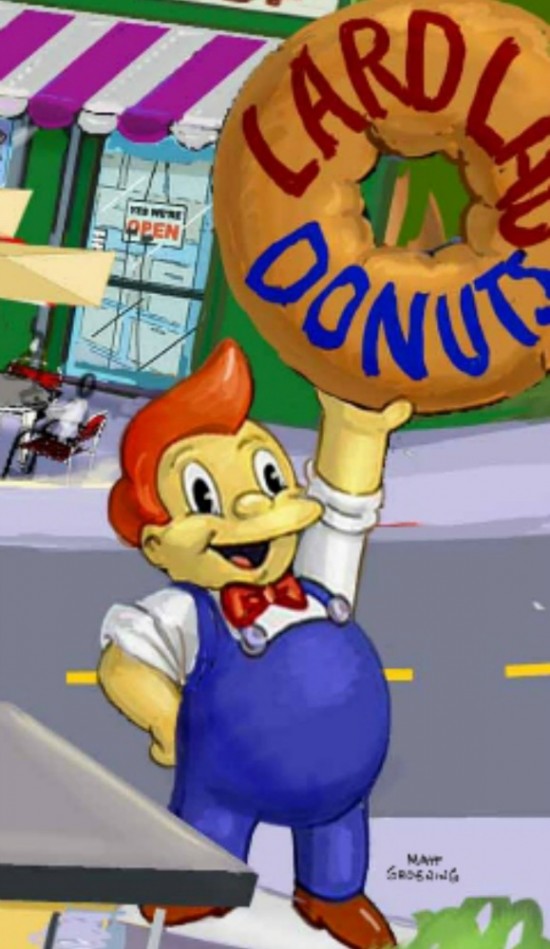 Theme park fans love their baked treats. Whether it's BabycakesNYC at Downtown Disney, Starring Rolls at Disney's Hollywood Studios, or the Croissant Moon Bakery at Islands of Adventure, you won't be able to walk too far in any theme park without running into a bakery with that delicious aroma in the air drawing you in like the pied piper — Springfield will be no exception.
By the way, did you notice that the concept art is signed by the very creator himself, Matt Groening?
#2 – Krusty Burger and Fast Food Boulevard
"I personally am going to spit in every fiftieth burger!" – Krusty the Clown
For a long time many thought that only Krusty Burger would be coming to the Simpsons expansion area, and we were happy with that. Krusty Burger is a staple of the Simpsons and has hilariously been used over the past two decades with biting satire to take on the fast food industry in general and items like the McRib in specific.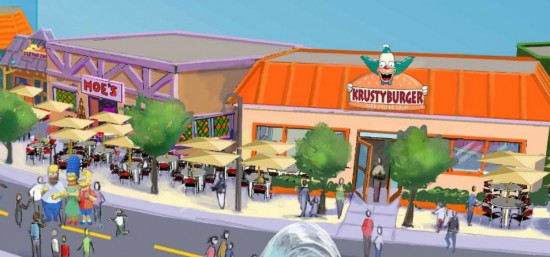 The concept art shows us Krusty Burger in all its glory, but the news release by Universal lets us in that other restaurants from Springfield's Fast Food Boulevard will be represented once you walk into the establishment.
Besides the never-before-seen-until-now Cletus Chicken Shack (replacing the original concept of Kentucky Fried Panda), walking into Krusty Burger will lead you to other eating options straight from The Simpsons universe including the Frying Dutchman and Luigi's pizza. Universal mentions an eating concept tied to the character Bumblebee Man where you can eat a "Taco Fresho", and you can expect this to be either a new stand between Duff Gardens and Lard Lad, or the taco food truck that has been at the parks sporadically over the past year themed to this new concept. One thing is for sure, you'll be able to get a lot of different food options in Springfield, and with The Simpsons brand involved, we're undoubtedly going to get some new entries for our Extreme Eats at Universal articles!
#1 – Moe's Tavern
"Here's to alcohol. The source of, and answer to, all of life's problems." – Homer Simpson
What Simpsons fan hasn't dreamed about walking into Moe's Tavern for the last twenty plus years! This is two generations' version of Cheers! While the concept art shows us the iconic building (and even a "beeramid" if you look closely by the door), the mind races at what is behind that door.
Certainly we'll be able to try out the Love Tester. Surely we'll see a jar of pickled eggs. Guaranteed we are going to see a ton of sight gags throughout the entire establishment, along with the requisite prank calls, but will there be a "Flaming Moe"? While not everything is known about what is behind that front door, seeing Moe's Tavern on this concept art is a dream come true for many a Simpsons fan.
Honorable mention – Duffman!
"Are you ready to get DUFFED?!"
Located near Duff Gardens is the iconic mascot of Duff Beer, Duffman! Now the official news release from Universal said that two new characters would be joining the regular Simpsons gang (Homer, Bart, Lisa, and Marge) as walk-around characters and revealed them to be Krusty the Clown and Sideshow Bob. However, The Simpsons TV show has many well known and loved characters to pull from its roster for photo-ops and autographs, and having extra characters around — like Comic Book Guy, Chief Wiggum, and Duffman — would be very beneficial to the area.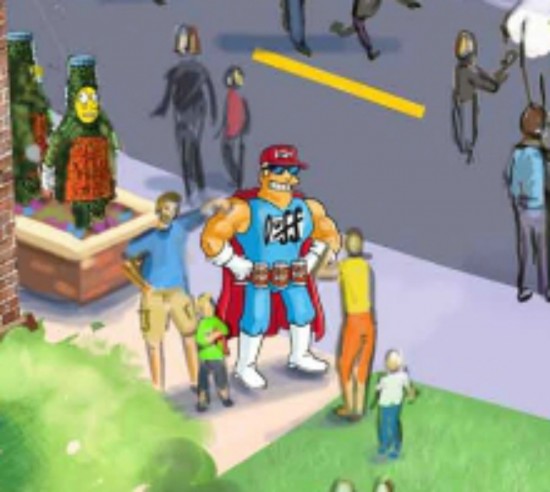 Even if Duffman turns into solely a photo-op like the Bruce the Shark from JAWS over in the San Francisco backlot, many Simpsons fans will be shouting  the Duffman catchphrase, "Oh yeah!"
That's it for this edition of the BIG 5! We'll see you again real soon.
Editor's note: We invite you to continue learning about this project by visiting our Simpsons Springfield expansion page in the OI Universal Center.
[sws_author_bio user="derekburgan" size="105″ authorposts="More OI posts by Derek" name_format="About the author"] [/sws_author_bio]