Walt Disney World Resort has long been a place associated with children. Families take their vacations to Magic Kingdom, field trips flood the parks, and spring break is heralded by thousands of teenagers and 20-somethings escaping school. There is, of course, nothing wrong with this. But I have always believed that Disney Magic is for children of all ages – and, sometimes, that includes being a child at heart.
It seems that more and more adults are embracing their own passion for Disney, taking themselves to Magic Kingdom in their 30s, 40s, and onward. I wholeheartedly endorse this behavior and believe you should never lose the part of you that thrives on adventure and character dining. However, there are plenty of times when the grown-ups just want a chance to kick back and enjoy some adult entertainment at Disney World. With Pleasure Island long gone, many people think they have to leave property to have a good time as a legal adult nowadays – but they couldn't be more wrong.
Here's my personal list of the top five nightlife options that adults can still enjoy at Walt Disney World.
1. AMC Dine-In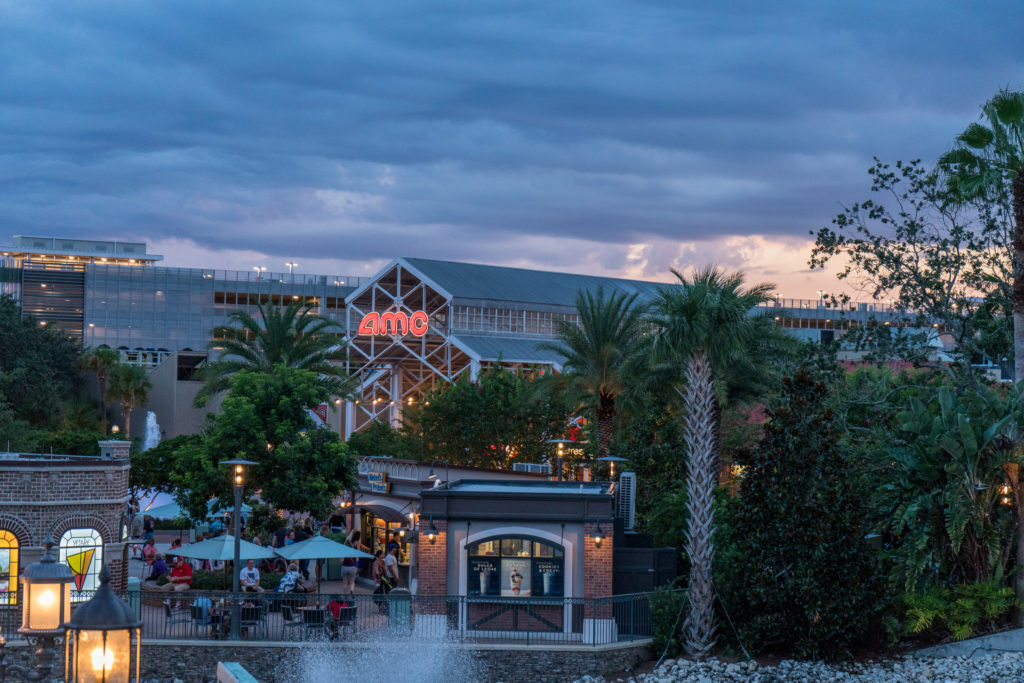 As a kid, movie theaters were always a treat. I would have been thrilled with a bag of popcorn and a soda for my concessions – throw in a candy bar, and it was pretty much the best day of my life.
As a "big kid," however, I've found that my tastes have upgraded (somewhat), and there is no better place to enjoy the perks of adult movie-going than AMC Dine-In at Disney Springs. Not only does the theater have assigned seating (what – I don't have to get there two hours early just to get a good spot?), but the food is also miraculous. I've ordered three-course meals at their establishment while watching the latest blockbuster and enjoyed myself every single time. Grilled salmon, loaded tater tots, steak and rice bowls, and I can have wine delivered to my seat? Where has this place been all my life!
The lobby also features a full bar, so you can enjoy yourself even while you wait to be seated. Perfect for date night, group hangs, or even treating yourself to a lovely evening, I cannot recommend Dine-In enough. You deserve to do dinner and a movie like an adult.
2. The Edison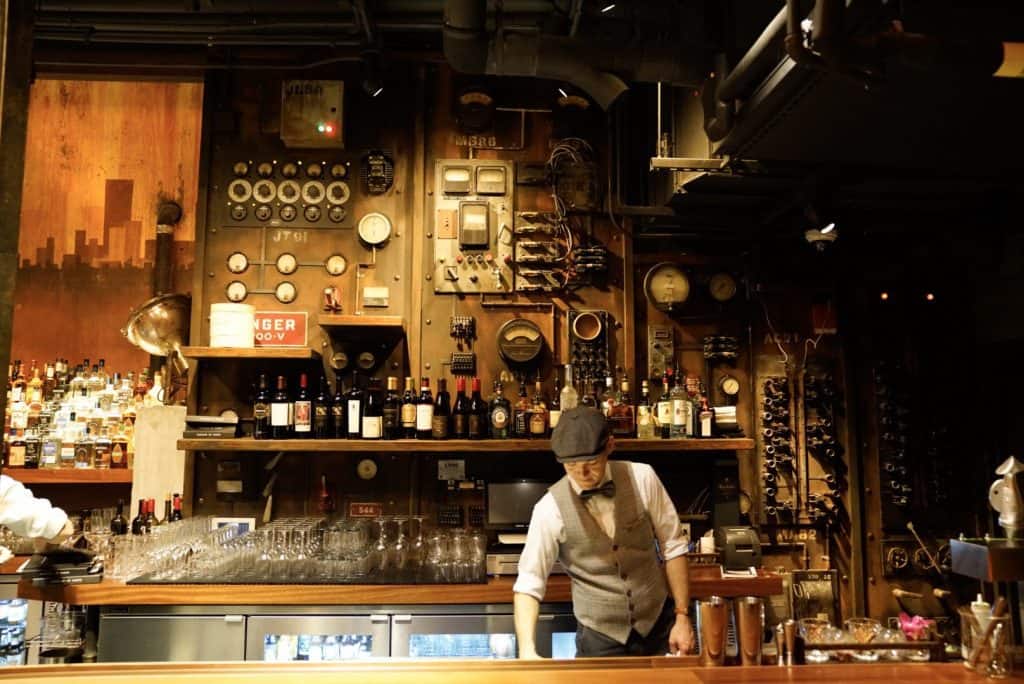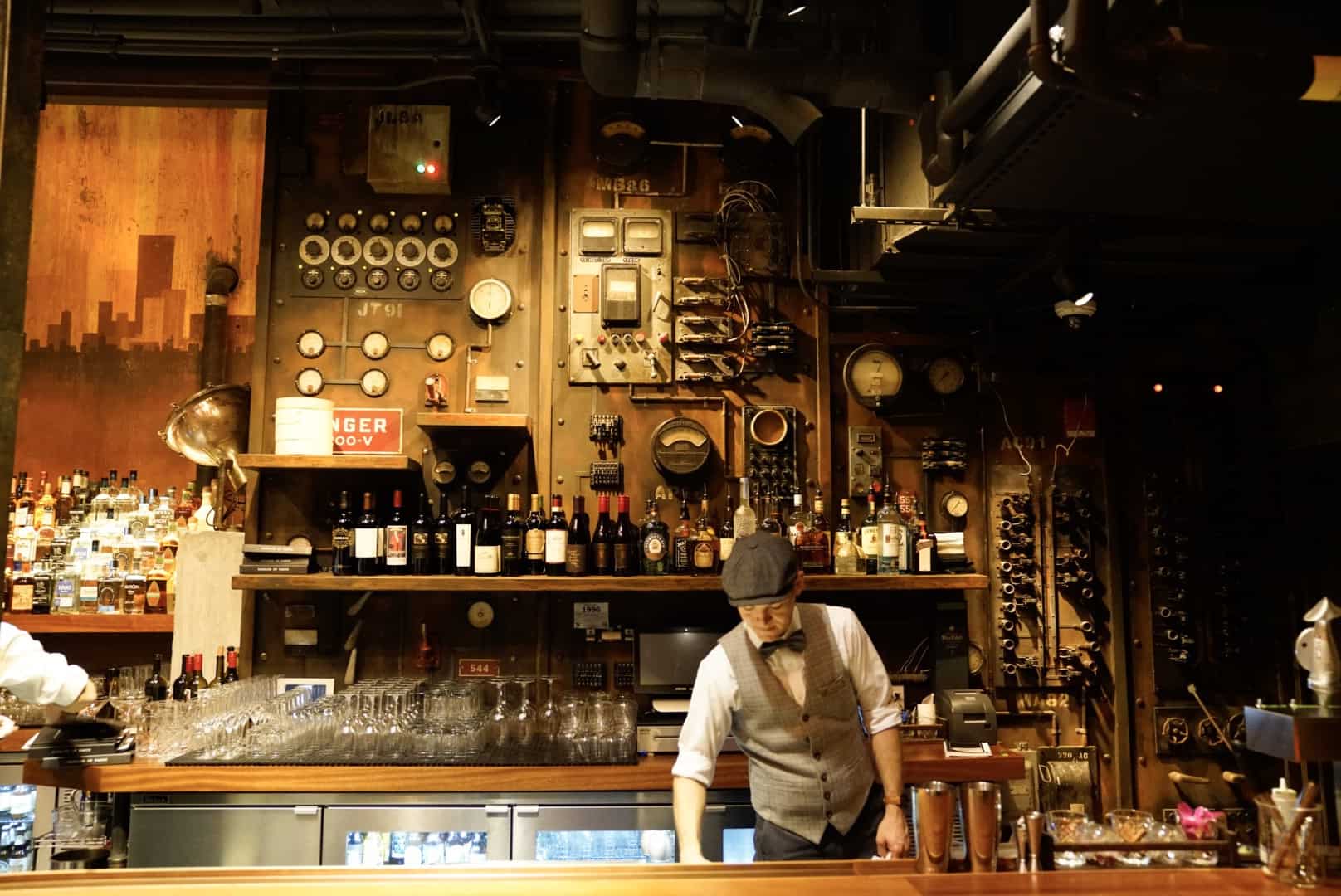 One of the most popular spots in Disney Springs since it opened in January 2018, The Edison is unique in that it requires a dress code, and a minimum age requirement, after 10:00 pm – any nighttime guest must be over 21, and there are absolutely no flip-flops or baseball hats allowed. Not only is the food to die for, but there is entertainment galore, from aerialists to stilt walkers.
The Edison is, we hope, reinventing adult entertainment for The Walt Disney Company, with their themed dancers, contortionists, and more. The entire restaurant is 1920s-themed, allowing you to embrace your imagination while still having the time of your life. The hand-crafted cocktails are so spectacular, you may have trouble ordering just one. So put on your flapper dress, doll, and pour yourself a bottle of hooch! This Industrial Gothic watering hole is the perfect place for you.
3. Disney's BoardWalk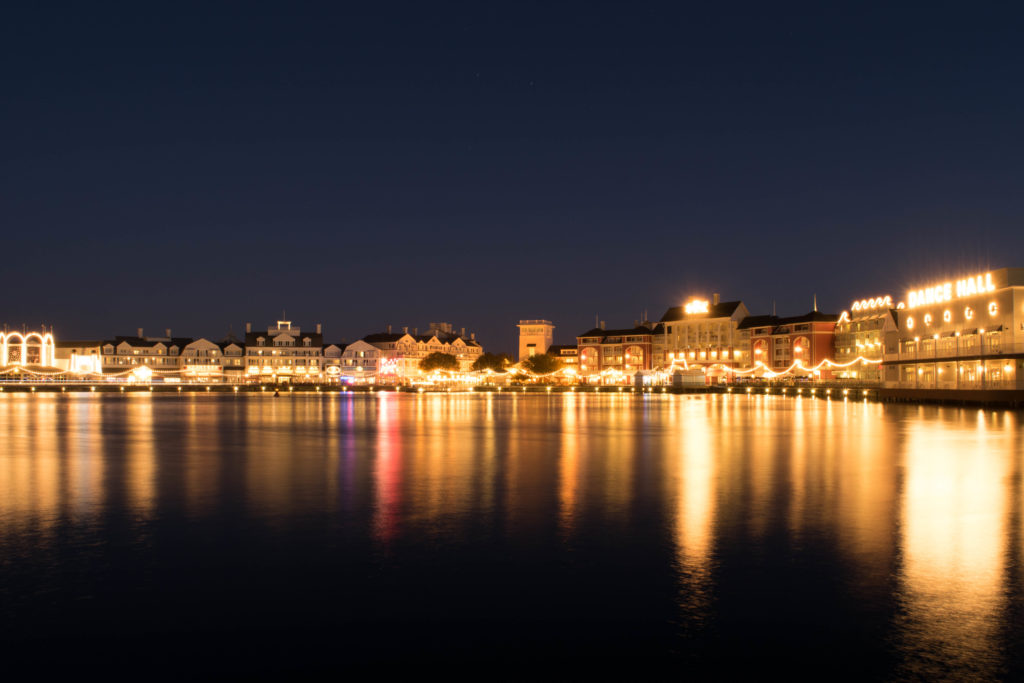 Two of my favorite places on the BoardWalk are 21 and over. First, there's Jellyrolls, one of my absolute favorite bars in all of Orlando. It's the perfect place for that casual Friday-night vibe, but with a twist! In this case, it's the incredibly talented dueling pianists that grace the stage every night. Request your favorite tunes or let the musicians choose their own; either way, I promise you'll have a great time. As a bonus, singing along is absolutely encouraged! (Don't feel comfortable enough to join the public karaoke? Don't worry – the bar can take care of that.)
After you've finished singing your heart out, don't forget to put on those boogie shoes and head next door to the Atlantic Dance Hall. It's one of the best night clubs in town, and everyone is there just to dance the night away. And, if you do your research, you may just be able to find one of the many groups who goes dancing on the regular and join up with them. Local teachers are known to take their adult students for a spin around the floor, and they just may be willing to teach you a thing or two, as well. In addition, they're currently gearing up for their New Year's Eve extravaganza, so you can hip and hop into 2019 like a pro!
4. The Basket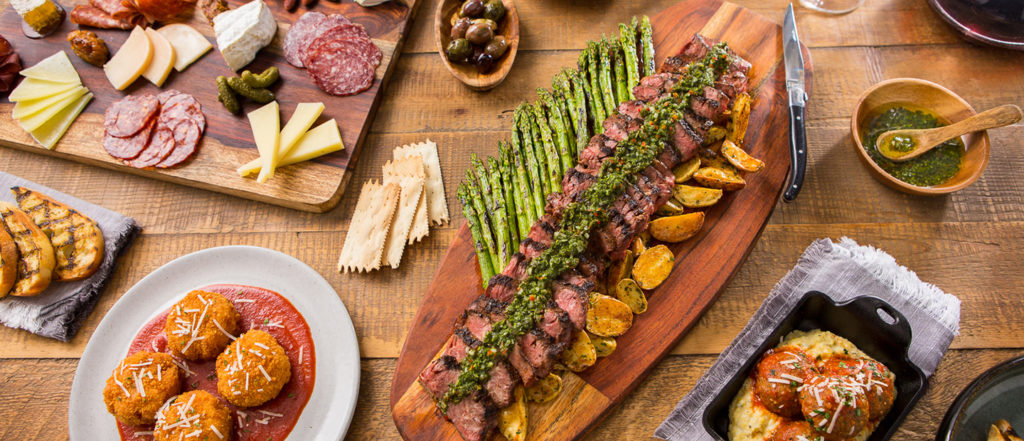 If you haven't just wandered aimlessly around Disney Springs, you might have missed The Basket at Wine Bar George. Often open until as late as 2:00 am, this quick-service gem allows you to craft your own specialty picnic basket, complete with all your favorites. Build your own to-go feast, complete with cheese, bread, meat, desserts, and, even, incredible wine. The Basket has taken date night to a whole new level and allows you to set up a delicious meal wherever you like.
Want something a bit more romantic than just parking it in Disney Springs somewhere? The Basket is conveniently located right across from the boat docks that can ferry you (for free) to Saratoga Springs Resort & Spa or Old Key West Resort. So pack up your basket, grab your date, and try a new take on classy late-night dining.
5. House of Blues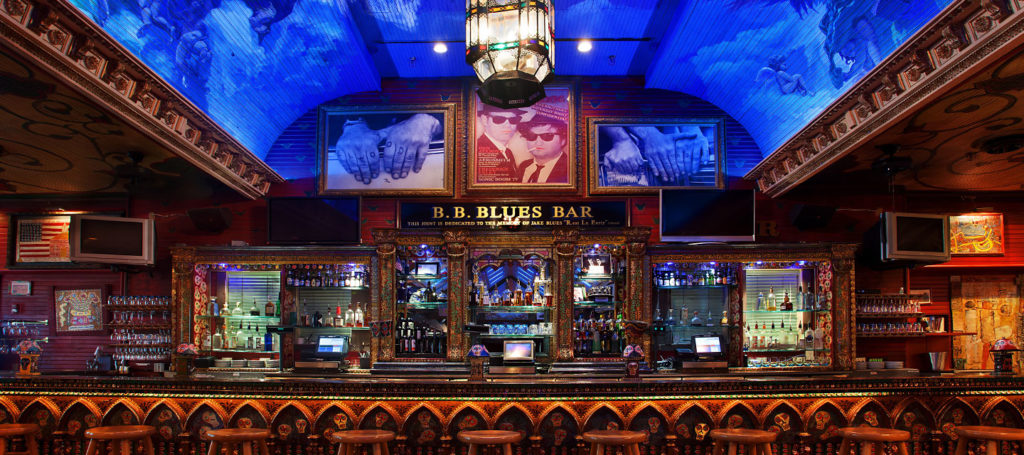 And, finally, let's bring it home with a classic.
I would be remiss if I didn't include Disney World's famous concert destination, House of Blues at Disney Springs. With its mouth-watering soul food and refreshing drinks, you can enjoy your favorite bands after a long day of park hopping and souvenir shopping. Check their show schedule to find out their concert lineup, and join them at the bar for their daily happy hour. All ages may be allowed in, but let's be honest grown-ups… we all know this place is for you. So kick back and enjoy it, because this is a kind of nightlife magic you don't get anywhere else in town.
–
The magic doesn't end when the parks close, and it shouldn't have to end when you turn 21, either. At Walt Disney World Resort, they're creating new ways for the adult clientele to enjoy themselves after hours, so take advantage of it. Whether the relaxing picnics are more your style, or you prefer to dance until your feet go numb, there's something for everyone after nightfall at Disney – just remember to tell everyone all about your after-hours adventures in our OI Community.
And be sure to follow Orlando Informer on Facebook, Twitter, and Instagram for the latest news and tips at Universal Orlando, Walt Disney World, and other Orlando destinations.