Any guest can snap a photo or shoot a video as they walk through Universal Orlando Resort. But what do you do if you'd like a fresh perspective on the parks, a new angle that you won't find in every other guests' collection of photos and home movies? In this week's BIG 5 post, I'm happy to share with you a few locations around the resort — slightly off the beaten path — that will allow you to capture incredible scenic views of Universal CityWalk, Universal Studios Florida, and Islands of Adventure.
#5 – Garden Walkways
If you've studied the Universal vacation planning information we feature on our site, you already know that the Garden Walkways connecting Universal's on-site hotels to the parks are one of the resort's best kept secrets. But daytime guests visiting Universal don't always have a reason to turn off the paths leading straight to the parks. Well, now you have one!
Take a sharp right just before you walk through the USF gates, and you'll find yourself on the Garden Walkway leading to Hard Rock Hotel. Once you're on the walkway, basically every step offers a view worth capturing. For one of the best, continue a few paces forward and, on your right, you'll find this bench…
[wptouch target="non-mobile"]Remember, you can click any image to view it full-screen — and don't miss the complete photo gallery at the bottom of the post.
[/wptouch]
It's a lovely scene if you shoot it as you see in the image above. Then for more, walk to the railing for a shot like this, then continue forward for a shot like this.
To be perfectly honest, I could write a whole post about the scenes along Universal's Garden Walkway. So if you have time, take the path to Hard Rock Hotel and then onto Portofino Bay Hotel for some of the most beautiful spots you'll find at any theme park resort. And if you're looking for even more, you can do the exact same thing as you follow the Garden Walkway next to Margaritaville, which leads to Royal Pacific Resort. On that path you'll be able to find views like this.
#4 – NASCAR Sports Grille
Our next stop brings us back to CityWalk. At NASCAR Sports Grille you'll find what is perhaps the most under-utilized seating section at a Universal CityWalk restaurant offering one of the resort's most magnificent views of Universal Studios Florida.
After gazing at the USF park entrance, turn to your left for scenic views of CityWalk with Islands of Adventure in the distance.
Now is a great time to switch your camera to video mode:
[youtube_video]h0BRXv66-9o[/youtube_video]
Please note that every spot featured on this list is completely open to all guests (admission required for the views inside the parks, of course). I visit these locations weekly — as seen on the new OI Flickr page — and after three years of doing so I have never been approached by anyone asking me to leave.
#3 – The Simpsons Ride
The award-winning Simpsons Ride, located inside Universal Studios Florida, will take you on a theme park adventure that could only happen to Homer and the family. When you're done with the ride antics, it's time to get out the camera for some serious photography.
Cross your fingers and hope that you're directed to exit the attraction to your left (as you leave the ride room), where you'll find yourself on a staircase. Down takes you back to Springfield; up brings you to a third-story perch with views like this: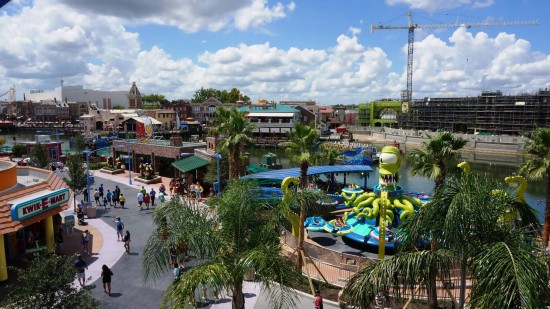 Although the images you can capture of Springfield are gorgeous, with other USF attractions and backlots in the distance, The Simpsons Ride photo spot is most famous for offering the park's best view of Diagon Alley under construction. These days the Diagon Alley view is slightly obstructed by new palm trees planted around Kang & Kodos' Twirl 'n' Hurl. Nevertheless, it is still worth a visit to get shots like this.
#2 – Me Ship Olive
Charge up your battery, put in a new memory card, and skip over to Islands of Adventure for our next spot. Into Toon Lagoon and past Popeye & Bluto's Bilge-Rat Barges you'll discover one of the least traveled areas of the park: Me Ship Olive. This three-story children's play area offers enough nooks and crannies to keep the kids busy while you climb to the top and find IOA's best overall view.
[youtube_video]1O2uck6JTg0[/youtube_video]
And this is one spot that keeps on giving!
Once you're done exploring the very top of the ship, walk one floor down and use the free water canons to give Bilge-Rat Barge riders a little surprise…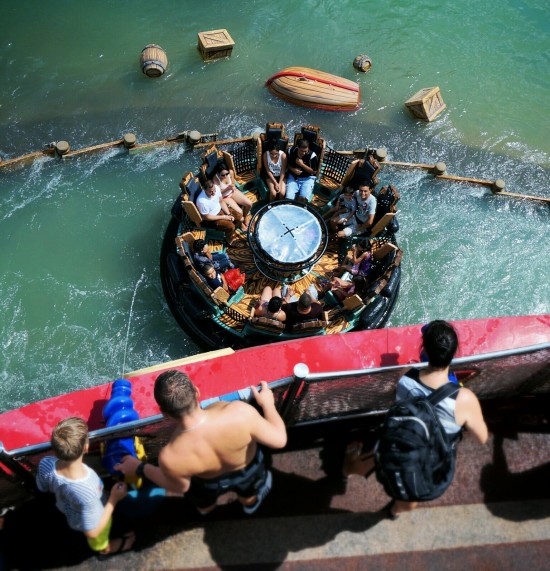 Finally, before you leave the area, explore the walking paths below Me Ship Olive that run along the IOA lagoon's edge. Here you'll find many more subjects for photos as well as a break from the crowds.
#1 – Flight of the Hippogriff
Our number one spot goes to Flight of the Hippogriff, inside the Wizarding World of Harry Potter, because the attraction is often dismissed by guests who don't see the hidden value of riding this "kiddie coaster". If you have fallen into this line of thinking, then I have some great news you: Flight of the Hippogriff not only packs a lot more punch than you're expecting, it also offers the best scenic views of Harry's world at Islands of Adventure.
 [youtube_video]J_B-YnTJUkE[/youtube_video]
Are POV ride videos not quite your thing? Then you can snap photos like this, this, and this.
Now you have a reason to be excited to use your Express Passes inside the Wizarding World of Harry Potter! (For the uninitiated, guests cannot use Express Passes on Forbidden Journey, and EPs are rarely ever needed on Dragon Challenge.)
Honorable mention – top floors of on-site or nearby hotels
If your visit to Universal Orlando includes accommodations at a hotel, and if your hotel selection is located on-site or nearby, do everything in your power to secure the highest floor possible facing the park. Then during your visit, each time you look out your window, you might be able to see something like this: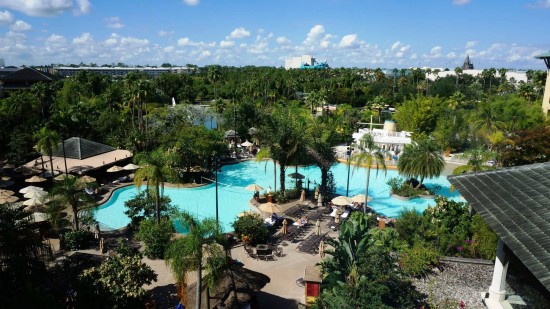 They say a picture is worth a thousand words. In the world of theme parks, we say a picture can sometimes be worth the price of admission.
I hope you enjoyed this week's edition of THE BIG 5. To start planning your Universal Orlando vacation using our free expert advice, visit the OI Universal Center. If you know all the basics and you're ready to dig into the resorts news, rumors & secrets, check out all of our blog posts filed under Universal Orlando.
Otherwise, you can always view all of our BIG 5 posts.
Scenic views of Universal Orlando – photo gallery
Click any image to view it full-screen. When the full-screen image is open, click to the right or use the right arrow on your keyboard to advance through the gallery.