Welcome to THE BIG 5, a definitive top five list of various Orlando related, uh, stuff. THE BIG 5 is wide ranging, and will run the gamut from the top five "Hidden Mickeys" at Universal, to the top reasons to go to Downtown Disney, to the top five N*SYNC songs guests want the Dapper Dans to sing during Limited Time Magic, and everything in between.
To view all of THE BIG 5 posts so far, click here.
This week's list is the Top Five Gift Shops at Universal Orlando. There was a time when exiting an attraction only to find a gift shop was almost a chore to get through. One of the best jokes on The Simpsons Ride is near the end of the attraction when Kodos and Kang come out to say "Foolish earthlings! Don't you know all rides must end near the gift shop?!" However, in the last few years Universal has put together some elaborately themed shops filled with unique and exclusive merchandise.
Let's take a look at the five best, shall we?
#5  – Super Silly Store at Despicable Me Minion Mayhem
The Super Silly Store is everything the new generation of theme park gift stores should strive to be like. It seamlessly flows from the Despicable Me Minion Mayhem ride to a fun dance party and then brings guests straight into the gift shop. The store is filled with items unique to Despicable Me, as there's nothing worse than being in an attraction's gift shop and seeing the same generic shirts/mugs that you can find throughout the park. You have exclusive items such as the cool Build-A-Minion toy; you have "Girl Scout" cookies (like Minty Mints and Coconutties) that the three daughters sold in the Despicable Me movie; and you can even buy a Mr. Gru plush doll that is a key component in the Minion Mayhem attraction itself. That's the trifecta.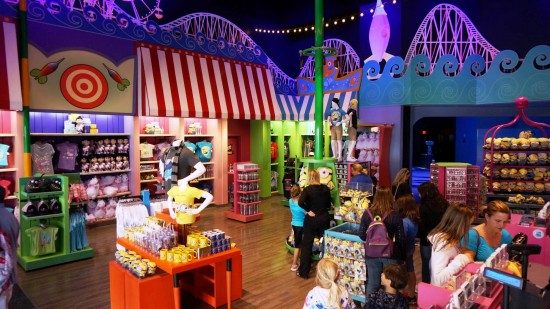 #4 – Honeydukes at the Wizarding World of Harry Potter
Every theme park has a sweet shop, but only Honeydukes inside the Wizarding World of Harry Potter can you get authentic treats from the world of the The Boy Who Lived. The Chocolate Frog may be one of the most perfect pieces of theme park merchandise ever made. The design of the box is, in a word, magical, as if it was made by the film's prop department. Each chocolate frog, sold for $9.95, not only comes with a wizard card representing one of the four founding members of Hogwarts, but the cards are exclusive to Universal. It has all this and an actual chocolate frog you can eat.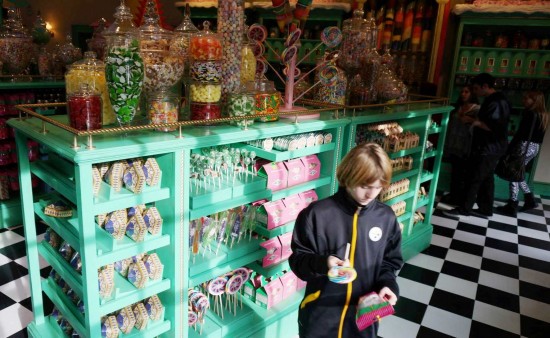 But the selection doesn't stop at chocolate frogs (and we're not even counting the gigantic chocolate frog in Honeydukes' front window that moves with sound effects), as other treats straight out of the Potter books can be found here including Cauldron Cakes, treacle fudge, Fizzing Whizbees, Peppermint Toads, and Bertie Bott's Every-Flavour Beans. There are many other Honeydukes-branded sweets too, such as chocolate wands, quill and dark mark-shaped lollipops, as well as a refrigerated case filled with Pumpkin Juice. Get your snack on!
Learn more about WWoHP merchandise
#3 – The Kwik-E-Mart at The Simpsons Ride
Everything about The Simpsons area at Universal Studios Florida is perfect and the Kwik-E-Mart is no exception. With the same biting satire of the TV show, the store advertises fake products outside and is filled with laugh-out-loud jokes on the inside (my favorite is the "These Items Won't Buy Themselves!" sign).  There's a good mix of products, but even 20 years ago The Simpsons show was making fun of how their image had been put on everything imaginable. My personal favorite items are the recreations of the fake theme park posters used on The Simpsons Ride façade, including Captain Dinosaur's Pirate Rip-Off.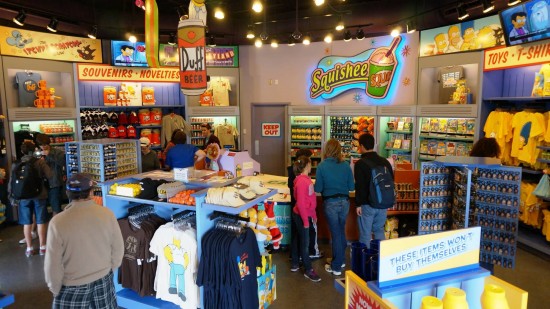 The Kwik-E-Mart also has one of Universal's best hidden surprises. Visit our Five more things you didn't know about Universal post to find out!
#2 – SpongeBob StorePants
SpongeBob StorePants is the newest addition to the Universal gift shop family and paves the way for theme park stores to become more interactive. Filled with family-friendly humor and in-jokes, the store has several areas for kids to poke around in while the parents shop. There's also an area for a SpongeBob meet n' greet. Like the Kwik-E-Mart, this shop has a great sense of humor about itself (such as The Krabs Policy of a "300% restocking fee" and "complaint dept. hours: Tuesdays, 3:00-3:01AM"). I would consider SpongeBob StorePants one of the only gift shops in any theme park worth checking out even if you have no interest in buying anything — it's so good it is almost an attraction itself.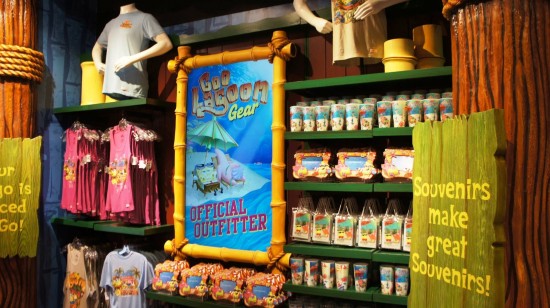 #1 – Islands of Adventure Trading Company
There's something to be said for the term Bigger is Better, and this store is big. Located right in IOA's Port of Entry, the Trading Company has a fun, explorers feel, and is filled with items that encompass pretty much every brand within both Islands of Adventure and Universal Studios Florida. You have a Harry Potter section, a Seuss section, a Marvel section and more along with a wide selection of Universal logo items. Many people will miss the little details throughout the store, or this one huge details: a dinosaur skeleton hanging from the ceiling…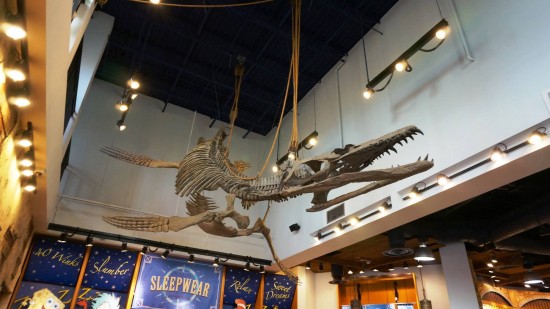 But everyone will appreciate the long walk through the air-conditioning on a hot Florida day. Even without the cool air, traveling through Trading Company at the end of a day is like reliving a "greatest hits" package and it brings back instant memories. This is the closest thing Universal has to the World of Disney store and I love every inch of it.
Honorable mention – Terminator 2: 3-D gift shop
With the Terminator 2 attraction inside Universal Studios Florida really starting to show its age, it is common for guests to not even realize this store exists. But to miss the T2 gift shop is to make perhaps the biggest shopping mistakes at Universal. This place is practically a world unto itself, embracing brands from across the spectrum of literature, television and movies. This is also where you will find some of Universal's most expensive merchandise: Try a Frodo Baggins sculpture for $250, or a replica of Batman's suit for $5,700! Want more variety? Try Star Wars collectables, a Super Woman t-shirt, or these Walking Dead graphic novels…
Oh, and just before you think your world has completely flipped upside down, don't worry… they sell Terminator merchandise too.
That's it for this edition of the BIG 5! We'll see you again real soon.
[sws_author_bio user="derekburgan" size="105″ authorposts="More OI posts by Derek" name_format="About the author"] [/sws_author_bio]