Welcome to THE BIG 5, a definitive top five list of various Orlando related, uh, stuff. THE BIG 5 is wide ranging, and will run the gamut from the top five restaurants in Walt Disney World, to the top five gift shops at Universal, to the top secrets of Disney's Art of Animation resort, and everything in between.
To view all of THE BIG 5 posts so far, click here.
Yesterday Universal dropped a bombshell: the official announcement of the Wizarding World of Harry Potter – Diagon Alley expansion combined with brand new concept art. Even though many guests may have "known" that more Harry Potter was coming to Universal's parks, it's pretty exciting to get actual confirmation of Diagon Alley coming to Florida, and that it will be opening in 2014!
However, to those of us who have been following the Universal news beat for a while – including the demolishing of the JAWS attraction and the surrounding Amity area where all this is taking place – what's more astonishing is the stunning concept art of the area that Universal released.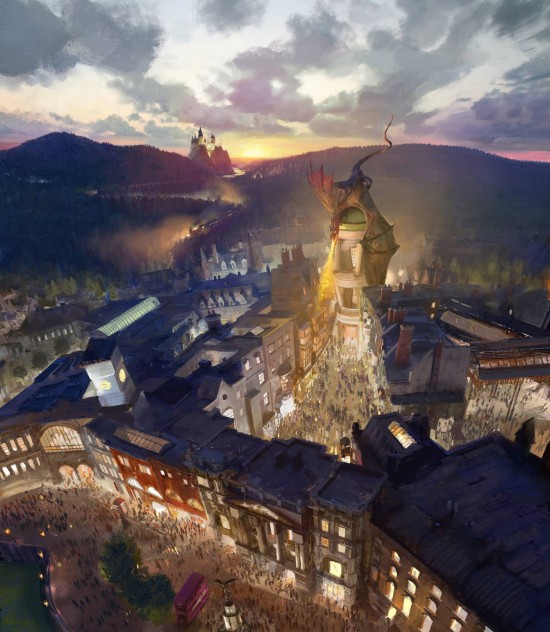 View/download the full resolution version of the concept art by clicking here.
Everything we had talked about, thought about, and even dreamed about is finally here in front of our eyes. Now let's count down the five features of this concept art that you have to look at again! Remember, you can click any image to view it full-screen.
#5 – London waterfront
We now have visual confirmation of what we wrote about weeks ago in the Rumor Round-Up: the outside of Diagon Alley will have buildings "hiding" the Wizarding World behind it with representations of King's Cross Station, Leicester Square Station, the entrance to the Leaky Cauldron, Wyndham's Theatre, and Grimmauld Place.

Universal Studios Florida has clearly put a focus on their Lagoon area. Last year they debuted one of the best nighttime shows in Orlando, Universal's Cinematic Spectacular. They are currently working on expanding The Simpsons area, which will have an attraction as well as an outdoor bar in the form of Duff Gardens. Once Diagon Alley opens the Universal lagoon area will be one of the most inspiring areas to walk around in any theme park. Whether you want to explore the London waterfront, get caught up in the hijinks of The Simpsons, enjoy fine dining at Lombard's Seafood Grille, or just get away from the hustle and bustle of theme park touring in Central Park, walking around the Lagoon will be a journey in its own right.
#4 – Gringotts Bank attraction
Universal has described Diagon Alley's marquee attraction as an innovative new ride based on Gringotts Bank.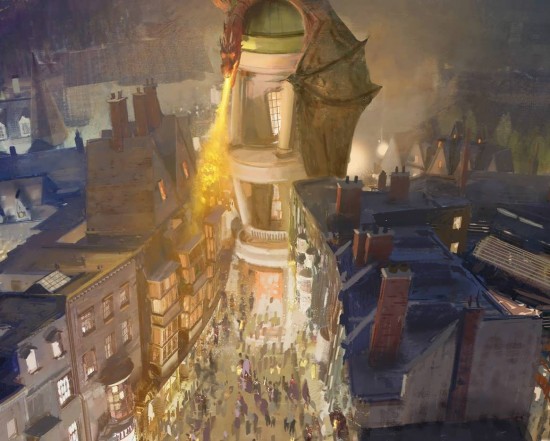 We've been hearing for a long time that the massive structure that starting showing up in USF in late 2012 was the show building for a Gringotts Bank attraction. What's not known is how much of this attraction is a coaster and how much of it is a dark ride, but this hybrid should set new levels of technical achievements that Universal is known for in rides such as Spider-Man and Harry Potter and the Forbidden Journey. The only thing bigger than the show building outside is our expectations for how amazing the Gringotts Bank experience is going to be inside.
#3 – Gringotts Bank dragon
Perched high upon the entrance to Gringotts Bank, we discover a beautiful fire-breathing dragon. Like most theme park concept art (and even park maps), we're surely seeing a little liberty taken with artistic license. Nonetheless, it's been confirmed that the dragon feature is real and will likely be an elaborate audio animatronic set atop Gringotts dome (seen in the top-left of this tweeted image), drawing guests toward Diagon Alley's "E-Ticket" attraction.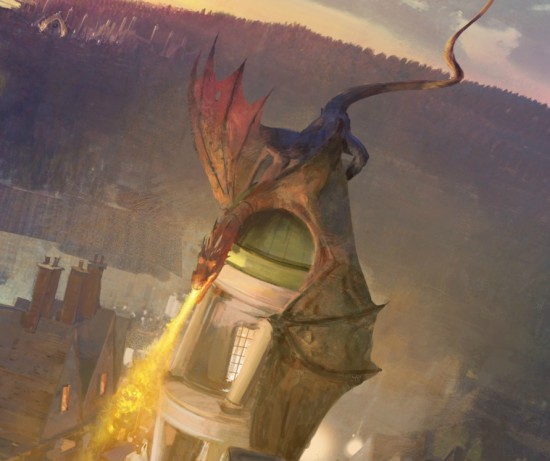 Unlike the Dragon in Forbidden Journey, whose "fire" is a combination of smoke and light, the dragon in Diagon Alley will have to breathe real fire for the effect to be pulled off — can't wait to see how Universal does this!
#2 – Knight Bus parked at the waterfront
Back in 2010 Universal brought the Knight Bus over from England and used it for photo ops the week leading up the Wizarding World of Harry Potter grand opening. In fact, the night of the big opening ceremony, several of the Harry Potter movie stars (including the actors who play Fred & George Weasley, Draco Malfoy and Neville Longbottom) arrived to the event in the Knight Bus. The new Diagon Alley concept art shows us the Knight Bus once again parked in Orlando, sitting right outside the London Waterfront area.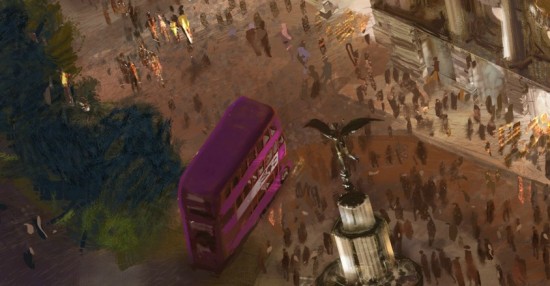 If this is a permanent feature, it will become an instant destination for people looking for a great picture, not unlike the ones taken with the Jaws shark "Bruce" located nearby in the San Francisco backlot.
For those interested, the statue featured in the image is that of the Greek god Anteros, sometimes referred to as The Angel of Christian Charity and popularly mistaken as his brother, Eros (at least according to Wikipedia). It can be found in London's Piccadilly Circus — learn more.
#1 – Hogwart's Express traveling between Diagon Alley & Hogsmeade
It's been talked about for a while, and we've seen pictures of the Hogwart's Express track already in place, but this concept art shows us the iconic train making its pilgrimage from London to Hogwarts.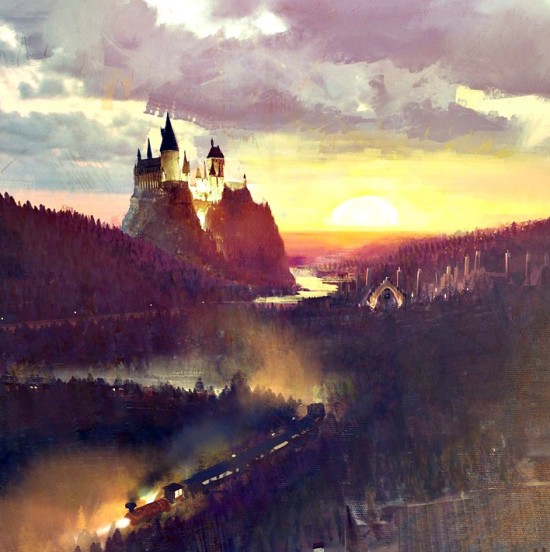 For the first time in the history of theme parks, there will be "lands" in two separate parks connected by an attraction. It's one thing to be able to ride the monorail from EPCOT to the Transportation & Ticket Center and then another quick monorail to the Magic Kingdom, but here is an actual train that will take guests from Diagon Alley in Universal Studios Florida to Hogsmeade Village at Islands of Adventure.
We are at the precipice of theme park history and it is breathtaking.
Honorable mention – Weasleys' Wizard Wheezes
Eagle eye readers will see a small glimpse of one of our favorite stores from the Harry Potter universe, Weasleys' Wizard Wheezes, run by Fred and George Weasley. Here is an image showing the store from the Harry Potter movies (top) and Universal's Diagon Alley concept art (bottom):
Wizarding World of Harry Potter – Diagon Alley Weasleys' Wizard Wheezes.
While it's not known if this store will be a full retail experience or just a themed facade, the concept art shows us that we'll all get to see the whimsical icon of the store in all it's glory.
That's it for this edition of the BIG 5! We'll see you again real soon.
Editor's note: Orlando Informer hosts the world's largest single-page unofficial guide to the Harry Potter expansion at Universal. We invite you to continue learning about this amazing project by clicking here.
[sws_author_bio user="derekburgan" size="105″ authorposts="More OI posts by Derek" name_format="About the author"] [/sws_author_bio]