Welcome to THE BIG 5, a definitive top five list of various Orlando related, uh, stuff. THE BIG 5 is wide ranging, and will run the gamut from the top five things to do at SeaWorld, to the top five Extreme Eats at Universal Studios, to the top five new dishes in Fast Food Blvd, and everything in between.
To view all of THE BIG 5 posts so far, click here.
This week's list is the Top Five Reasons We Loved Disney's Star Wars Weekends 2013 (or SSW 2013 for short).  A celebration of everything Star Wars, SSW takes place over the course of four weekends between May and June. The event started in 1997 and ran sporadically until becoming an annual event in 2003. Each year seems to be more popular than the last, yet 2013 was notable for another reason: it is the first year Disney was in full control of the Star Wars brand after purchasing it from George Lucas in late 2012 for $4 billion.
Without further ado, here's what we enjoyed most about this year's event…
#5 – Darth's Mall
Each year Disney releases a whole bunch of new Star Wars related merchandise during SWW, and you can find it all at the cleverly named Darth's Mall (a play off the name of the Star Wars character Darth Maul from Episode I).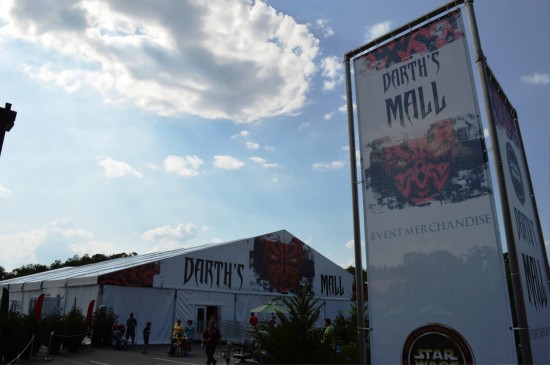 A giant tent is set up behind Tower of Terror and inside you'll find almost everything you could possibly want in terms of event merchandise as well as several photo ops, including one with a life size Han Solo in Carbonite and another with the Rancor monster from Return of the Jedi that is 17 feet long and weighs over 700 pounds!
Some of the unique merchandise you can buy include personalized Star Tours name tags (where your name is written in Aurebesh, the official written language of the Star Wars Universe), limited edition pins, t-shirts, coins, plushes and games. My favorite new items this year include a Thermal Detonator "hot potato" game, a Disney characters as Star Wars characters "mash up" play set focusing on the Sarlacc Pit from Return of the Jedi, and a pin which had a mournful looking Stormtrooper with the phrase "I had friends on that Death Star."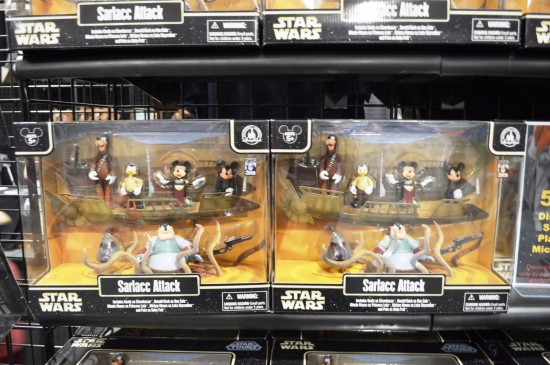 Like all special event merchandise, lines can get quite long, and expect many of the more popular items to sell out fast. Several of the extremely limited edition items were already sold out on the first day of SWW.
#4 – Special photo ops
All throughout Hollywood Studios there are special characters you can have your picture taken with. Scattered throughout the park you'll find photo opportunities with: Queen Amidala, Chewbacca, an Ewok, Ahsoka Tano, Asajjj Ventress, Captain Rex, Commander Cody, Anakin Skywalker, Kit Fisto, Shaak Ti, Darth Vader, Boba Fett, Jango Fett, Darth Maul, Darth Goofy, Jedi Mickey, Leia Minnie, and Stormtrooper Donald. Those are the characters that are set in place and you can queue in line for; others "roam" the park and have no set area and these include: Aurra Sing, Gamorrean Guards, Stormtroopers, Tusken Raiders, Zam Wessell, Clone Troopers, Jawas, and the Cantina Band.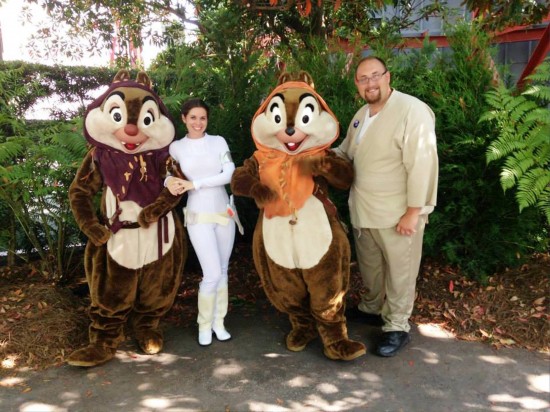 But that's not all! Over in Darth's Mall you'll find Luke Skywalker, Princess Leia, R2D2 and C3PO as well as several Star Wars themed backgrounds to take your own pics in front of outside the tent.
#3 – Celebrity autographs
Many Star Wars celebrities are on hand throughout the SWW and most are available for an autograph. However, unlike the characters spread throughout the park, to get an autograph with a celebrity you need to obtain a special FastPass. These FastPasses are available at the front of the park. Unfortunately each guest is only allowed one FastPass per person, and the amount of total Fast Passes are very limited, so if there is a special person you've always wanted to meet you'll have to line up early — and by early we mean 5:00am.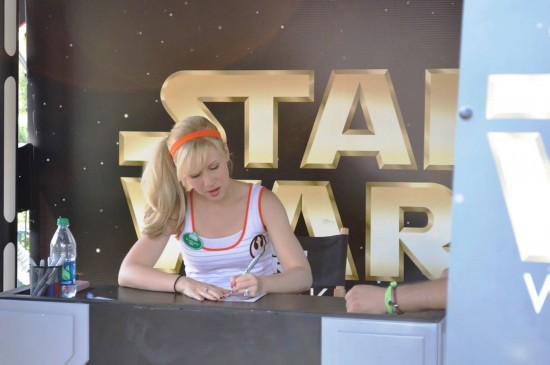 Celebrities scheduled to be a part of this year's SWW include Ashley Eckstein (Ahsoka Tano), Ray Park (Darth Maul), Jeremy Bulloch (Boba Fett), Wawick Davis (Wicket W. Warrick the ewok), Tim Rose (Admiral Ackbar "It's a Trap!"), Peter Mayhew (Chewbacca), Billy Dee Williams (Lando Calrissian) and more. Unlike comic book conventions or sci-fi conventions, where these autographs would easily cost $20 or more each, all celebrity signings are included free with your park admission.
#2 – Star Wars Motorcade
Guests at theme parks love parades and one of the more unique offerings takes place during SWW as this motorcade includes special vehicles such as X-Wing fighter for Mickey and sports cars for the Star Wars celebriteis like Ray Park, but also has many characters as well as kids from the Jedi Training Academy.
[youtube_video]slYuPoZSUBw[/youtube_video]
Also represented in the parade are the 501st Legion: Vader's Fist, which is a fan-run community of people who dress in incredibly elaborate and movie accurate Star Wars costumes.
#1 – Hyperspace Hoopla
Hyperspace Hoopla takes place on a stage directly in front of the big Sorcerer's Hat in the middle of the park and is a hilarious dance-off using the Star Wars characters. Many consider the end-of-day Hyperspace Hoopla to be the highlight of every Star Wars Weekend while others believe it to almost be sacrilegious in terms of how it uses Star Wars characters in such a goofy manner.
[youtube_video]3VQnFHorxYA[/youtube_video]
Considering that the Star Wars brand has been officially mocked by the television shows Family Guy (in a must see trilogy of specials) and Robot Chicken as well Disney itself making a Hot Wheels style car of "Mater Vader" that combines Cars' Tow Mater with Darth Vader, I think it's time for some people to lighten up.
Honorable mention – custom Star Wars figures
Last year D-Tech made their debut at Star Wars Weekends with a customizable action figure that allowed guests to be "frozen in carbonite" like Han Solo. This year D-Tech brought back Carbon Freeze Me but also debuted the ability for guests to also create their own Stormtrooper action figure. Through a process of using 3D facial scanning and printing,  D-Tech takes a digital picture of your face and uses that to create the "head" of the action figure. There are options for both men and women. The entire process only takes a couple minutes, but the figure will take 6-8 weeks to create and be shipped to your home. The final cost (including shipping) is about $120.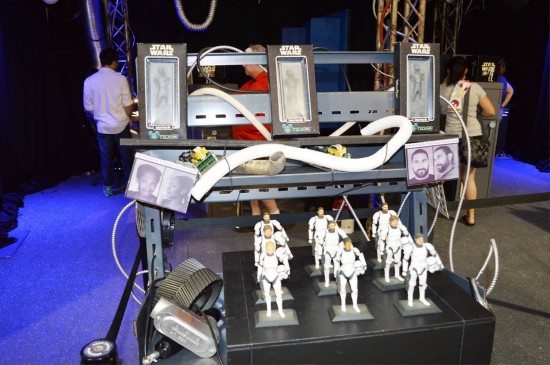 The custom Stormtrooper figure and the Carbon Freeze Me figure are exclusive to Star Wars Weekends and cannot be bought anywhere else.
That's it for this edition of the BIG 5! We'll see you again real soon.
Star Wars Weekends – photo gallery
Click any image to view it full-screen. When the full-screen image is open, click to the right or use the right arrow on your keyboard to advance through the gallery.
[sws_author_bio user="derekburgan" size="105″ authorposts="More OI posts by Derek" name_format="About the author"] [/sws_author_bio]