Being the poor college graduate that I am, all my visits to Universal Orlando have included accommodations at an off-site hotel. However, recently I had the very fortunate opportunity to stay on-site at Hard Rock Hotel. Let me tell you, staying there made the trip ten times better than I was expecting! Now I submit to you that it is the very best way to experience Universal Orlando Resort, and in this post I'll explain why.

Standard room big enough for five people, reducing the per-person cost
If it had simply been me and one other friend, we never would have been able to afford two nights at the Hard Rock. But, a group splitting around $400 per night five ways makes things a lot easier to handle. Two people per bed and one person (normally a gallant male) can sleep on a blow-up bed, which can easily fit between the beds and the dresser.
Also, certain days are cheaper than others, so while we were paying a hefty rate for Saturday night, Sunday night was discounted quite nicely in comparison.
Editor's note: When occupying a standard room with five guests, Hard Rock Hotel may require a rollaway for the fifth guest, which is an additional nightly fee of $25.
Décor & memorabilia
I have always called myself a rock fan, ever since I boogied down to Last Dance with Mary Jane at the age of four. The amount of rock memorabilia in the hotel, even down to the framed photos in every room, assured me that I had chosen the right place to stay. In fact, Hard Rock advertises that its Orlando hotel has over $1 million worth of rock 'n roll memorabilia on display.
The guitar-laden fountain in front of the hotel, seen above, is also incredibly awesome. If I ever get married, even if the wedding isn't in Orlando, I want a bride and groom picture in front of that thing. That's how awesome it is.
The Kitchen
The second morning of my stay, three members of my party were still sleeping, thus making us miss the early admission discussed in the previous paragraph (shame on them!). To kill time, my friend Brittany and I made our way down to The Kitchen restaurant for some breakfast. This was one of the best breakfast buffets I have ever seen. They had some of everything: fruit, muffins, hash browns, bacon, every kind of egg you can think of (including an omelet station, where the chef made your omelet literally however you wanted it), and an entire table dedicated to sweets, including donuts, cookies, and little shot glasses filled with different kinds of chocolate.
Everything was extremely tasty, and extremely worth the $20 a piece that we paid. Now the only thought on my mind is, can eat there without staying at the hotel? (Answer: Yes!)
The pool
When I'm staying in a hotel, I don't typically make time to swim in the pool because, when I'm out of town, I have more important things to do. But I made time at the Hard Rock pool.
[youtube_video]apMsOWjHi04[/youtube_video]
My favorite thing about it is the ability to hear the music they're playing underwater. It was really a thrill to hear Gimme Shelter by the Rolling Stones when I went beneath the surface. The lifeguards also gave me tips about the best places to hear it (hint: one of them is near the stairs, where you can barely stand with your head above water). The slide is cool and fun for kids and adults alike. It's really good exercise running around the winding trail and up the stairs to make it to the top, and the trip down is twisty, relaxing, and much longer than you would expect. The hot tubs were a great place to hang out after some time in the pool, and a great place to meet other people staying in the hotel. We met people from Los Angeles, and had a really great conversation about the theme parks in California versus the theme parks in Orlando.
Water taxis
After a day at Universal's parks, the walk to the parking garage can be a dreaded experience. The trek is long and crowded, and it is quite easy to spend ten minutes looking for your car on legs unsteady from walking all day. The deluxe on-site hotels take care of this problem quite easily. Simply go down to the docks in CityWalk after your fun-filled day, and get in the line for the hotel you're staying in.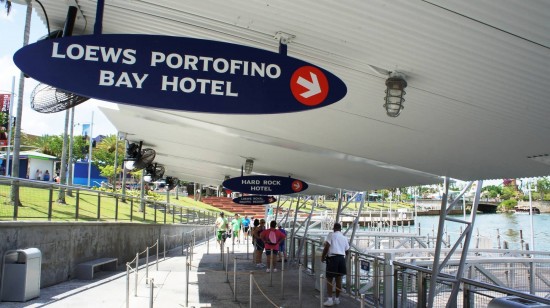 We never had to wait more than ten minutes for a boat (all with fun movie and music related names, like the 'Take Two') to come around the corner and take us to the back door of the Hard Rock. This was a godsend. We were able to sit and relax on our way home instead of making that awful walk back to our car.
Early admission
While we don't quite know what's happening with Diagon Alley and Early Park Admission, I visited before that was a concern, and early entry worked out fantastically.
I had always thought of the Wizarding World of Harry Potter – Hogsmeade as an eternally busy place, but that was before I stayed on-site. Early admission makes all the difference: you get to walk the streets of Hogsmeade nearly on your own, you get to hop right onto an enchanted bench on the Forbidden Journey in a mythical wait time of ten minutes. Staying on-site gives you this fantastic perk and it is definitely something you should experience at least once.
Unlimited Express Pass access
This is the reason most people want to stay on-site at a deluxe resort, and I completely agree with them. It is an awesome perk for something that is pricey on its own, and it helps you make the most of your trip. The Express Pass cuts down on wait times significantly. What could have been a forty minute wait to ride the Hulk turned into a five minute wait for three different rides.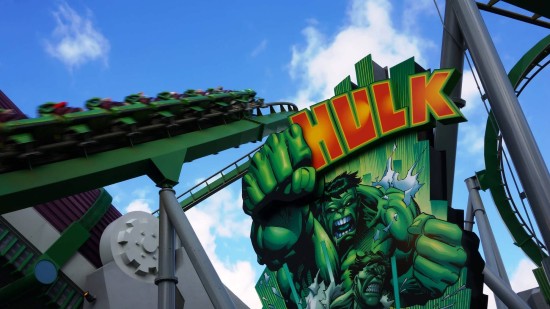 Also, since I had never used the Express Pass before, I was presented with areas that I hadn't seen in my previous visits to Orlando, such as the darkroom where Spider-Man develops his photos, or the hallway with all the alien posters on Men in Black. It's always cool to skip the lines and discover something new in the process.
Some people look at the prices for Universal's deluxe on-site hotels and immediately rule out the idea of staying there. I say that if you can get it to fit in your budget, you have to stay on-site at least once. All the perks make it worth the cost, and they make your trip even more of a success than if you had stayed anywhere else.
Keep in mind that the Early Park Admission, unlimited Express Pass access, and complimentary water taxi service are benefits included when staying at any of Universal's deluxe on-site hotels: Portofino Bay Hotel, Hard Rock Hotel or Royal Pacific Resort.
Visit the OI Universal Center to learn more about many of the topics discussed in this post:
Benefits of staying on-site at a Universal Orlando deluxe hotel
Hard Rock Hotel at Universal Orlando
Complete guide to Universal Express Passes
[sws_author_bio user="alongworth" size="105″ authorposts="More OI posts by Alexandra" name_format="About the author"] [/sws_author_bio]