Spring is definitely in the air as Orlando's theme parks prepare for their first major events of 2013…
Bands, Brew & BBQ 2013 at SeaWorld Orlando
Saturdays and Sundays February 9 – March 17
Enjoy a cornucopia of all things BBQ featuring SeaWorld's signature mouth-watering BBQ, along with local favorites Tony Roma's, Cecil's Texas Style Bar B Q and Sonny's Bar-B-Q who will be on hand serving BBQ foods tendered to perfection. And, through March 3rd, in between all the barbeque eatin' take in the majestic sights of the proudly displayed 2013 Harley-Davidson line-up. For all the Harley lovers, when you ride your Harley to Bands, Brew & BBQ parking is free!
This year's musical line-up features six full weekends of top artists in classic rock and country music, including a side stage showcasing local bands. For those who want to show off their line dancing and boot scootin' skills, a DJ will be spinning music to satisfy movers and shakers of all levels.
Enjoy Bands, Brew & BBQ February 9 through March 17, 2013.
Saturday, February 9 – Chris Young with Jerrod Niemann
Sunday, February 10 – Merle Haggard
Saturday, February 16 – The Beach Boys
Sunday, February 17 – Styx
Saturday, February 23 – Big & Rich
Sunday, February 24 – Third Eye Blind
Saturday, March 2 – Daryl Hall & John Oates
Sunday, March 3 – Darius Rucker
Saturday, March 9 – Michael McDonald
Sunday, March 10 – Josh Turner
Saturday, March 16 – Rodney Atkins with Uncle Kracker
Sunday, March 17 – Sheryl Crow
Bands, Brew & BBQ VIP package
Have the ultimate Bands, Brew & BBQ experience with reserved seating for the concert and a meal!  Meal voucher includes any entrée (including its accompanying side) and any one item from a selection of side salads, side dishes or desserts and a regular sized non-alcoholic beverage.
Craft Brew Sampler
Enjoy your choice of 10 samples with over 25 domestic and imported craft beers to choose from.  Guests must be 21+ to purchase and redeem and must show ID in order to receive the wristband. Chose from favorites such as Florida Beer Florida Lager, Vermont Hard Cider Granny Smith, Magic Hat #9, Sweetwater 420, Green Flash Hop Head Red, and many more.
To be perfectly honest, Bands, Brew & BBQ might be the most underrated theme park event in Orlando. The walkway area, where the booths are set up, is a perfect setting for taking a stroll, trying a bite of food here, a brew there, and repeat. Dare I say, it feels a little bit like Epcot's F&W Festival!
And what really helps the event is that it takes place during the day. So unlike Universal's Mardi Gras, which doesn't really kick off until dusk when it still can get pretty cold, this event let's you have fun in the daytime sun!  And after a long winter, that's exactly what you want to do.
Official site: http://seaworldparks.com/en/seaworld-orlando/Events/Bands-Brew-and-BBQ
Mardi Gras 2013 at Universal Studios Florida
Saturdays and select nights February 9 – April 20
On Saturdays and select nights this spring, Universal's Mardi Gras celebration combines unparalleled theme park entertainment with an elaborate Mardi Gras parade, dozens of colorfully costumed performers, authentic New Orleans bands, delicious Cajun cuisine, and live concerts by nationally and internationally recognized recording artists.
This year's concert line-up:
Saturday, February 9, 8:15pm –  Lifehouse
Saturday, February 16, 8:15pm – Steve Miller Band
Sunday, February 17, 8:15pm – Boys Like Girls
Saturday, February 23, 8:15pm – Trey Songz
Saturday, March 2, 8:15pm – Demi Lovato
Saturday, March 9, 8:15pm – Montgomery Gentry
Friday, March 15, time TBA – Sean Kingston
Saturday, March 16, time TBA – Matchbox Twenty
Friday, March 22, time TBA – Austin Mahone
Saturday, March 23, time TBA – Phillip Phillips
Saturday, March 30, time TBA – Pat Benetar & Neil Giraldo
Saturday, April 6, time TBA – Kool & The Gang
Saturday, April 13, time TBA – Pitbull
Saturday, April 20, time TBA – The All-American Rejects
Before enjoying the live concerts, guests can experience all the fun and excitement of The Big Easy as Universal Studios Florida becomes a family and kid-friendly version of Mardi Gras. The celebration includes an elaborate Mardi Gras parade, where guests can dance along with street performers and collect beads by the handful as colorful floats wind down the streets of Universal Studios.
Since our site is home to the OI Universal Center — the world's largest and most up-to-date Universal Orlando vacation planning resource — you would expect us to have a lot of Mardi Gras insight and expertise. Well, my friends, you expect correctly! Visit our Complete insider's guide to Mardi Gras 2013 to learn everything you need to know.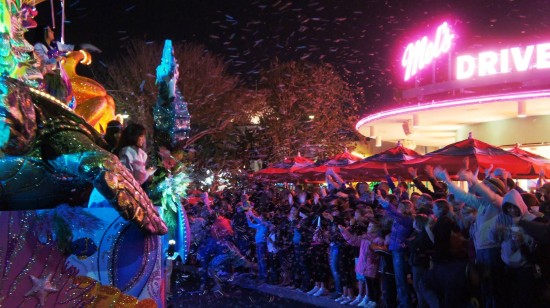 2013 Epcot International Flower & Garden Festival
Every day from March 6 – May 19
A blooming bounty of festival firsts will welcome Disney guests to the 20th Epcot International Flower & Garden Festival presented by HGTV March 6 through May 19, 2013 at Walt Disney World.
Garden Marketplace culinary creations ranging from smokehouse barbecue and shrimp with grits and Zellwood corn to sweet "frushi" made with fresh fruits and coconut rice. Chefs are perfecting menus for marketplaces that will include Florida Fresh at World Showcase Promenade, Smokehouse Barbecue and Brew at American Adventure courtyard, Primavera Kitchen at Italy showcase, Hanami at Japan showcase and eight others. Around the World Showcase promenade
Garden Marketplace refreshing libations with a kick like Hot Sun Tomato Wine from Florida Orange Groves Winery and Dole Whip with Spiced Rum, as well as non-alcoholic drinks like Frozen Desert Violet Lemonade and Wild Berry Slush. Beverage specialists will feature brews and beverages at food marketplaces and at Fruits by the Glass andPineapple Promenade. Around the World Showcase promenade
A new, circus-like "Land of Oz" play area based on the Disney fantastical film adventure "Oz: The Great and Powerful" to be released March 8, 2013. The interactive children's play zone will feature play systems adorned with giant flowers and designed to stretch kids' imaginations and muscles. Midway-style games, red-and-white circus-themed tents and the "Oz Movie Garden" of intriguing plants will capture the spirit of the upcoming film. Also on tap: photo opportunities and the "great and powerful Oz's" crashed hot-air balloon. Imagination Walkway
Larger-than-life Fab Five Disney character topiary. Floral versions of Mickey Mouse, Minnie Mouse, Goofy, Pluto and Donald Duck (with Daisy Duck in a cameo) star in a celebratory cookout scene in living topiary color. The 14-foot-tall Goofy topiary will bobble an anniversary cake while Donald and Daisy play badminton, Mickey fires up the grill, Pluto swipes a link of hot dogs and Minnie chills out on a colorful blanket of blossoms. Epcot Front Entrance
Illuminated Gardens in the park's Future World and World Showcase will twinkle and glow over the festival's world-famous Disney gardens and topiaries each festival evening. Epcot Future World and World Showcase
Throughout the 75-day garden party, guests will discover festival surprises around every corner including new topiary triumphs, colorful garden displays, a butterfly bounty, HGTV celebrity designers, interactive gardening seminars and whimsical children's play areas. On weekends, top Flower Power rockers of the 1960s and '70s will perform:
March 15 – 17: Chubby Checker & The Wildcats
March 22 – 24: The Guess Who
March 29 – 31: Nelson
April 5 – 7: The Turtles featuring Flo & Eddie
April 12 – 14: Paul Revere & the Raiders
April 19 – 21: The Village People
April 26 – 28: The Orchestra, Featuring Former Members of ELO and ELO II
May 3 – 5: Tommy Roe (new!)
May 10 – 12: Herman's Hermits starring Peter Noone
May 17 – 19: Starship starring Mickey Thomas.
Every Friday through Sunday, HGTV design celebrities will host Festival Center seminars.  During opening weekend, March 8-10, Chris Lambton of "Going Yard" will appear; other designers scheduled to take the stage include Brandon Johnson of "My Yard Goes Disney" and Meg Caswell of "Meg's Great Rooms."
Official site: http://www.EpcotinSpring.com