When the sun goes down at SeaWorld Orlando, a new world of fun and adventure comes to life. Summer Nights at SeaWorld Orlando is a nighttime spectacular that includes incredible shows, an all-new attraction — Antarctica: Empire of the Penguin — thrilling coasters under the stars, and a nightly Shamu show that ends with a bang. During Summer Nights — June 22 through August 11 — SeaWorld is open until 10:00pm, providing even more time for guests to play.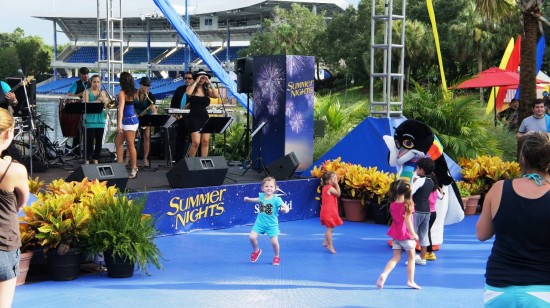 Headlining Summer Nights is the all-new Antarctica: Empire of the Penguin, where guests can experience the epic world of Antarctica through the eyes of a special hero penguin named Puck; Shamu Rocks, a larger-than-life experience where guests watch majestic killer whales perform amazing behaviors choreographed to a rock-n-roll beat; and Sea Lions Tonite, a hilarious, satirical show featuring Clyde and Seamore spoofing the other SeaWorld shows that will have everyone in stitches.
Join the Party with Shamu & Friends as they dance the night away at the Village Square located at the front of the park. The party begins every night one hour prior to park closing with an emcee on stilts who fills the square with music that the whole family can dance to, including popular line dancing songs and party favorites.  With countless bubbles floating overhead and music in the air, this celebration of summer is sure to provide non-stop fun for all ages.  The Party continues 30 minutes after park closing.
Summer Nights at SeaWorld, plus the epic, new Antarctica: Empire of the Penguin – the coldest theme park attraction in Orlando – coupled with amazing admission offers and values, makes the park a must-see for locals and residents this summer. The best admission deals can be found online at SeaWorldOrlando.com.
Additional details
All-new: Antarctica Empire of the Penguin
SeaWorld Orlando's must-see new attraction transports guests into a rarely seen, icy world. Families feel the majestic grandeur of the South Pole and see it through the eyes of a special hero penguin named Puck on a first-of-its-kind family ride. Guests explore a massive penguin colony in an expanse that envelops them in cool extremes, both above and below the penguins' icy world. When the sun goes down, the ice of Antarctica is illuminated in vibrant color. It's a must-see, one-of-a-kind theme park experience only at SeaWorld in Orlando.
Shamu Rocks
Rock the night away with Shamu during this spectacular killer whale show with more flash – and certainly more splash – than a rock concert. Shamu Rocks is a high-energy celebration of unprecedented proportions, combining awe-inspiring killer whales with a stunning light show, water fountain display and music from some of the hottest rock stars in the industry. And new this year is an electrifying twist on this classic favorite!
[youtube_video]k_ogrPd8qFc[/youtube_video]
End your day at SeaWorld Orlando with a bang at the final Shamu Rocks show of the evening, where a rockin' fireworks finale will light up the night sky.
Sea Lions Tonite
SeaWorld's popular sea lion comedic duo takes the laughs into the night. Hilarious hijinks ensue in this evening show as the park's talented sea lions, otters and walrus parody other favorite daytime SeaWorld shows and attractions.
Additional Summer Nights Experiences
Summer Nights VIP Tour
Experience the highlights of Summer Nights at SeaWorld Orlando, VIP-style. This six-hour, guided tour includes an opportunity to feed dolphins, front-of-the-line access to our most popular rides, including Manta and Turtle Trek, and reserved seating at our exhilarating night shows, Shamu Rocks.  Included with the tour is the convenient, all-you-care-to-eat All Day Dining Deal, where you and your family can enjoy all of your favorite foods from your favorite participating restaurants!
SeaWorld Coasters At Night
Experience an even more extraordinary sensation by riding our many attractions by moonlight, including Manta, Kraken, and Journey to Atlantis. The thrills reach an all time high when the lights go down and the stars come out.
For more information visit SeaWorldOrlando.com.