Have you ever visited SeaWorld and imagined how amazing it would be to care for some of the animals? If you book a Marine Mammal Keeper Experience, you will be able to do just that! I was lucky enough to participate in this program with my mom, and it was really was a dream come true. I want to share with you all my experiences, including playing with beluga whales, feeding sea lions, and exploring many areas of SeaWorld that are not open to the public.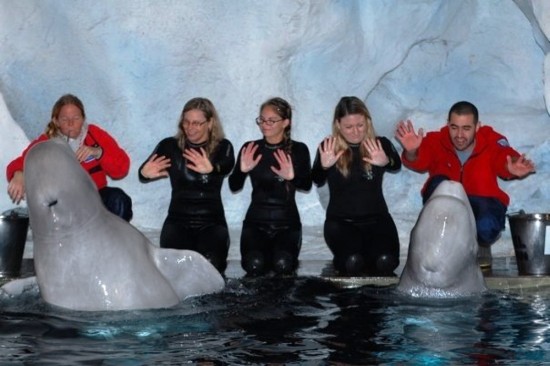 My day started at 6:30am when I met the Animal Care team member that would be our guide for the day. She introduced herself as Maggie, and she lead us into a "behind the scenes" area to explain where the Animal Care team members prepare the daily meals. The room was equipped with a whiteboard with each of the animals' names and their allotted amount of fish and goodies. Maggie explained that it's necessary to keep details records so each animal receives the correct amount of food and vitamins for optimum health.
The first animal we met was a lovely manatee scheduled to released back into the wild soon. Her name was C.C. and she was delightful, greeting us with a wave as we approached to help feed her several bags of lettuce. I will say it was amazing how much she could consume — imagine eating a salad with four bags of lettuce and you have her breakfast. After feeding C.C. we learned about the Manatee rehabilitation program at SeaWorld. Did you know that SeaWorld's conservation team has cared for and released hundreds of injured and sick manatees back into the wild? If you would like to learn more about the Conservation and Rehabilitation efforts of SeaWorld company, check out seaworldcares.com/animal-rescue.
After feeding C.C. we headed to a much larger pool and met a dolphin whose eating habits the Animal Care team members was monitoring closely. We helped feed him handfuls of fish, then rewarded his cooperation with a few toys. He seemed to like his basketball the most, launching it in the air over and over again.
Next we were brought out to the park, and we were shown where SeaWorld's team members keep all the toys for dolphin enrichment in the Key West area. We each picked out a toy to bring to the Under Water Viewing area and played with a few of the younger dolphins. According to Maggie, some of the older Dolphins hog toys and won't share with the younger dolphins, so the younger dolphins get to play in the Under Water Viewing area. This was very enjoyable, and the Dolphins were certainly having fun themselves. I recall a young female dolphin that kept trying to catch a bouncy ball in her mouth despite the glass that separated us.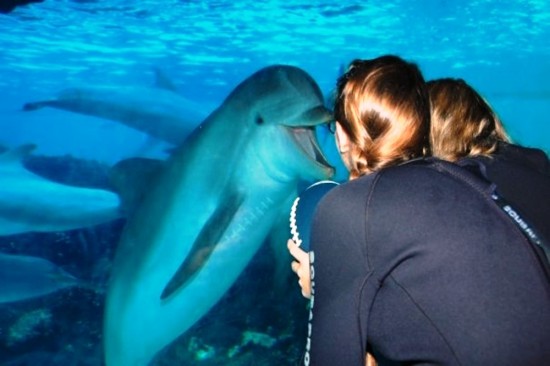 After playing with the friendly dolphins, we headed to change into wetsuits. With a heaping amount of lettuce in tow we arrived at the manatee area and started feeding more hungry animals. Among those that we met were Oakley and her baby.
While we laughed and enjoyed the company of the manatees, I couldn't help but marvel at the size of these gentle giants. Maggie told our group that a full-grown male manatee can weigh over 1,000 lbs.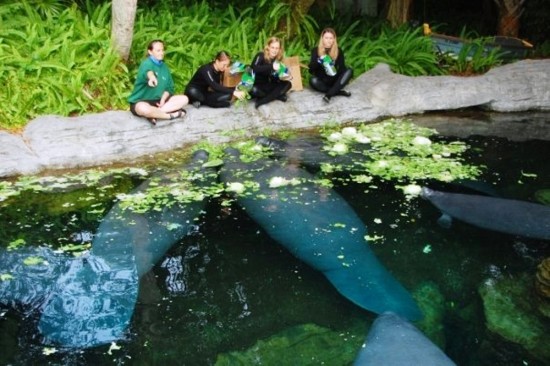 After the manatees were full, we went back to play with another set of dolphins. In the Key West area we were allowed to sit in a shallow run-out and meet two amazing dolphins named Ajax and Potter.
We learned about how the dolphins are trained to exhibit certain behaviors that help the Animal Care team members complete their health exams. For example, when prompted by a team member, the trained dolphins will present their tail fluke and allow a vet to obtain a blood sample.
Ajax and Potter showed off with a few vocalizations and tried their best to impress us with jumps. Surprisingly, a dolphin can jump out of the water over 14 feet!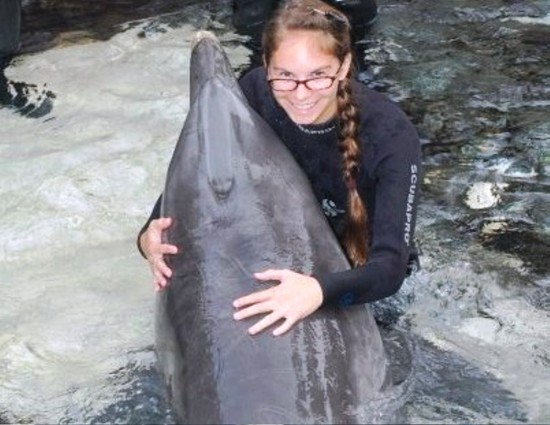 After hugging the dolphins goodbye, we headed back to change out of our wetsuits.
Now dry we returned to the backstage area to meet more adorable animal friends. This time we were introduced to a pair of otters who managed to be all at once small, slick, and hilarious. Maggie attempted to catch their attention, but they were too preoccupied with a riveting game of hide & seek. I must admit these little guys were entertaining enough to have spent the rest of our day watching them — they did after all have a waterslide in their play area. Eventually Maggie gave up trying to get their attention, and we exited for lunch.
After enjoying our complimentary meal near the stingray touch tank (and watching guests muster up the courage to reach into the water), we walked to Pacific Point to meet the sea lions. We went backstage and gathered so many large silver buckets of fish I almost didn't believe they would eat it all. We settled into a comfortable spot at Pacific Point and started feeding the hungry sea lions. They were very enthusiastic about their fish, and we were told that some even "trained" themselves to wave and bark at guests who also can participate in feedings. There was one especially vocal sea lion named Oprah, whom I still look for when I am visit the park.
After all the sea lion fun we went to the Wild Arctic, changed into a new set of wetsuits, and got ready to meet the beluga whales. But before our encounter we had to get used to the extremely cold water that these beautiful whales live in. If I remember correctly, the water is kept at a frosty 51 degrees Fahrenheit.
The first beluga we were introduced to played, splashed, and showed off some very impressive vocalizations. As more belugas came into the area, I remember Maggie saying earlier that these animals are called "the canaries of the sea" — I couldn't have guessed how correct that was!
All of the belugas we met were extremely social and so playful; I found it fascinating, and these creatures quickly became my favorites of the day.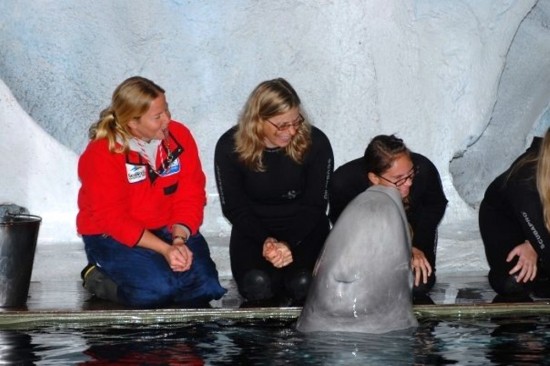 The fun at the Wild Arctic didn't end there. To our delight, we met a charming harbor seal, who was a perfect gentleman as he kissed our foreheads. His attention never waived from us, and we had the opportunity to feed him squid and see where he lives inside the Wild Arctic. Although this interaction was short, the little guy certainly made an impression on us.
The last animal we got to hang out with was a Walrus! I never thought I'd be able to say I got kiss on my hand from a Walrus, an enormous creature that can weigh over 2,000 lbs full grown, but now I certainly can say that. The Walrus was another favorite of mine to meet.
As our time with Maggie ended, we returned to the park with many new memories of SeaWorld that I continue to cherish. The day was filled with experiences spanning from the sloppy wet kiss my mom got from a harbor seal to the amazing time we had feeding Oprah the Sea Lion. I will never forget the Marine Mammal Keeper Experience at SeaWorld Orlando, and I highly recommend the program to anyone who is interesting in learning more about how the park cares for its animals — or anyone who just wants to speed more time interacting with these spectacular creatures.
The experience starts at $399 and also includes admission to SeaWorld for the day (Passholders save 10%). Visit SeaWorld's website to check exact pricing, availability, and to make your reservation.
[sws_author_bio user="KaseyVandermark" size="105″ authorposts="More OI posts by Kasey" name_format="About the author"] [/sws_author_bio]