During weekends in October, a visit to SeaWorld Orlando is made even better because of SeaWorld's Halloween Spooktacular. I was invited by Orlando Informer to enjoy the first official day of the year's event.
The Spooktacular is included in regular theme park admission. It is this characteristic that immediately sets it apart from other Halloween events in Orlando's theme parks, such as Universal's Halloween Horror Nights or Disney's Not-So-Scary Halloween Party. There are no separate tickets to buy; no waiting until the evening hours to enjoy the Halloween fun.
I met up with my friend and her daughter in the park. We coordinated outfits to make our visit a little more fun. The festivities kicked off at 12:00 noon. It is important to remember that you will be out in the sun as you enjoy the Spooktacular activities, so keep this in mind when selecting your costume or attire. Costumes for guests of all ages are indeed allowed and encouraged.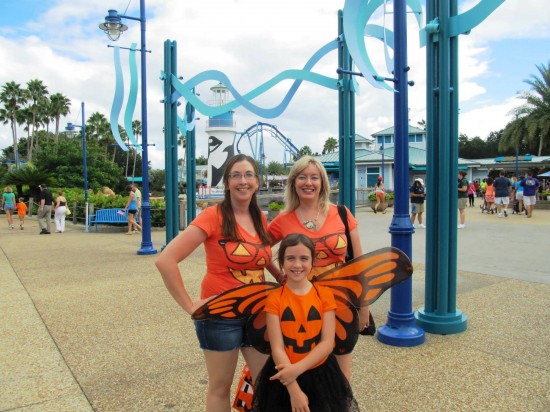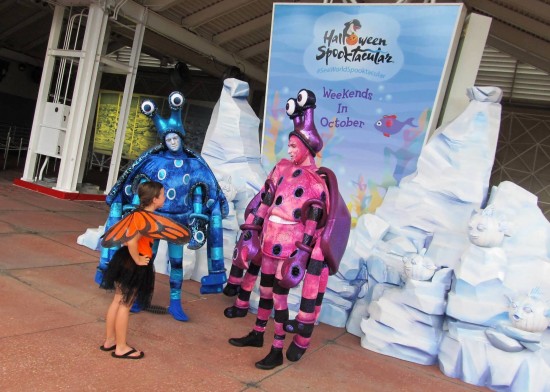 We decided to take full advantage of everything in the park. This is another distinct characteristic of SeaWorld's Halloween event versus the ones at the other theme parks down the street: all of the park's attractions and shows are available to you, rather than a select amount, since Spooktacular is not an after-hours event.
I wondered if it was even realistic and possible to enjoy all the regular SeaWorld shows and attractions plus have enough time to fully enjoy the Spooktacular activities. But I accepted my own challenge and started the day at Blue Horizons. SeaWorld's bread and butter is live shows. Witnessing the bond between animal and trainer has inspired generations. Blue Horizons is near the park entrance and is a great way to kick off your "rotation" through SeaWorld's show roster. It is awe inspiring and touching.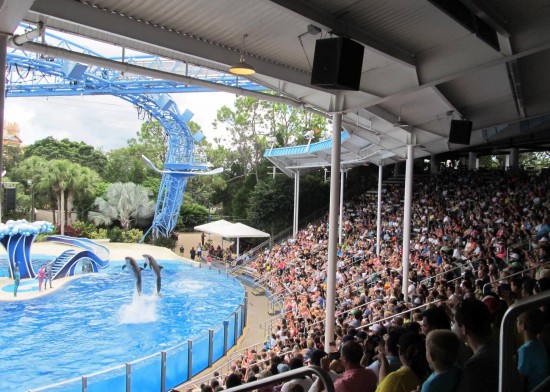 A great feature of SeaWorld's show schedule and park layout is, if you do it right and follow the lay of the land, you can catch a show, then enjoy the nearby activities, then proceed to the next show, then enjoy some more activities, and so on.
Blue Horizons is near the Key West section of the park — one of my favorites, naturally. Here you will find a sting ray petting and feeding area, as well as a dolphin feeding and petting area. As we stepped up to the rays Jimmy Buffett's "Off to the See the Lizard" came on and I felt at home. I mustered up the courage to feed a stingray. With shrimp in hand, I placed my hand flat and within moments felt the soft, slippery nose and mouth of the ray. The shrimp was gone instantly.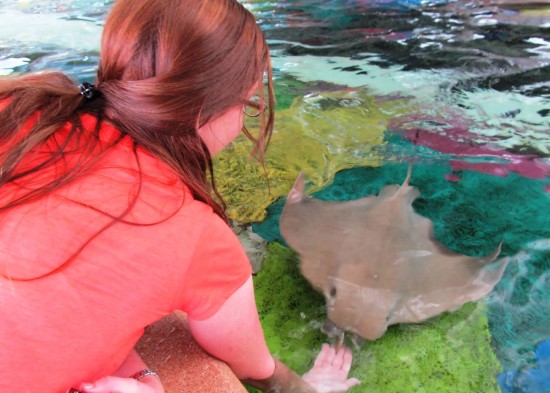 We continued to enjoy the park, stopping in at Turtle Trek – an impressive film experience, then took a Journey to Atlantis, before taking another break to catch a classic show. Clyde and Seamore's show fits quite well with the Halloween theme when you consider the mime and pirates.
If you're going to make a full day of your visit to SeaWorld's Halloween Spooktacular, and I suggest that you do, I recommend making time for a good, substantial lunch. We decided to make a reservation at Sharks Underwater Grill, though the first one available was an hour later. This gave us a great opportunity to start exploring the Underwater Fantasea Path and start trick-or-treating.
The path is very long and can be entered near the park's main entrance (this entryway is really the official entrance), or you can enter near Shamu's Happy Harbor as we did. Our group grabbed the special trick-or-treat bags at the path's entrance and came across the first treat station. Each one is sponsored by a different snack company. There is a nice variety of candy as well as more wholesome snacks like Popchips and Sunripe Fruit Strips.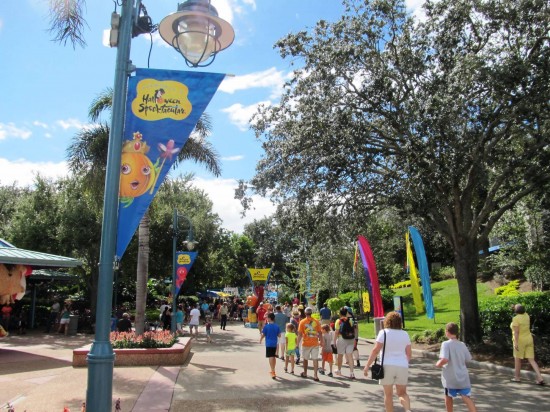 There is jolly, upbeat Halloween music, bright colored decorative banners and accents, and bubbles everywhere. The fantasea characters are delightful! Each one was especially friendly and talkative. The only downside is they are unattended so no one was around to take pictures of the whole group.
After a fantastic, restful lunch at Sharks Underwater Grill, we returned to the pathway. I couldn't get enough of the energy. There are lots of activities, characters, and treat stations along the path. About halfway through the pathway is Penelope's Party Zone. This area has dancing, and with SeaWorld characters joining in too, plus craft stations, games, and more. We stopped to do some cookie decorating, which is $5.50 and includes a massive cookie plus icing and candy decorations and a choice of milk or apple choice. This is another way to sit down and take a little break.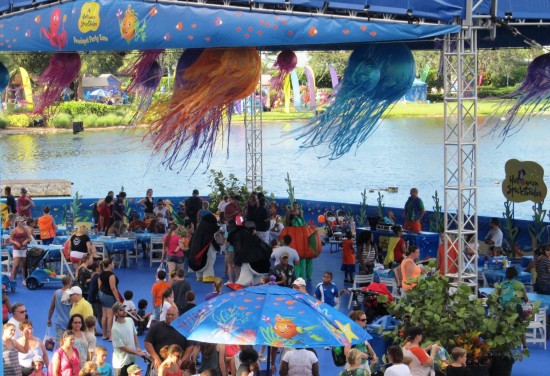 The other half of the trail, which for most guests is the first half, contained more treat stations and more fun characters, as well as story telling including Ms. Mackerel's School of Fish. There are also snack stations if you'd like to grab a quick bite. We finished the path and decided to make the trek to Shamu Stadium to catch the 7pm show of One Ocean.
We got there at 6:20pm, which is a bit early, but we snagged fantastic seats. My friend took her daughter to enjoy a quick ride aboard one of the many little rides found in Shamu's Happy Harbor while I guarded our seats. One Ocean is a great way to cap off your visit. After a long day of walking around the park, it felt great to sit, and besides I had a bag that was about hallway full of treats to nibble on while waiting for the show to start.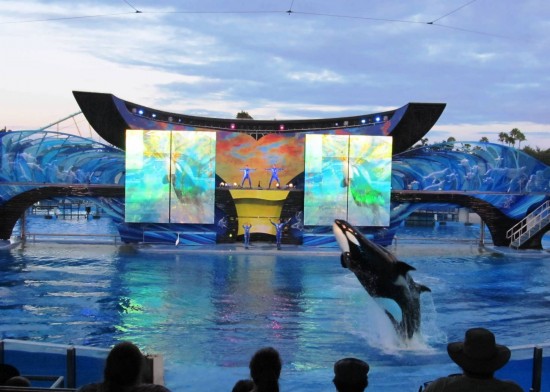 One Ocean is a beautiful show, and I was surprised by a new element that was added to Shamu Stadium for this show. I don't want to give the surprise away, but let's just say the soak zone is now wetter than ever. As great as the show is, I miss Believe, but One Ocean was still the perfect finale to great day.
On the way out we decided to exit the Stadium right by the Spooktacular path and snagged ourselves some final treats. I suggest doing this so that you can exit the park and be entertained at the same time. Near the exit, the Spooktacular Dance Party at Village Square had families dancing in the streets alongside SeaWorld characters.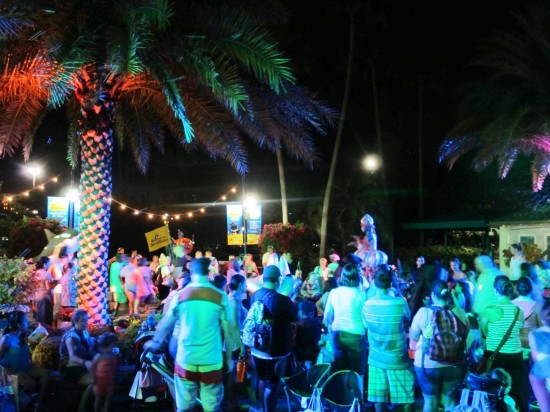 Everyone was smiling, celebrating, and enjoying a great start to the SeaWorld Halloween Spooktacular 2013 season!
Visit SeaWorld.com to learn more about the event
See all of OI's blog posts about SeaWorld
SeaWorld's 2013 Halloween Spooktacular – photo gallery
Click any image to view it full-screen. When the full-screen image is open, click to the right or use the right arrow on your keyboard to advance through the gallery.
[sws_author_bio user="danidennison" size="105″ authorposts="More OI posts by Dani" name_format="About the author"] [/sws_author_bio]