SeaWorld announces more details, sweepstakes as Antarctica: Empire of the Penguin prepares to open this spring
In September we shared what limited details were available for the next attraction at SeaWorld Orlando, Antarctica: Empire of the Penguin. Since that time, SeaWorld has begun a marketing push to attract attention to the park's newest "biggest-ever" addition, and we've learned more about what guests can expect when it opens this spring.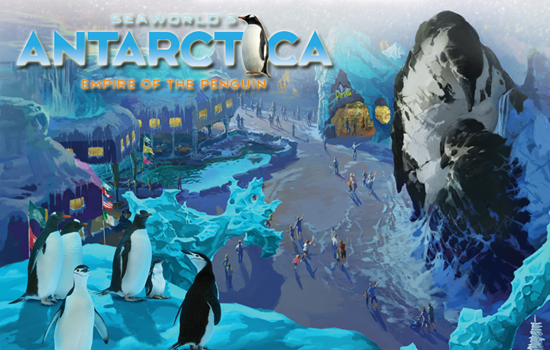 What we know
Ride Vehicles
Empire of the Penguin will feature open cabin ride vehicles that bring something unique to Central Florida's theme park circuit. The vehicles utilize a system that has never been applied in a theme park setting, which allows it to move throughout the attraction without a track. A motion-based platform also rocks the cabin of the vehicle.
[youtube_video]RmsIrr427mw[/youtube_video]
The vehicle's travel path and the rocking motion can be randomized to provide different experiences with every ride. That means that a guest could ride Empire of the Penguin multiple times and enjoy a different journey each time.
Animals
Antarctica will feature at least three different breeds of penguin: King, Rockhopper and Gentoo. Riders will get to see and learn more about each breed of penguin as they travel alongside Puck, a young and adventurous penguin eager to explore his frozen habitat.
Experience
SeaWorld press releases state that the new attraction "will transport families into a rarely seen, icy world. They'll feel the majestic grandeur of the South Pole and see it through the penguins' eyes on an exhilarating, first-of-its-kind family ride. They'll explore a massive penguin colony in an expanse that envelops them in cool extremes, both above and below the penguins' icy world."
What we don't know
Opening Day
SeaWorld still has not announced a grand opening date for Antarctica, despite the fact that it is actively marketing the new ride. The public relations department continues to push the spring 2013 opening timeline, so we can only assume that the attraction is on track to open on time. This year, the official spring season will go from March 20 through June 20, so we can (hopefully) assume that the attraction will open on or before June 20, 2013.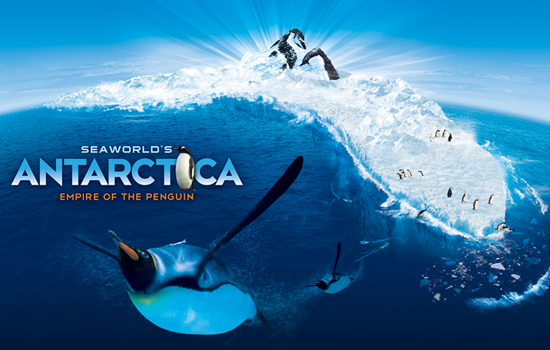 If you're making arrangements to travel to SeaWorld Orlando to experience Empire of the Penguin, it would be smart to plan an arrival after that date.
Antarctica: Empire of the Penguin casts off on an Epic Voyage
If you can't wait for Antarctica to open, you're in luck. SeaWorld wants to get the word out about the new addition, and that means that you have the opportunity to join in on the fun before the attraction even opens.
The company has begun an "Epic Voyage" tour, which will stop in seven cities throughout the United States. SeaWorld staff will "[take] over malls and consumer travel shows with a unique family experience filled with a massive ice dome, interactive virtual reality, shareable photo opportunities, chances to win incredible prizes by playing Antarctica-themed games, and, of course, live penguins.  Coca-Cola Freestyle machines will also be part of the experience on site to quench the thirst of attendees with complimentary, refreshing drinks."
The Epic Voyage will be making stops on the following dates:
January 24: Chicago, Gurnee Mills Mall
February 8-10: Boston Globe Travel Show
February 23-24: Philadelphia King of Prussia Mall
March 9-10: Washington, D.C. Travel & Adventure Show
March 23-24: Jacksonville, The Avenues Mall
April 27: Miami, Miami Dolphins Fin Fest 2013
May 4-5: Miami, Aventura Mall
If you do not live in one of the Epic Voyage tour cities, not to worry! You can still join in on the fun in two ways. This week, SeaWorld released "SeaWorld's Antarctica," a free app available on iPhone/iPad (and soon to be released on Android devices) that includes behind-the-scenes videos, penguin fun facts and trivia, and an opportunity for users to "become an explorer" of Antarctica.
You can also enter to win SeaWorld's Family Voyage Sweepstakes. Grand prize winners of the sweepstakes will receive a 4-day, 3-night vacation to SeaWorld Orlando and be one of the first to experience the new attraction.
The prize package includes roundtrip airfare, hotel accommodations, tickets to SeaWorld and Aquatica, Quick Queue passes, All-day Dining at SeaWorld Orlando and Antarctica gift bags. First place winners will receive four tickets to SeaWorld Orlando.
Antarctica: Empire of the Penguin has the potential to become a favorite attraction for animal lovers and theme park fans alike. Though we won't be able to judge the quality of the ride until it opens, from what we've learned it sounds "pretty cool!"
Official site: http://seaworldparks.com/seaworld-orlando/Antarctica
[sws_author_bio user="Orukana" size="105″ authorposts="More OI posts by Ashley" name_format="About the author"] [/sws_author_bio]