I think it's fairly safe to say that, for the past three years, the theme park industry – here in Orlando, at least – has belonged to Universal.
Yes, yes, attendance has continued to be dominated by Walt Disney World Resort, and it will continue to do so for – well, probably forever. And, obviously, Disney World has an infinitely larger number of attractions, hotels, and activities, not to mention those pesky theme parks, which are the heart of it all. In terms of sheer numbers – particularly those preceded by dollar signs – it's Disney that has always reined supreme, and nothing short of a miraculous, divine intervention will ever change that.
Universal Orlando 2.0
Universal, as such, has been forced to do what insurgents in guerilla wars all throughout time and across all businesses have resorted to: stealing away buzz (even in the mainstream media – no small feat!) and, even, picking off the prestige of its larger, more well-entrenched opponent. The key to this has been Harry Potter, which kicked off the company's current round of blitzkrieg construction projects three years ago, and which will continue to propel Universal Orlando Resort's expansions for the next three. Transformers, the Simpsons' Springfield, Harry's Diagon Alley, a Jurassic Park rollercoaster, a new hotel, and, perhaps, King Kong's reappearance – not to mention a number of much-needed upgrades to pre-existent attractions, such as the Amazing Adventures of Spider-Man, Terminator 2 3D, The Simpsons Ride, and, most excitingly of all, Harry Potter and the Forbidden Journey – are all strictly thanks to that little 20-acre slice of land called the Wizarding World.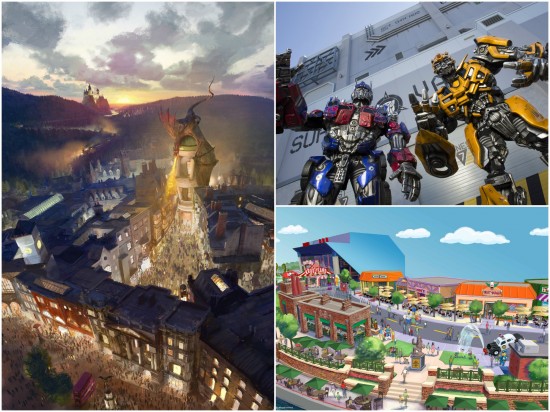 And just as Hogsmeade has managed to up the ante in terms of theme park design and overall immersion, making gift shops and quick-service cafeterias into key parts of the guest's overarching experience, it seems that what can best be described, really, as Universal Orlando 2.0 will take that initiative and once again bring it to the next generation: Diagon Alley, with its rumored second and third stories, looks to bring the themed experience into a whole new dimension (literally), while the purported Kong attraction combines dark-ride and outside environments, 3D effects and KUKA-powered audio-animatronics to create just what might be a whole new wrinkle of thrill ride. The fact that such experiences will more than likely be made available within the next 24 months makes it all the more exciting – and impressive.
This leaves Disney in something of a lurch. While its economic apparatus can never be directly outperformed, Universal sure can ride its profit margin – propelled by the likes of butter- and Duff beer – and the hype train uncomfortably close. And thanks to the Disney Company's institutionalized decision to proceed with construction at an even pace that typically spans no fewer than two or three years, this means that Universal will continue to capitalize on its fast-turnaround projects at Disney's expense in newspaper headlines and, increasingly, consumers' wallets.
Until 2017, that is. That's the year that everything changes.
Disney strikes back
Even if Universal were to indefinitely continue its souped-up spending levels – something which is entirely up in the air, as the current rate of investment in its theme parks is more akin to a "surge" – Disney's slow-but-potent development rate will have finally reached its first level of completion. Star Wars Land, which looks to expound on the achievements the corporation has generated with Cars Land over at California Adventure in Anaheim, will (more than likely) debut at Hollywood Studios by holiday 2017. Disney has been expected to cook up speeder bike rides, a Mos Eisley cantina restaurant, and a whole bunch of other goodies, which should prove to be every inch as captivating as Universal's dual Wizarding Worlds. And even if the initial wave of Star Wars attractions here in Orlando only ends up being glorified kiddie rides, as has been rumored before, that's still a sizable media coup that will be hard to drown out, even with dinosaurs and giant-sized apes running rampant.
And that's not even taking Pandora: The World of Avatar at Animal Kingdom into consideration, whose first phase is also due to open sometime in '17. The licensing footing here is nowhere near as sure as is Harry Potter and Star Wars's, but, quite simply, it doesn't have to be; all three of the upcoming Avatar sequels can bomb catastrophically but still provide more than enough material for Disney to mine into effective, quality-laden attractions for years to come. Indeed, Pandora already promises to be one of the most immersive lands ever deployed, possibly even taking one of the most abundant resources already freely available at any park – light – and transforming it into the next frontier of Imagineering, utilizing it in crazily inventive ways. Expect Universal Creative to be put firmly back in the scrambling-to-keep-up category once more, starting the cycle over anew.
There's even more to the story, of course. New Fantasyland at Magic Kingdom is set to (finally!) be completed by the end of next year, while there is still a whole swath of real estate left to be (re)developed at Hollywood Studios, whether that does get transformed into an East Coast Cars Land or not. At this rate, Universal may find itself not only at a pre-2010 level, before Hogsmeade arrived to light the way to a new and more expansive future, but perhaps at a pre-1999 level, when Universal Studios Florida was a solitary park left to fend by itself against the behemoth that is Walt Disney World. Just how much money can NBCUniversal continuously shell out, anyway? And how long until every last square inch of Universal Orlando Resort is built upon twice over?
Of course, as a theme park enthusiast, this is precisely the situation we want to be in. With an industry in its greatest level of competition since its inception nearly 60 years ago, the amount of innovation and technological breakthroughs – let alone the huge array of new attractions to be unleashed – looks to be increased at an almost exponential level. If Universal forces Disney to speed up its construction timetables, and if Disney, in turn, makes Universal push the theming bar even further once again, the outlook for 2025 or, even, 2040 is downright giddy – forget about 2017.
We just may well be entering the golden age of theme parks.
DISCLAIMER FROM THE EDITOR
Please remember when viewing this post that a rumor is a piece of unverified information of uncertain origin; a statement whose veracity is not quickly or ever confirmed. So even though we try our best to present solid speculation, there's no way to guarantee any rumor will come true (then it wouldn't be a rumor anyway).
Thanks to Marc for researching the latest rumor buzz from sources across the Internet and condensing it down into a single post for us each and every week!
View all of our Rumor Round-Ups
[sws_author_bio user="msunyata@yahoo.com" size="105″ authorposts="More OI posts by Marc" name_format="About the author"] [/sws_author_bio]