Every once in a while rumors come along that are so exciting and so teaming with possibilities, we know that our readers will be just as filled with the tinglies as we are – even if the rumors concern a park outside of our Central Florida purview.
That's why today we're publishing this special, West Coast edition of the Rumor Round-Up. Expect to see these one-offs pop up once in a blue moon, to cover the most cutting of the cutting-edge happenings on the other side of the country – or, even, on the other side of the world.
And who knows? Maybe we'll see these new developments play out in Orlando, to one degree or another, some day really soon…
Harry Potter and the Deluxe Journey
Back in December 2011, when Universal Creative was nice enough to hint at the expansion of the Wizarding World that would ultimately result in Diagon Alley, the company also announced that it would be taking Harry and transplanting him to California. Although no details were offered at the time, we all assumed that Universal Studios Hollywood would be getting an exact clone of Hogwarts Castle – along with Harry Potter and the Forbidden Journey inside it, of course – and that would simply be that.
Behind the Thrills, it turns out, says we all were wrong – very, very wrong.
In a way-cool posting that combines all known rumors floating around out there about Harry's West Coast digs, the site lists in magical, meticulous detail just what Universal may have in store for Californians. (It's important at this incredibly early juncture to stress the may in that previous sentence; no one knows for certain just what will be awaiting park guests when the new Wizarding World finally opens its doors in 2016.)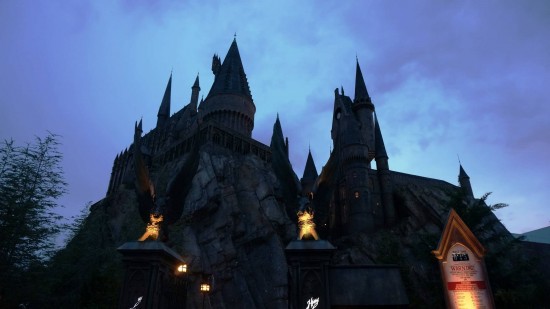 First and foremost, it won't just be the castle, but the wider area surrounding it, as well. And though it won't be as large as Hogsmeade in Islands of Adventure, it's still going to pack a number of its sister park's attractions: Ollivander's Wand Shop, Zonko's, Honeydukes, the frog choir show, Harry Potter and the Forbidden Journey, and, perhaps surprisingly, Flight of the Hippogriff. You won't be able to find either the Three Broomsticks or Hog's Head Bar, but there will be a butterbeer "tavern" where visitors can buy their Universal-exclusive drinks (in both normal and frozen varieties, presumably).
Now for the differences. Hippogriff is said to be bigger, though the article seems to mean the ride's footprint in the park rather than the coaster itself. More interactive elements are supposed to be included, presumably in the queue – which may even include a walk-through version of Hagrid's hut. (Universal Creative and author Jo Rowling had both wanted to include this in the Orlando version, but they couldn't agree on how to overcome America's various rules and regulations when dealing with public spaces: Rowling didn't want to include ramps for wheelchairs, for example, for fear of ruining the illusion of immersion. It's doubtful the two parties have come to some sort of compromise since then, but – hey – who knows?)
And then there's Hogwarts Castle, which will still double as Forbidden Journey's queue but will be significantly expanded to include many and more enhancements, such as full-blown reconstructions of the movie sets instead of Florida's skimpy compilations of, say, the Gryffindor common room. The highlight of this will easily be the Great Hall, which will function almost identically to Disney's Be Our Guest restaurant in New Fantasyland: a quick-service lunch and a deluxe dinner will be set against a flurry of special effects, such as a changing ceiling, interactive portraits, and Dumbledore himself.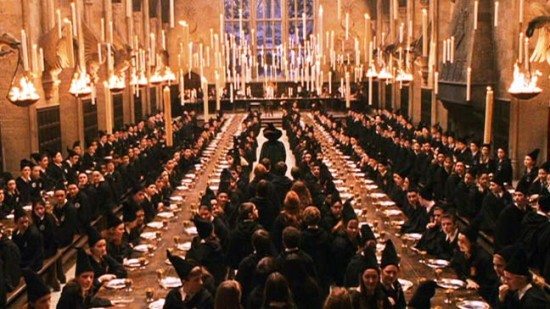 Finally, as if all this weren't enough, Behind the Thrills leaves us with one last juicy tidbit – the Defense against the Dark Arts classroom inside this suped-up version of Hogwarts will be home to a brand-new show that has a new professor attempting to teach muggles the finer points of defensive magic, possibly against the likes of Cornish Pixies, Boggarts, and, even, Death Eaters. As if the more detailed sets and the possibility of eating in a fully animated Great Hall weren't enough to boggle the mind, then this should be enough to put even the most casual Potter fan in catatonic shock.
Once again, this is all merely rumor at this point… but if Universal were truly interested in making all the hardened veterans of the Wizarding World on the East Coast ravenous for a cross-country trip, it would be difficult indeed to think of a more compelling lineup.
Reminder: Our regularly scheduled Rumor Round-Up will return again at the end of the week. If you can't wait, check out a complete year's worth of previous RRUs!
Curious about Diagon Alley at Universal Studios Florida? See OI's full construction coverage. And of course, to learn about the current Wizarding World of Harry Potter at Islands of Adventure, you definitely need to check out the world's largest insider's guide in the OI Universal Center.
[sws_author_bio user="msunyata@yahoo.com" size="105″ authorposts="More OI posts by Marc" name_format="About the author"] [/sws_author_bio]