HHN 2013: The good, the bad & the ugly
In case you hadn't already heard, Universal had a technical rehearsal this past Wednesday that also doubled as a preview night for team members and select media. And while their input can't be ruled as a direct review of the various haunted houses and scare zones – not all of the final elements were included two nights ago, for example – we can definitely glean some valuable intel on this year's lineup.
The clear winner, from both the Twitterverse as well as the traditional sites, is An American Werewolf in London. Its detailed sets and well-timed scares have been consistently praised, but even the werewolf puppets have gotten remarkably high marks, instantly making this the must-see experience of HHN 23. A close second seems to be the Cabin in the Woods, which has not only gotten kudos for its atmosphere and monsters, but also for its laughs – a not-too-terribly-easy balance.
On the other end of the spectrum is, unfortunately, Resident Evil: Escape from Raccoon City. HHN Rumors sums up the collective sentiment almost perfectly:
I'm trying to decide how to word this as politely as possible, but… this house needs help. There were a few epic scenery rooms that were most certainly eye candy, but some of the costumes/puppets were so cheesy that my group left the house laughing. There was a dog on a stick. An actor tried to jab me with it. I lost it after that! I'm hoping that was an unfinished prop, and I'll give Resident Evil another shot this weekend before making any final judgments.
Havoc 2: Derailed has similarly gotten some sketchy reviews, but over at the Orlando United forums, early attendees actually offered an explanation as for why this might have happened: "The reason there were a lot of negative chatter is because they used it to practice fire drills during the preview. Some people got dumped from the house halfway through, and others had to wait in line a little longer. But it's a good thing they practice these sort of things, just in case."
And, finally, we have what have traditionally been the outdoor scare zones but which now constitute the Walking Dead street experience. Some have been a little trepidatious about the transformation, given last year's experiment by Universal and the simple fact that nothing but zombies could get a bit on the monotonous side, but Inside the Magic reports that Universal's managed to pull it off:
The thought of nothing but zombies filling the entire park has had some fans worried that the streets would be rather repetitive and uninteresting. Well, worry no more. Universal has taken the hit AMC show and brought many of its most iconic settings and characters to life throughout the park with plenty of set pieces, structures, special effects, and iconic walkers in their own roadside vignettes. There are even little scenes that play out between walkers and victims that are highly enjoyable to watch. It's enough to keep all attendees consistently entertained while wandering between shows and mazes. (Just don't spend too much time in the Atlanta zone or you might come home wreaking of rotting flesh; [I'm] still tasting the wretched scented fog pumped into the area.)
And if you want some behind-the-scenes info on the whole wretched scented fog, the Orlando Sentinel has a nice write-up on the processes Universal Creative employs to gross you out.
BROADCASTING LIVE: Orlando Informer invites you to join us for our world famous in-park photo updates direct from HHN opening weekend! Follow Orlando Informer on Twitter to see every single one of our live photo updates, or catch highlights on our Facebook page.
Disney developments in Tokyo
Late last year, word broke that Tokyo Disneyland – the only Disney property to not be run directly by Disney – was interested in bringing California Adventure's Cars Land over to their side of the globe. This was not an insignificant development, as (a) Tokyo Disneyland, despite its being one of the biggest Magic Kingdom-type parks in the world, doesn't have much in the way of real estate to build on, and (b) they were interested in doing all of Cars Land, something which Walt Disney World executives had immediately dismissed out of hand when contemplating a similar cloned land for their Hollywood Studios.
It turns out that Disney World was so disinterested in spending money on an expansion, it ix-nayed Cars Land entirely, leaving that proposed area of Hollywood Studios empty for the time being. (It's moving ahead on another expansion, Star Wars Land, in a different section of the park.) And it also turns out that Tokyo Disneyland is passing on the project, as well, though the exact reason behind the decision is unknown. Disney and More theorizes that it could be because of the intense fan reaction to where the proposed Cars Land would have ended up going: nearly half of Westernland, which is Japan's version of Frontierland (and, to a lesser extent, Liberty Square). It also could've been because of cost- or technical-related considerations; "as you may know," the site notes, "Tokyo Disneyland was built on landfill, and the weight of Cars Land's rockwork may have been a cost issue in firming up the ground beneath it."
Either way, Disney and More goes on to report that the Japanese are still interested in bringing some new American expansion over, and they've now turned their attention to Magic Kingdom's New Fantasyland. Since this is a late-breaking development, there are no rumors as to which attractions will be brought over, but the site seems to think that the Seven Dwarfs Mine Train is a shoe-in (though perhaps not Journey of the Little Mermaid, as that would probably have to go in its sister park).
What does this mean for Orlando? It's no secret that in the constant tug of war between the Disneyland and Disney World Resorts, it's Anaheim that has been winning out as of late – particularly with the industry-wide success of Cars Land. Although Magic Kingdom may be the most-visited park in the world, it's now Disneyland and California Adventure that are seen as the cutting-edge, money-making crown jewels in Disney's global portfolio, the only parks to stand up to Universal's (growing) Wizarding Worlds of Harry Potter. And just to add insult to injury, the New Fantasyland expansion has been nothing but underwhelming; for the business suits, it's failed to bring in the revenue that Cars Land or Hogsmeade have been, and for the guests, it's been more a collection of restaurants and princess meet-'n-greets than rides. Should Tokyo follow suit, it'll be interesting to see whether they improve on Orlando's lineup – and whether Walt Disney World management, which has been so keen on following the lead from others lately, will likewise institute those reforms.
With the Wizarding World of Harry Potter – Diagon Alley opening next summer, we just may be entering make-or-break time for Disney World's leadership team. Imagine the increased competition from a new Hogsmeade in both Universal Studios Japan and Universal Studios Hollywood, combined with a better-executed and better-performing New Fantasyland in Tokyo Disneyland.
The results would not be pretty – except for theme park fans, who would finally be getting a team in place at Walt Disney World Resort that would be willing to fight back.
The best look so far at Universal's Hogwarts Express
Earlier this week OI contributor Maureen shared with us the best photos we've seen anywhere of Universal's Hogwarts Express train, waiting to be deployed between Universal Studios Florida (Diagon Alley) and Islands of Adventure (Hogsmeade Village). Because these images are so beautiful, I couldn't pass up the opportunity to share them with RRU readers just in case you guys missed her trip reports. Enjoy!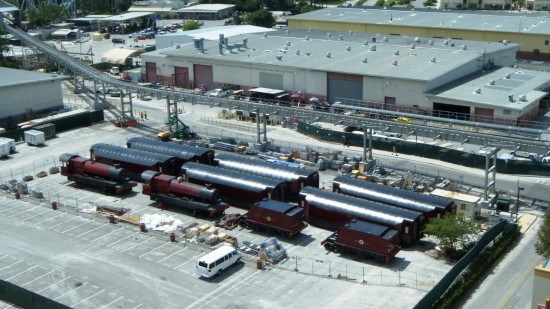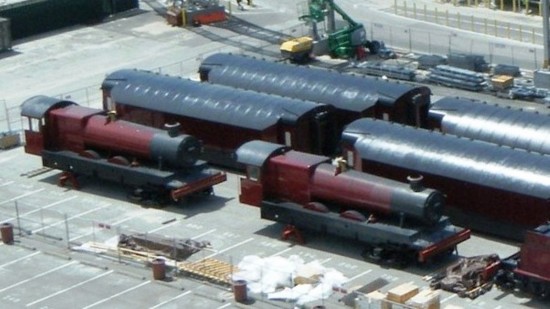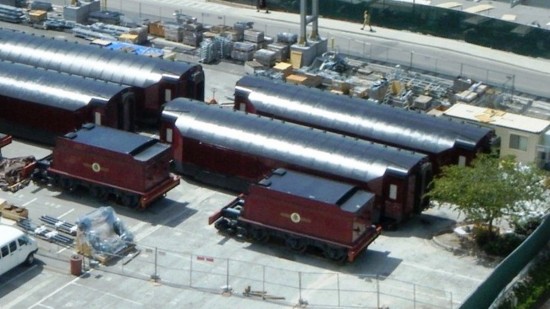 You can view even higher resolution versions of these images on OI's Flickr page.
For those curious, this group of photos was taken from Hollywood Rip Ride Rockit at Universal Studios Florida. As such, the view is open to anyone who's willing to venture up Rockit's 17-story, 90-degree lifthill. Many have asked us why Universal isn't trying to hide these a little better. We don't know the precise answer to that, but our guess is, quite possibly, the resort may not have the means or facilities to transport and store these colossal ride vehicles. Visit OI's Diagon Alley page to learn more.
In related news, this week Walt Disney World also offered us a sneak peak at the Seven Dwarfs Mine Train ride vehicle. Click here to see it
Quick hits: Polynesian villas, new CityWalk restaurant & Disney's crazy tech
This week, the Orlando Sentinel brings the first official confirmation of what we've been reporting for a while now: the next Disney Vacation Club villas are, indeed, coming to the Polynesian Resort.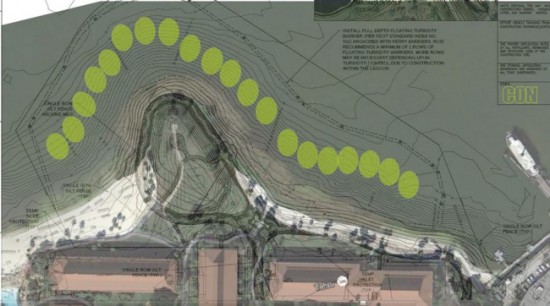 Though the paper doesn't have much in new details – Disney just isn't ready to divulge anything as of yet – it does have a few interesting background tidbits. The expansion will have its grand opening in 2015 and will be the ninth villa location at Disney World (globally, Disney operates 13 timeshare units, including this new one). Once the new Polynesian rooms are up and running, Disney will have added a Vacation Club component to each of the three deluxe resorts located on the Magic Kingdom monorail line – the Contemporary's Bay Lake Tower bowed in 2009, and the Grand Floridian's deluxe villas are set to open on October 23.
Screamscape has uncovered what one of the new CityWalk restaurants is going to be: Red Oven. What makes this new location interesting is the fact that, unlike virtually every other dining establishment at CityWalk, it's a brand-new, Universal-owned restaurant, as opposed to being part of a pre-existing franchise or chain. (It'll also feature "authentic hand-tossed pizza," if that floats your gravy boat.) Could this be the new name of Woodfire Pizza, which is replacing Pastamore Marketplace? Or is it perhaps going in at one of the other demolition sites, such as Latin Quarter, giving us two new pizza joints?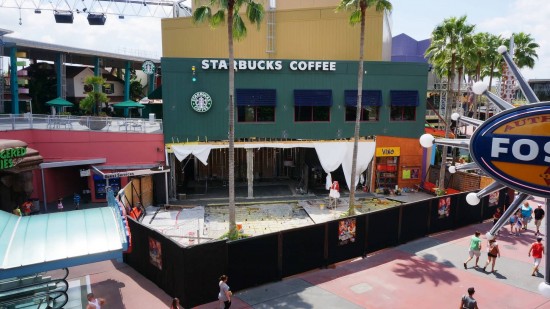 My buddies over at Engadget have the breakdown of a crazy new Disney Research project called Ishin-Den-Shin, which essentially transforms your body into a speaker. It "amplifies mic input and sends it back as a high-voltage, low-current signal that turns objects (including humans) into electrostatic audio sources that can't be heard over the air." Simply put, you wouldn't be able to hear what was being said unless someone came over and actually touched you.
[youtube_video]Iw1FhmY1sIU[/youtube_video]
There are a whole slew of possible theme park applications with this exciting new development – the X-Men and their telepathic Professor X jumps immediately to mind, or maybe even the Jedi and the Dark Lords of the Sith from Star Wars. But critics could also see this as another (bizarre) step toward Disney invading our privacy and personal space, a la MagicBands knowing the every move of guests.
DISCLAIMER FROM THE EDITOR
It is tough to imagine that we need to put a disclaimer at the bottom of a blog post called Rumor Round-Up, but the growing popularity of our articles seems to have raised concern in some camps that our rumor reporting is not a 100% accurate forecast of things to come. So here goes nothing: Please remember when viewing this post that a rumor is a piece of unverified information of uncertain origin; a statement whose veracity is not quickly or ever confirmed.
Thanks to Marc for researching the latest rumor buzz from sources across the Internet and condensing it down into a single post for us each and every week!
View all of our Rumor Round-Ups
[sws_author_bio user="msunyata@yahoo.com" size="105″ authorposts="More OI posts by Marc" name_format="About the author"] [/sws_author_bio]