Welcome to the eighth Island of Adventure: Skull Island
King Kong, after an 11-year absence, is returning to Universal Orlando – that much all the various sources at all the various sites can agree on. It's just everything else about the King's return to Universal that causes all (rumor) hell to break loose.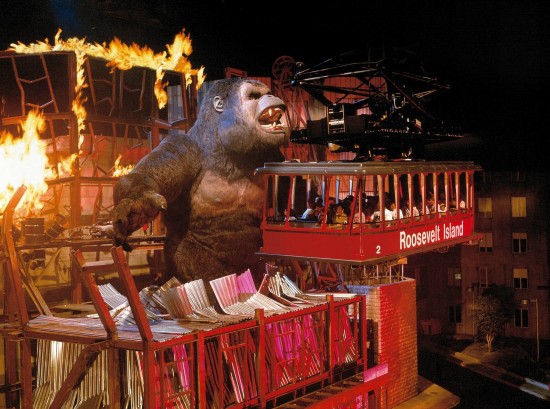 First, Kong was going to set up shop at Islands of Adventure, being placed right next-door to Jurassic Park in either a new island or a makeover of Toon Lagoon. Then that story seemed to fall apart once a new report materialized, claiming the great ape would instead head back to his original home of Universal Studios Florida, where he was supposed to replace Disaster!
It's worth looking into this last wrinkle in a little more detail, as it presents a really nice, really stark contrast for the latest bout of rumor-mongering. King Kong in USF's San Francisco would've been an overlay, using the previous ride's building architecture and track layout to new effect (just as Disaster! itself is a retheming of Earthquake: The Big One, a USF opening-day attraction). We would've seen a brand-new preshow, new ride vehicles, a single large audio-animatronic of Kong, and various new special effects, including some projected media – and that's about it. Rumor-meister HateToFly, from the Orlando United forums, has provided a plethora of tidbits over the past several months in an attempt to verify the authenticity of this report, citing the presence of Universal Creative personnel "walking in and out of Disaster's service exits during business hours" as well as the contracting of two "major" companies for the rehab work. And then there's the recent behind-the-scenes presence of a King Kong sculpture in Universal's offices, to boot.
Now, however, Mr. Hate says that's all for naught – that whole scenario has either been scrapped or was never true to begin with. Now, he says, Kong is once again heading to Islands of Adventure.
In a rather large, in-depth post, HateToFly details what seems to be the latest proposal: converting the space that starts behind Thunder Falls Terrace in Jurassic Park and stretches all the way to Toon Lagoon into an all-new, eighth land called Skull Island.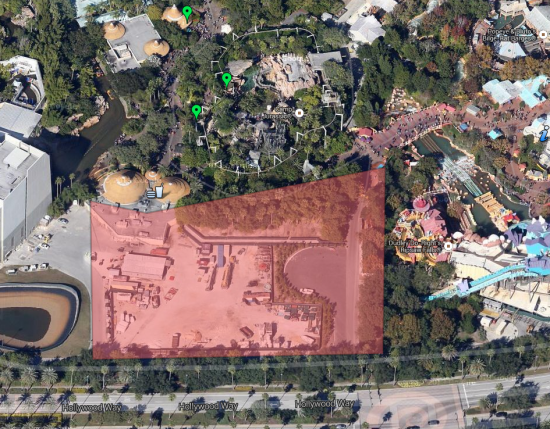 The main attraction would be an immense new 3D E-ticket ride featuring both indoor and outdoor sequences, starting with a grandiose queue that is themed to some sort of ancient temple, replete with waterfalls running through its remains. The tandem ride vehicles would then leave the ruins, head out into the wilderness – populated by several different audio-animatronic beasties, including giant insects, and a whole slew of special effects, including fire and projections – and then become stranded as the tour guide is captured. King Kong himself would attack from all angles, coming up against both sides of the vehicle in all his 3D glory, in the grand finale.
(The coolest part, by far, of all this is the utilization of KUKA robotic arms – y'know, like the ones that power Harry Potter and the Forbidden Journey or Soarin' – for a certain, undetailed creature to attack the ride vehicles with. [Well, that and the fact that this new attraction's budget is supposed to blow Forbidden Journey's out of the water.])
Backing this up, HTF claims, is the abrupt moving of the T-Rex photo op in Jurassic Park from its spot next to Thunder Falls to a new location. Since that lovable dinosaur has been there for the past 14 years with no problems or need to relocate whatsoever, this has been deemed to be the first manifestation of Skull Island's imminent arrival.
Now, of course, the constant back-and-forth on King Kong's newest iteration has caused some consternation and confusion in some circles. Not any single source is always foolproof, of course, and HateToFly himself has this to say in his defense: "Many of the things I share are considered blue-sky until ground is broken. [Also,] I'm not always correct."
Is he wrong this time? Is the fact that T-Rex is still firmly planted at his photo op near Thunder Falls Terrace a sign that we're all being led on? (Remember, other major sources were maintaining the Islands of Adventure scenario the entire time he was floating the Disaster! retheming at Universal Studios Florida.) Could this be a red herring that Universal Creative is attempting to distract us all with, as Mr. Hate has implied in some of his latest postings? Is there something else entirely different going on that has yet to reach the public?
Time, as always, will tell us for certain.
Surprised by the sudden onslaught of Avatar info? Don't be
After we went to press last week, Disney pulled a late-night surprise on all us Americans by posting some of the first concrete details on its upcoming Pandora: The World of Avatar expansion at Animal Kingdom. (And by "concrete" we mean some concept art, as beautiful and captivating as it may be). Finally(!) revealed to be debuting in 2017, Disney has now officially confirmed that we'll be getting (at least) a boat ride, a Soarin'-esque Banshee flight simulator, and a nighttime jungle walkthrough.
If the timing may have seemed off, it's because Disney was going for an audience literally on the other side of the planet. It was immediately obvious that the company's first-ever Tokyo D23 expo was the intended recipient of the "bombshell" announcement, but it now seems like there may have been a little more behind-the-scenes maneuvering going on than we had originally thought.
According to Jim Hill Media, Walt Disney Imagineering has been trying to convince the Oriental Land Group – the company that owns and operates Tokyo Disney Resort – since Avatar Land's initial announcement two years ago that it should be getting in on the James Cameron action. The Japanese suits have been less than enthused at doing a cloned Pandora expansion (just as they have been resistant to doing a cloned Cars Land), however, and so the Imagineers thought that having an ecstatic reaction by Japanese Disney-philes might be enough to push the executives over the edge.
Only it seems like it hasn't. According to the site, relations between Imagineering and the Oriental Land Group have been frosty as of late, ever since Toy Story Mania and the Toyville Trolley Park were added to DisneySea (Tokyo Disney's second theme park) last year at a price that the Japanese execs have found to be unjustifiably high – which explains why they have been giving any WDI proposal, such as the aforementioned Cars Land, and its accompanying budget a huge amount of blowback.
And just why would Anaheim care so much about having Tokyo along on the Pandora train? Easy: by having two construction spots at two different resorts under the auspices of two different corporations, Disney would have been able to split the development costs with the Oriental Group. Now, however, it most likely will have to shoulder the costs of this six-year project all by its lonesome.
The pressure for Avatar Land to do gangbusters has never been greater.
Diagon Alley & Hogsmeade Station construction updates
Dan asked for some space in this week's RRU to let our readers know he is working on a massive update on the Potter expansion pages — Diagon Alley and Hogsmeade Station — in the OI Universal Center. As part of the update, yesterday he collected dozens of new photos and a new video of the construction progress. Here are a few images and the new video to wet your whistle…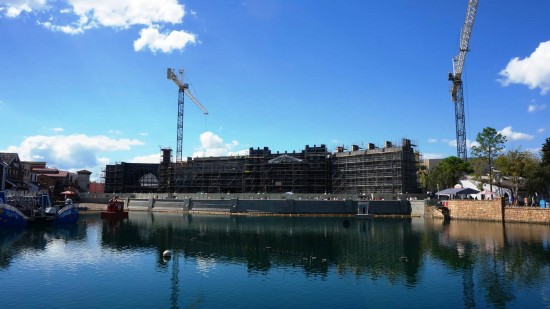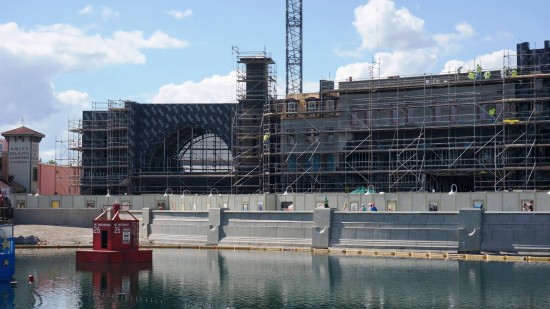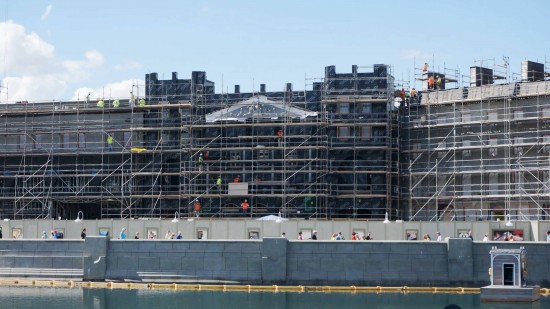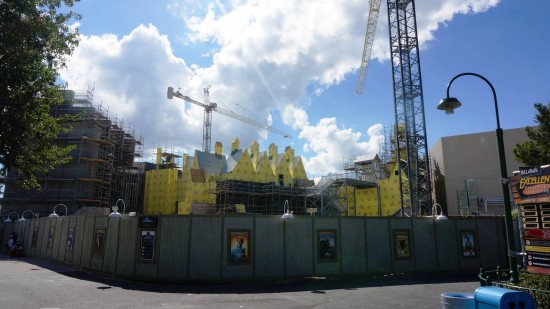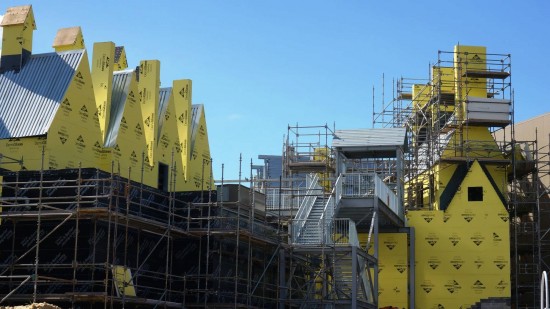 [youtube_video]ziTS0prNmDc[/youtube_video]
If you'd like to see more current construction photos right now, you are invited to check out the October 18 photoset on OI's Flickr page. Keep in mind that Dan apparently is keeping some of the best photos for the site update coming next week.
Last piece of news: Chief Wiggum's patrol car is back in Springfield, and it's better than ever.
[youtube_video]qKACIyd4qI4[/youtube_video]
DISCLAIMER FROM THE EDITOR
Please remember when viewing this post that a rumor is a piece of unverified information of uncertain origin; a statement whose veracity is not quickly or ever confirmed. So even though we try our best to present solid speculation, there's no way to guarantee any rumor will come true (then it wouldn't be a rumor anyway).
Thanks to Marc for researching the latest rumor buzz from sources across the Internet and condensing it down into a single post for us each and every week!
View all of our Rumor Round-Ups
[sws_author_bio user="msunyata@yahoo.com" size="105″ authorposts="More OI posts by Marc" name_format="About the author"] [/sws_author_bio]