The Wizarding World, Part III
The opening of the original Wizarding World of Harry Potter in June 2010 exploded Universal Orlando's attendance and launched it on a multi-year construction frenzy, building new rides, a long-awaited fourth hotel, and even a putt-putt course (or two) at CityWalk. This blitzkrieg of activity will be highlighted, though not completed, by Diagon Alley at Universal Studios Florida next summer, which will offer a bevy of new attractions, including the ability to hop back and forth between the two lands on the Hogwarts Express.
[youtube_video]jcce3JQo4E8[/youtube_video]
What ultimately happens after Diagon Alley's much-anticipated opening, though, has been something of a mystery, even to us rumor mongers. Yes, as we've recently written, there's going to be a Jurassic Park rollercoaster, the possible (inexorable?) return of King Kong, and more as we move into the post-2014 phase at Universal Orlando. But it's an open question how long the new-attraction-every-year commitment can last, particularly in the face of some pretty stiff competition with Disney starting in 2017. An even bigger question: will something like a Lorax ride at Seuss Landing or an upgraded Terminator 2 3D compel the type of revenue growth that Universal has been blissfully experiencing with Harry Potter and friends?
The answer just might be to do a third Wizarding World.
According to our friends at Theme Park Tourist, plans may very well be underway to expand Hogsmeade's footprint at Islands of Adventure, taking over the last of neighboring Lost Continent (remember, Lost Continent already "donated" two-thirds of its real estate to the all-wizarding village).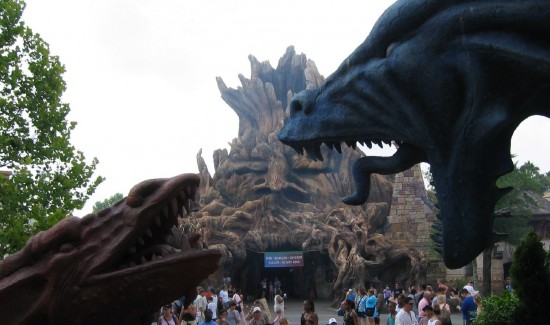 According to the rumors, the Poseidon's Fury show building would be converted into the Chamber of Secrets (which guests currently get a fly-through glimpse of in Harry Potter and the Forbidden Journey), while, not far away, a brand-new spinning flat ride – not unlike Kang and Kodos's Twirl 'n Hurl that opened up this summer over at USF – would be dedicated to the Whomping Willow. And, finally, a walk-through attraction (perhaps located at the current site of the Eighth Voyage of Sindbad stunt show?) themed to the Shrieking Shack would bring up the rear.
On the one hand, these plans make sense, and in more ways than just economically. Spinners are made for children (or the thrill-weary adult, it has to be said), and Universal was largely applauded this year for opening the Simpsons flat ride and attempting to fill in some of the holes in its attraction arsenal – an important step if the company truly wants to make it to the big leagues and compete more directly with Walt Disney World. And Lost Continent has been in desperate need of revamping since Hogsmeade castrated it three years ago, with its only remaining must-see stop being Mythos restaurant instead of an actual attraction.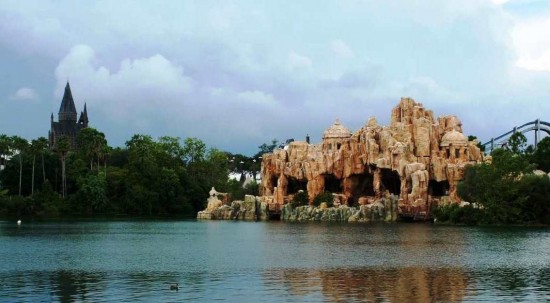 (Just for the record: I'm very much against the idea of outright replacing the island; I've long maintained that the highly immersive Lost Continent should stay while its attractions should be jettisoned and rebuilt from scratch.)
On the other hand, expanding – or, in the case of the Forbidden Forest, introducing for the very first time – Hogsmeade presents a significant array of difficulties, not the least of which is topography. The first Wizarding World famously introduced the idea of recreating a particular swath of fictitious real estate instead of doing the traditional, arbitrary mash-up of sights, sounds, and rides; randomly tacking on the Forbidden Forest before guests even make it to the village's front gates would completely undermine this illusion. And just why would the Chamber of Secrets, which is located inside Hogwarts, be plopped so far away from the castle? And how exactly would Universal Creative pull off theming the forest, anyway? What would be the underlying guiding principle if there's no main street to navigate guests, as in Hogsmeade Village and Diagon Alley? This would easily be the trickiest land Universal has tackled yet.
On the third hand(!), the rumors of these three new attractions have been making the rounds for at least the past two years, ever since Universal first made the announcement that the Wizarding World would be getting an expansion at the resort (back in December 2011, nearly a year-and-a-half before Diagon Alley was officially unveiled). Rather than signaling a renewed interest by the company in exploring these options, it could simply be that the rumor mill is starting to churn restlessly… or that it misplaced just where the new Harry Potter rides will be going.
Riding Cabana Bay Beach Resort's lazy river
We've known for a while now all about Cabana Bay Beach Resort's amenities: moderate hotel rooms as well as family suites, ten-lane bowling alley, two pools, and – most intriguingly – a lazy river. But despite various previews that have been held over the past several months, we've never quite gotten a really good feel for the lay of the Cabana land.
Until now, that is.
UOR Buzz, on a lazy afternoon, decided to search the South Florida Water Management website and uncovered the hotel complex's layout, giving us a nice snapshot of what exactly to expect. Lest that relaxing waterway look too inviting, sources claim that the lazy river actually won't be that lazy, after all — in true Universal fashion, it's going to be tilted a little more towards the thrill-seekers, featuring a "faster than expected" current.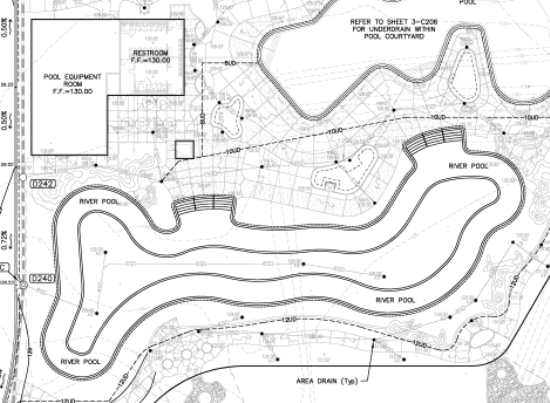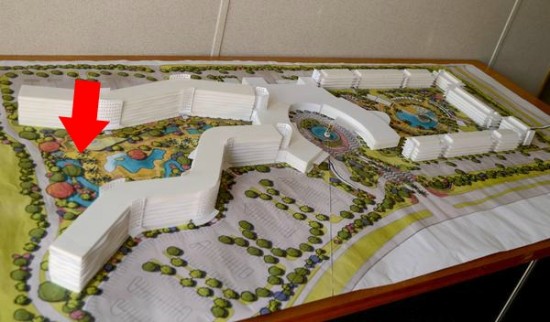 For a visual reference, we've provided the second image above — the red arrow points to the lazy river's location.
Eager to see Cabana Bay for yourself? You can actually book now with reduced rates through the "preview period," which lasts from March 31 to June 14. The grand opening – when the Lazy River Courtyard and the Hideaway Bar and Grill, among other features, will also officially open – is on July 1, when Harry Potter season will be in full effect.
A trio of tasty CityWalk morsels for you to devour
Ten days ago Dan got word that Cigarz, the tucked-away cigar shop/bar combo that has long been called "Universal's hidden gem," may be closing at the end of the year. While chances are the average theme park goer has never heard of the place, let alone stepped inside, it's a well-loved destination for locals and Universal employees both, thanks to its indoor smoking and "some of the best drink specials to be found anywhere" at the resort.
Screamscape is reporting on a few more CityWalk changes, including the arrival of Cold Stone Creamery (instead of the Ben & Jerry's that was initially expected) and a mini-revelation of what is going in Latin Quarter's place: Antojitos (instead of the Don Quixote's that was originally rumored), an "authentic Mexican restaurant" that will burnish a colonial mission theme.
And one last treat: Dan got to try out Red Oven Pizza Bakery yesterday for the first time. He reports that the made-to-order artisan pizza is truly amazing (and not just in a fanboy way), and it is far superior to anything Universal has served up to this point.
Trying #RedOven @UniversalORL for the first time. So, so good. Here's the Fennel Sausage pic.twitter.com/H4kt6Zuiws— Orlando Informer (@OrlandoInformer) November 21, 2013
He's working on a full review, but here's the juicy part for RRU fans. While dining at Red Oven yesterday, Dan was seated near a table of Universal brass who were discussing the restaurant. Here's what they said:
Phase 1 – Open Red Oven.
Phase 2 – Add roll down curtains to the outdoor seating area (there is no indoor seating, so currently guests are exposed to the elements).
Phase 3 – Add delivery service to the on-site hotels.
Phase 4 – Add a Red Oven Express to both Universal Studios Florida and Islands of Adventure.
Sounds like Red Oven is going to become the pizza brand for Universal Orlando, and this is positively delicious news. Try the pizza, and you'll agree. The only unfortunate bite in all of this is, according to the manager, they currently have no plans to slice pizza by the slice.
If you'd like, you can see the menu on Flickr. Or, if you're local, just go there right now.
DISCLAIMER FROM THE EDITOR
Please remember when viewing this post that a rumor is a piece of unverified information of uncertain origin; a statement whose veracity is not quickly or ever confirmed. So even though we try our best to present solid speculation, there's no way to guarantee any rumor will come true (then it wouldn't be a rumor anyway).
Thanks to Marc for researching the latest rumor buzz from sources across the Internet and condensing it down into a single post for us each and every week!
View all of our Rumor Round-Ups
[sws_author_bio user="msunyata@yahoo.com" size="105″ authorposts="More OI posts by Marc" name_format="About the author"] [/sws_author_bio]