Sneak peek at Gringotts Bank coaster
Eager to get a taste of what the Gringotts ride may be like once it opens next year as part of Diagon Alley at Universal Studios Florida? Well, feast your eyes on this "mine car coaster" concept video that was recently posted on YouTube — and be sure to watch it all the way through to see the crazy tilt and drop switch:
[youtube_video]r56nK9PwtEo[/youtube_video]
Now, granted, there is no mention of either Universal Orlando or Harry Potter at all in the video, and the footage shown on the IMAX-esque screen during the tilt and drop switch is of dinosaurs, not dark wizards and dragons. Still, there is a small-but-potent list of reasons as to why we're almost 100% positive this is, indeed, Wizarding World-related:
1. The ride vehicle shown in the concept video looks suspiciously similar to a picture that Robert Niles over at Theme Park Insider posted when he first shared details of the Diagon Alley project. (And don't forget about the tweet of the actual cart being installed into the Gringotts show building that we posted a few weeks back, which also seems to corroborate this.)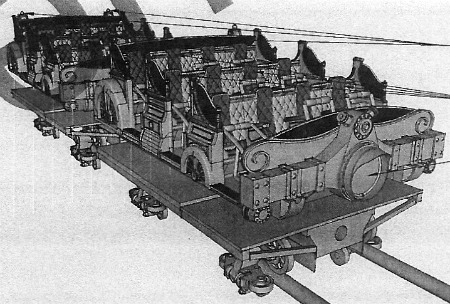 2. The description of the ride experience that once again comes from Nr. Niles's initial post, while not an exact match-up with the YouTube video, does bear some striking resemblances – most especially the "teeter-totter" and "free drop" sections. (And keep in mind that Dynamic Attractions, the company that posted the video, wouldn't be allowed to show the full Gringotts track layout, due to obvious legal considerations.)
3. Dynamic Attractions worked on Harry Potter and the Forbidden Journey, as noted in this NewsParcs article. Since the company offers a wide variety of services to theme park operators, they would be eager to show off the impressive work they've done for Universal as soon as possible to help drum up more work in the field. Just take a look at their other YouTube videos for further evidence of this.
So while you shouldn't take this demo video as Harry Potter gospel, you should, indeed, be getting really excited over it. And if you want to get even more excited over the Gringotts coaster, don't miss our Quick Hits section below!
Universal, Comcast & Q3 = theme park dominance
Universal made waves a month-and-a-half ago when it vowed to open at least one new ride per year at both of its American theme park locations. Now we're getting a little bit more info on this front, and it's still impressive as all get-out.
The Orlando Sentinel this week gave the scoop on a Comcast earnings report, in which it was revealed that this year's new attractions at Universal Studios Florida – Transformers: The Ride 3D and the Springfield expansion – helped give Universal Parks & Resorts its single best quarterly performance in its decades-long existence. Just how much? $343 million for the third quarter, up from $316 million in 2012. Just four years ago, before the (first) Wizarding World of Harry Potter opened, that total was just $400 million for the entire year, not just one quarter. And globally, Universal's parks are expected to reach $2.5 billion in annual revenue by the end of next year – more than double the $1.2 billion they generated in 2009.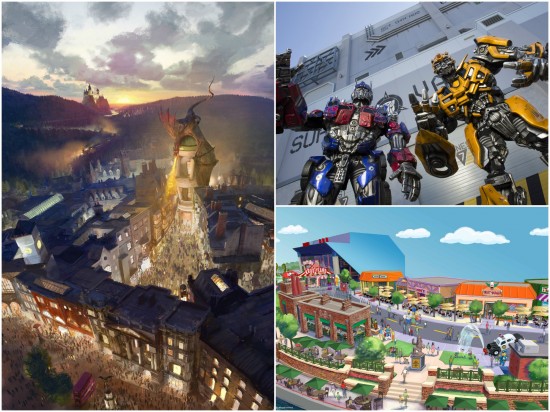 Just as a reminder on something we've reported before:  during this same time period, NBCUniversal has dramatically expanded its capital spending from its initially projected $75 million to the outrageous final sum of $284 million.  Yup, you guessed it – brand-new construction projects at the theme parks, primarily at Universal Orlando, make up the bulk of this new spending spree.
What does this mean, exactly, for the theme park enthusiast? Beyond just a general reaffirmation of Universal's commitment to big-money spending to deliver E-ticket attractions for the next several years in a row – and beyond the inevitable response from Disney, which is already purportedly investing heavily in Star Wars and Avatar expansions at Walt Disney World – The Orlando Business Journal notes that there are a few specific nuggets buried in all the financial mumbo-jumbo:
Executives said that Diagon Alley will open in spring 2014, after the new Cabana Bay Beach Resort opens sometime in either late March or early April. It is important to note that this opening time frame likely refers to technical rehearsals — vacation planners should still be looking at June for a grand opening date.
Universal hinted that it will continue to look to movie properties to anchor its new rides and provide further "synergistic" marketing opportunities, given the huge successes of Harry Potter, Despicable Me, Transformers, and the Simpsons in Orlando (and soon Hollywood).
The increased capital investment spending can't all be for the new Wizarding World; it's safe to say that at least some of it has been earmarked for other new attractions, most likely that pesky King Kong.
The truly ironic thing about all this is just how much Comcast's opinions on those silly theme parks has changed since it first agreed to purchase NBCUniversal in '09. Back then, according to the Sentinel, the parks were considered just an afterthought – but now they're "27% of NBCUniversal's $1.3 billion in operating cash flow during the third quarter, despite accounting for just 11% of its $5.9 billion in revenue." No wonder CEO Steve Burke can't stop smiling during these conference calls.
Quick hits: JP midway games, HP Flame Effect, DTD Starbucks
This week the new Jurassic Park midway games opened at Islands of Adventure. Dan was at Islands of Adventure yesterday and captured this "first look" video:
[youtube_video]1JwvA_S_SoE[/youtube_video]
In case you haven't been following this story, these games have opened up to essentially replace the midway games that are currently featured inside Lost Continent, which themselves will be removed in the not-too-distant future to make more room for IOA's Harry Potter expansion (Hogsmeade Station).
There have been mixed emotions about the presence of these new games in Jurassic Park. Some feel that they are in poor taste and disrupt the otherwise beautiful and highly immersive atmosphere of Jurassic Park. Others see the games not as a distraction, but rather as an addition to the area's theming, since Jurassic Park was conceived as a theme park in the first place. Yet others are very happy to have new games to play whether or not they're a perfect fit, as this follower of Orlando Informer on Twitter notes:
@OrlandoInformer I won a giant minion teddy there last June, it made our entire holiday. We won a krusty doll in Springfield, too! — Sean O'Grady (@LilbutterOrigin) October 31, 2013
A rather industrious Screamscape reader two weeks back came across something that should raise the eyebrows of Harry Potter fans who are eager to take on yet another dragon. Universal has recently filed a patent application for a "flame barrier" effect that essentially allows a transparent barrier to be repeatedly scorched and not be any worse for the wear. It's placed roughly three feet away from the flame projector and makes it look as if you're about to be engulfed by (dragon) fire.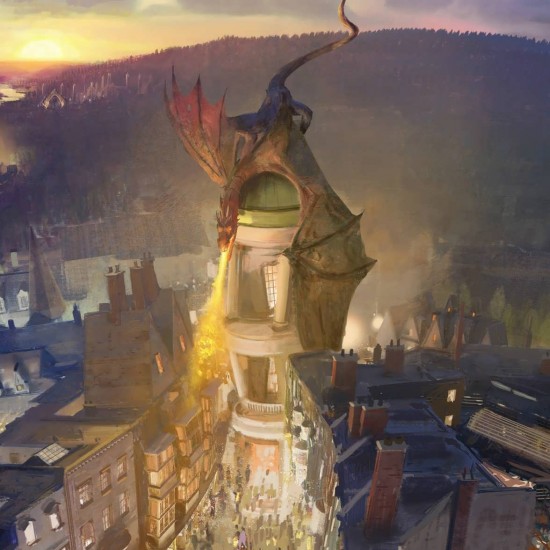 How does it not lose its transparency? By being coated with a liquid resin that contains a conductive material, which is charged by an electrode. This prevents soot from building up and giving the gag away. Simple.
Remember our report about the two new Downtown Disney Starbucks openings? Well, DaMouse has some brand-spankin'-new concept art of the West Side location, which is slated to open next spring.
The artwork is rather striking, we have to admit, though we'd refrain from describing it as containing "the exquisite branding that is now a staple of Starbucks around the world." Maybe someone should start cutting back on the Pixie Dust lattes… 😛
DISCLAIMER FROM THE EDITOR
Please remember when viewing this post that a rumor is a piece of unverified information of uncertain origin; a statement whose veracity is not quickly or ever confirmed. So even though we try our best to present solid speculation, there's no way to guarantee any rumor will come true (then it wouldn't be a rumor anyway).
Thanks to Marc for researching the latest rumor buzz from sources across the Internet and condensing it down into a single post for us each and every week!
View all of our Rumor Round-Ups
[sws_author_bio user="msunyata@yahoo.com" size="105″ authorposts="More OI posts by Marc" name_format="About the author"] [/sws_author_bio]