Moe & Jebediah moving into Universal's Springfield expansion
The Simpsons expansion is chugging right along, and long time fans of the television show will recognize the top of Moe's Tavern pretty much appearing before our very eyes. It was one thing to hear that Universal was going to be expanding the Simpsons area at the parks, but it's really amazing to see a bar that I feel I have spent so much time in "coming to life." It's not unlike being in Boston and going by the location where they based the show "Cheers." We're not that long away from walking into Moe's, ordering a Duff beer, and listening as the bartender gets a call and asks for a "Jacques Strap," or "Hugh Jass."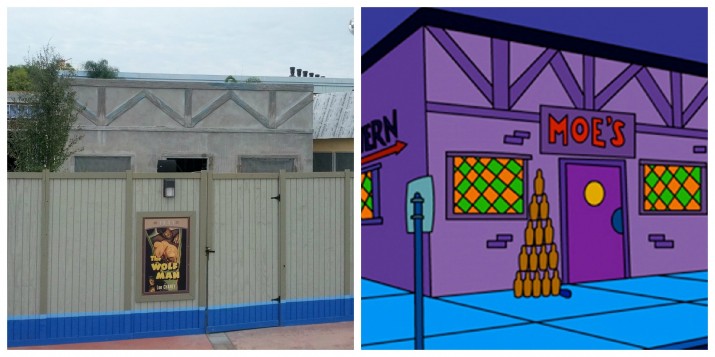 While the other buildings surrounding Moe's are not nearly as iconic or recognizable, the detectives over at Orlando United have given us some juicy nuggets to talk about. Kentucky Fried Panda is rumored to have its space next to Kwik-E-Mart. Connected to KFP will be Moe's and next to that will be a Krusty Burger and Comic Book Guy's own The Android's Dungeon and Baseball Card Shop. Don't get your hopes up on being able to walk in and buy the latest issue of Radioactive Man or "the good version" of Godfather III, as this store looks to be an elaborate façade only, much like the ones throughout Hogsmeade Village. We're also hearing Lard Lad Donuts will making an appearance as well, but we haven't heard yet whether this will be a small bakery-like store or another façade.
But that's not all, in addition to the Kodos and Kang themed spinner on the waterfront that we have discussed in previous columns, buzz is going around that we will also get a statue of the founder of Springfield, Jebediah Springfield.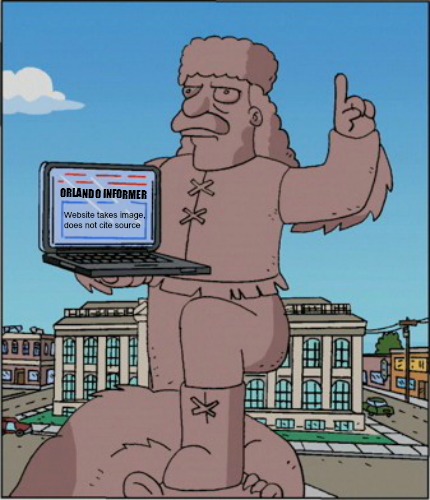 Fans of the Simpsons know that the official history of Jebediah is murky at best, with many "historical facts" being in question. Hopefully Universal can have some fun with this as well, such as having separate plaques in the area commemorating big moments in Jebediah's life, even though some took place on the exact same time in locations far apart from each other.
To learn more and view a huge photo gallery of the construction site (including 30 images just shot this morning!), visit The Simpsons expansion page in the OI Universal Center.
MyMagic+, putting the "stand" in standby
Another week has passed and still no word on when Disney is going to start implementing their new MyMagic+ program that includes the ability for guests to use FastPass+ and reserve their favorite rides up to months in advance. There are rumors going around that Disney has instead put more of the regular FastPasses into daily circulation, which is causing havoc with the standby ride times. Guests are reporting attractions that state a "20 minute" wait outside are turning out to be 40 or 60 minutes before getting onto the ride.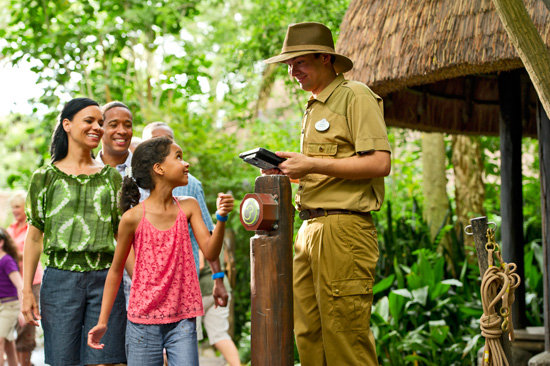 Generally both Disney and Universal artificially inflate the announced standby times, giving the guests the perception that they didn't wait nearly as long as they thought they would be and thus creating a favorable experience. However, to keep the FastPass lines moving fast, Disney cast members are loading a higher-than-normal ratio of FastPass riders to standby riders, causing the standby guests to literally stand much longer. With the amount of work being put into "interactive queues," a conspiracy minded person might think that Disney knew a long time ago that standby guests were going to be on the short end of the stick when FastPass+ came online, and thus put in all these distractions. I'm not saying anything, I'm just saying….
Marvel Mania at Downtown Disney
Disney Springs is…
A cast member retirement community
A Disney blogger rehab facility
The "new and improved" Downtown Disney area
If you guessed "C" you're a winner. The boys over at Park Rumors put out a story a short while back that gave hope to fans who desperately want Disney to "fix" Downtown Disney. Whether or not Disney Springs will be "Hyperion Wharf'ed" has yet to be seen, but these rumors suggest we'll be getting the parking garage that Downtown Disney needs in the worst way, as well as Disney taking better advantage of the incredible location they have bordering Village lake by offering dining locations and an amphitheater by the water's edge.
One surprising rumor — that shouldn't surprise anyone who has actually dined there — involves Planet Hollywood leaving Downtown Disney. The story of the restaurant chain Planet Hollywood is a strange one, and the ending probably won't be pretty as the company has declared bankruptcy twice and is down to four restaurants in the United States. While the plans for replacing Planet Hollywood are vague, I'd personally dip into the Planet Hollywood history and grab a concept introduced with Universal Studios Hollywood, one based around Marvel Comics. What? You don't remember the Marvel Mania Restaurant? Well, it was open for less than a year, and had two huge factors going against it: 1) the comic book movies like Iron Man, The Avengers and X-Men that everyone loves today hadn't come out yet and 2) Planet Hollywood, the parent company, expanded too fast and suffered financially because of it, forcing them to get out of the Marvel Mania business.
 [youtube_video]t3xRLBtQjVk[/youtube_video]
We know that Disney can't put Marvel in its Florida theme parks, but you have to believe Disney can do something with Marvel at Downtown Disney. One would think that the contract between Marvel and Universal Orlando mostly concerns the characters, but undoubtedly it must also involve food since Islands of Adventure is home to Captain America Diner and Café 4. However, I'm betting Disney can come up with a creative way around that barrier. Let's start by looking to the future. Next year a big release for Disney/Marvel will be Guardians of the Galaxy, a license Universal probably doesn't have. Again, I'm not saying anything, I'm just saying…
Agree, disagree, or have your own rumors? Leave a comment below. Or, check out all of our rumor posts.
[sws_author_bio user="derekburgan" size="105″ authorposts="More OI posts by Derek" name_format="About the author"] [/sws_author_bio]