A Star Wars blowout of epic proportions
Last month, Theme Park Insider broke word that Disney was planning on installing a "Star Wars Land" inside of Disney's Hollywood Studios. More recently, the Orlando Business Journal has not only backed that claim up, it's also published further details on just what will be going down over the course of the next few years.
First, the journal has reported on the brand-new attractions in the expansion, which will include an indoor Jedi Training Academy where the ABC Sound Studio now is, and which would replace the current outdoor event next to Star Tours. Other attractions include an unspecified kiddie ride, more than likely occupying the space where either the Backlot Express restaurant or the Studio Backlot Tour is, or both. And although this is all that Disney supposedly has planned for now, it sounds as if Star Wars Land will be rolled out in phases, in an effort to combat Universal's growing threat as quickly as possible.
This tracks with an older rumor from StarToursLive.com two years ago, which also held that an indoor Jedi Training Academy would be set up at ABC Sound Studio. This makes the rest of the site's claims of an advanced, walking-and-talking audio-animatronic Yoda, complete with realistic-looking lightsaber, and multi-leveled Dagobah set much more plausible.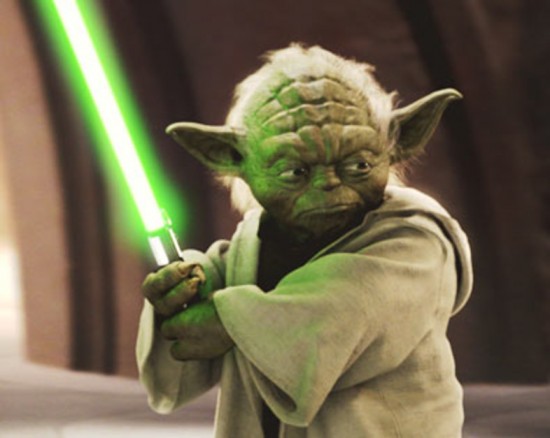 If only two adolescent-centric attractions leaves you feeling decidedly underwhelmed, then OBJ's next update will have you feeling better, as it purports that Star Wars Land will be the biggest expansion in Disney's (recent) history, costing the company at least $200 million — for comparison's sake, Universal dropped roughly $260 million on the original Wizarding World of Harry Potter. This price tag easily dwarfs the Cars Land clone that is also scheduled to open at Hollywood Studios within the next several years.
Last but certainly not least, the publication has one final report to file: Disney plans on extending the Star Wars theme beyond its new area to not only fill out many parts of Hollywood Studios, but also to hit upon the rest of Walt Disney World, as well. What does this mean, exactly? Disney World-exclusive food and beverages (please let it be blue milk!), repurposing the Fantasmic! night show, and other, as-yet-undefined events or experiences.
Will it be enough to combat the one-two punch of Hogsmeade and Diagon Alley? Only time will tell…
Project 301: Out with the old, in with the… old?
Kongfrontation, one of Universal Studios Florida's original attractions from 1990, closed in 2002 to make room for Revenge of the Mummy. It was based off of King Kong Encounter over at Universal Studios Hollywood, which ran from 1986 until 2008, when a massive fire leveled it (and a good many other buildings as well). Universal was keen on replacing the attraction with a new, contemporary property, but fan outrage convinced the company to make the King return after all, in King Kong: 360 3D (based off of Peter Jackson's travesty of a remake) just two short years later.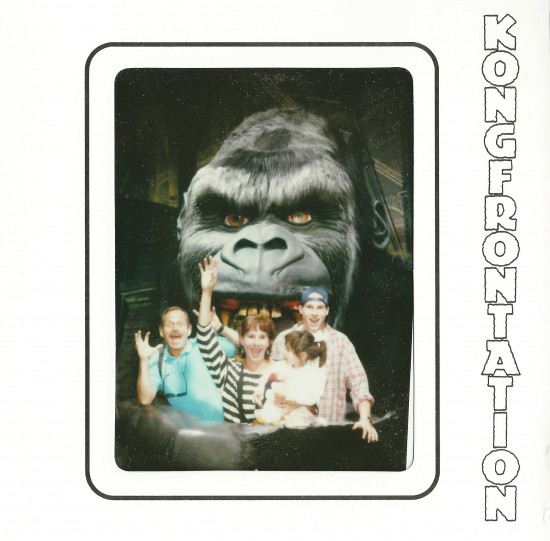 Why is this important to know? Because it seems like history is going to be repeating itself.
In the decade since Kongfrontation's removal, fans have been decidedly and consistently vocal on having their beloved ape back, and the lightning-fast opening of 360 3D only added fuel to that fire (no pun intended). Now, in Comcast/NBCUniversal's ongoing crusade to touch up almost the entirety of their Orlando resort, it seems that Disaster!: A Major Motion Picture Ride… Starring You will be heading for the chopping block, allowing a completely brand-new Kong attraction to be installed.
Orlando United tells us that the new ride has already been greenlit and has been given the working title of Project 301. Although short on specifics, the site does explain that King Kong's fourth outing will have absolutely nothing to do with his previous attractions and will feature a detailed queue and pre-show that should (hopefully) put it on par with Universal's latest offerings, from Harry Potter to Transformers to Fast Food Blvd. Even better, work is scheduled to be completed in the summer of 2015, just one year after the opening of USF's Diagon Alley and in the same time period as Jurassic Park's new E-ticket ride over at Islands of Adventure (which is where, ironically, we all initially thought the new Kong attraction was going to be built).
With E.T. Adventure making way for Smurfs and Disaster! (a re-theming of Earthquake: The Big One) closing down for Kong, it seems that the only opening-day attraction left standing will be Lucy — A Tribute.
For now.
The Simpsons Springfield round-up
Testing has begun on Kang & Kodos's Twirl 'n Hurl! Universal has been busy in the month since the first phase of Fast Food Blvd opened, installing the ride cars and Kodos's head and tentacles. With the rider-less testing already beginning, we're looking at an opening date hopefully by the end of this month. Here is a video posted Wednesday night on the OI YouTube channel of Kang & Kodos testing:
[youtube_video]abDktnsnC00[/youtube_video]
Screamscape has some fun new details on Kang & Kodos, gleaned from a recent tour of the area: Kodos will talk to the "foolish Earthlings" on the ride, possibly even giving them instructions on how to interact with the tentacles circling the outside of the ride area. Apparently, the cars will have to fly up or down to hit some kind of target, and if the tentacles' sensor beams are broken, a "special event" will be triggered – although we don't know if this will be a reward or a punishment, as in One Fish, Two Fish, Red Fish, Blue Fish over at Seuss Landing.
What is unexplained at this point — at least to us; feel free to share in the comment section below if you have intel — is why the Simpsons waterfront area still appears to be a couple of weeks from opening. Strong rumors indicated that the entire Springfield expansion was originally targeted to open with Transformers on June 20, allowing Universal to show off multiple projects to all the press and VIPs in town. While Fast Food Blvd hit the June 20 date without a problem — it actually opened June 1, only one week after Universal officially announced the Springfield expansion — the waterfront area seems to have hit major delays. At this point I would consider us a little lucky if Duff Gardens, Kang & Kodos, and the other features in the waterfront area open by the end of July.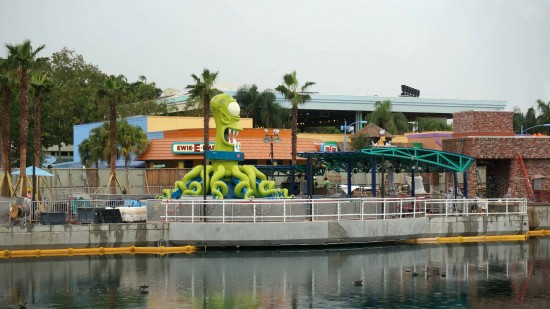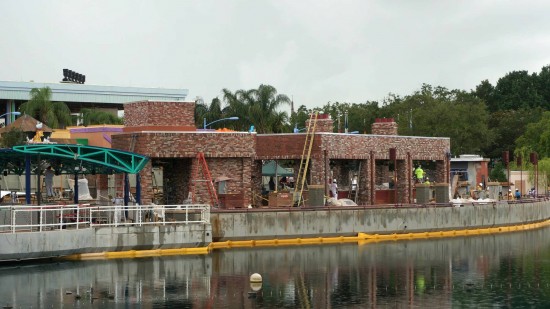 If you'd like to see more construction photos, you can see everything Dan shot at Universal Orlando this week on the new OI Flickr page.
But let's end with some good news. If you are headed to the Springfield expansion anytime soon, be sure to keep an eye out for Krusty the Clown and Sideshow Bob (replete in prison regalia) making the rounds for photo opportunities alongside the Simpsons family.
[sws_author_bio user="msunyata@yahoo.com" size="105″ authorposts="More OI posts by Marc" name_format="About the author"] [/sws_author_bio]