Upgradin' – and Replacin'? – Soarin'
For the past eight years, Soarin' has been – well – soaring over at Epcot (and even longer at California Adventure in Anaheim, where it's appropriately called Soarin' over California). That's more than enough time for an upgrade, and Disney and More tells us that's exactly what Disney is working on right now. The new 4K projection system, just like what Universal did to the Amazing Adventures of Spider-Man last year, is said to be installed sometime in 2014 at both parks, with the brand-new name of Soarin' HD (but of course).
(There seems to be some confusion on this point, as Disney and More speculates that the upgraded film might actually be 8K… but what could possibly be higher-res than Imax? Let the technophile debate commence.)
If that isn't enough to get your flyin' juices flowing, the site goes on to say that the long-awaited and oft-rumored replacement film for the ride(s) is well into the planning stages and will have its grand debut in 2016, most likely at Shanghai Disneyland, which has already been confirmed to be getting a version of the attraction. This next-generation iteration will be called Soarin' over the Horizon and will feature, not surprisingly enough, several different landmarks from all over the globe: England, France, Italy, Egypt, India, China, Japan, and even the Grand Canyon and New York City back here at home.
Don't be too bummed out if you don't have plans to visit Shanghai before the decade closes – once the Chinese are able to soar at their new park, guests will be able to do the same at California Adventure and Epoct, albeit under the brand-new name (again!) of Soarin' over the World.
Star Tours, version three to get Star Wars: Episode VII
Disney and More strikes again: hot on the heels of their Soarin' leaks, the site has similarly spilled the beans on a planned update of the just-upgraded Star Tours: The Adventures Continue.
The report is actually strikingly low on specifics, but it's tantalizingly high on possibilities. In 2015, Disney will unleash Star Wars: Episode VII, the first film of its new trilogy (and the first movie to not be helmed by series creator and corporate sellout George Lucas). That same year, the report goes, Star Tours will be getting a slight tweaking, adding at least one or two original planets to the randomly-generated lineup. It doesn't take a math major to add the two together and come up with the marketing-tie-in sum.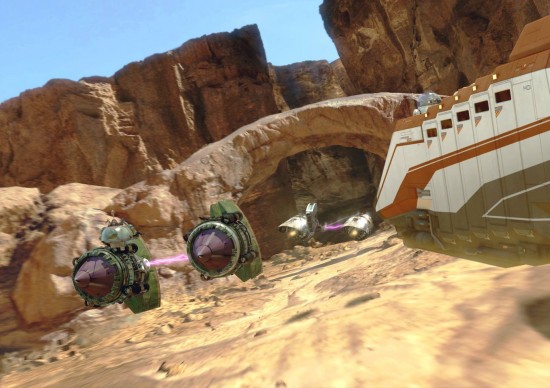 What's truly interesting about this scenario, though – especially considering that it's said to be good for both Disney's Hollywood Studios in Florida and Disneyland in California – is the door it opens on each subsequent movie release: not only will Disney be doing Episodes VIII and IX in 2017 and '19, respectively, it'll also be making one-off films in between each installment. That's a grand total of six new movies in just as many years, and if public reaction to all these stories is as enthusiastic as the company is obviously hoping for, that's a lot of potential locations, characters, and set pieces to continually draw from.
If the quick-to-change-and-then-change-again rumors surrounding Soarin' are accurate, then not only does it dramatically increase the likelihood of a fluidly-updated Star Tours being true, it also portends a whole new wave of ever-evolving theme park attractions the world over.
NBA, WWE, Latin Quarter & Starbucks do the Kansas City Shuffle
Disney isn't the only player in town that will be changing up its status quo, as Wrestling, Inc. repeats rumors of NBA City's imminent demise (so long, Cinnamon Berries!) and then adds to them by saying that its replacement will not only be a WWE Hall of Fame showcase, but also a full-fledged restaurant, as well.
The move would make sense, as CityWalk is more of a dine-and-shop kinda place rather than a Niagara Falls-wanna-be exhibit lot, but Screamscape takes it one step further by suggesting that the restaurant would come first, with the museum coming in later, possibly in phases. As the site notes, the restaurant could be strewn with memorabilia and pay-per-view matches at first (not unlike the Hard Rock Café right next door), and then expand to a full-fledged Hall of Fame, possibly in a connected building (again, not unlike Hard Rock Live next door) once consumer interest has been sufficiently established.
No matter how the WWE ultimately plans on doing it, Screamscape goes on to report rumors of all the other changes Universal CityWalk might experience over the next six to eight months: the Endangered Species Store will be axed; Starbucks will make the move from the upper to the lower level, plugging in the hole; Latin Quarter will be closing (as reported in the Rumor Round-Up previously) and replaced by a Mexican restaurant; and, finally, the Galaxy Bar will reopen as "some kind of high-end snack bar" featuring gourmet hot dogs.
But as with all rumors, these supposed plans must be taken with a grain of salt. In the same report, Screamscape notes that Pastamore will "move down" to the Endangered Species Store area — problem is, that's already where Pastamore is. The site also notes that CityWalk's Ben & Jerry's will be moving — but there isn't a Ben & Jerry's at CityWalk. For that particular brand of ice cream, you need to head into Universal Orlando's theme parks (or visit Universal CityWalk in Hollywood).
Quick hits
20 Penny Circus got the boot from this year's Halloween Horror Nights lineup and will be replaced by – wait for it – "The Rocky Horror Picture Show Tribute," which will make its grand return after an extended absence from the HHN event. Learn more
Construction walls can now be found covering the area in Universal's Islands of Adventure where midways games are expected to be built. These will be "replacing" the games currently at home in Lost Continent, although in truth we expect all-new, properly themed games to be built (just as Universal did when they built the new midway games at the front of The Simpsons Ride, which "replaced" the Amity games). Learn more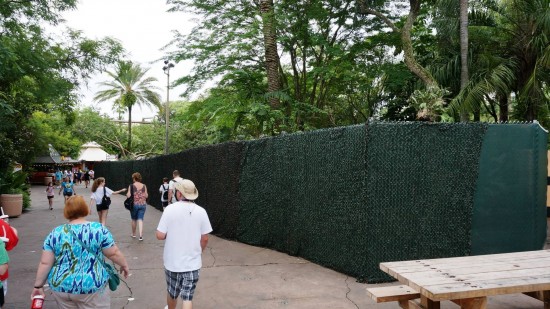 Guests visiting Universal Studios Florida will have one more dining venue to consider. Yes, as part of the opening of The Simpsons waterfront area, Bumblebee Man's Tacos food truck will open. Honestly, once Duff Gardens is serving and you load up on Duff beer outside, you'll be able to stumble in any direction for some incredible munchy options — as long as you don't stumble into the USF lagoon. Learn more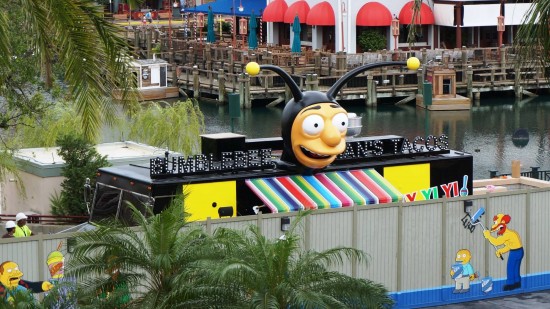 [sws_author_bio user="msunyata@yahoo.com" size="105″ authorposts="More OI posts by Marc" name_format="About the author"] [/sws_author_bio]