Universal gets Legendary
Variety this week has reported that Legendary Entertainment, which has just released Pacific Rim today and is readying a new Godzilla for next year, has ended its eight-year co-financing and distribution relationship with Warner Bros. and has instead opted to go with… NBCUniversal.
The company stated that Universal's major footprint in the television, film, and theme park arenas was the primary reason it opted to go this way, and even though the ink on the contract has barely had time to dry, the theme park-verse has already gone a-twitter (no pun intended) with even this vaguest of references. Legendary, of course, has a bevy of properties that it's been involved with over the years, including 300 and Seventh Son, that are fertile ground for new attractions to sprout out of. Even better, the company is behind a little event called the Course of the Force lightsaber relay race, which, this year, starts at George Lucas's – err, Disney's – Skywalker Ranch and ends at the site of the San Diego Comic Con. What's to say that Universal won't be able to move it to its Orlando resort, thereby simultaneously capitalizing on its new partnership and also helping to flesh out the parks with activities that have traditionally been more Disney World's bag?
Things really get interesting, though, when one considers that Legendary was one of the driving forces behind Watchmen, Man of Steel, and Christopher Nolan's Dark Knight trilogy. While these are IPs owned by DC and its parent company, Warner Bros, which has pre-existent contractual obligations with Six Flags, it does open up some intriguing possibilities down the road, once all the lawyers have figured everything out… or, just maybe, even for this year's Halloween Horror Nights.
Star Wars, West Side-style
Remember all those juicy rumors from last week that said that Star Wars Land in Hollywood Studios would only (initially) consist of three attractions (an indoor Jedi Training Academy, an unnamed kiddie ride, and the pre-existent Star Tours)? Well, Mice Chat has more news on this front – possibly.
Tomorrowland over at Disneyland in Anaheim has had a bit of a troubled history, given that today inevitably becomes tomorrow, and the entire land has to keep getting refurbished/renovated to keep up. The area is already in its third major iteration, and if Mice Chat is correct, Tom Staggs, the chairman of the Parks and Resorts division, wants to give it its fourth major overhaul, making it something of a Star Wars Land (which would make sense, given that the West Coast version of Star Tours is already located there).
The only ride concept that has managed to sneak out into the rumor mill thus far is a makeover for the PeopleMover, which would make it feature speeder bikes instead of cars – and which, if rumors hold true, might also make its way out to the east coast, serving as a fourth attraction in Hollywood Studios.
RFID rapidly expanding with Rapid Fill
Rapid Fill, a new refillable mug program at Walt Disney World, will be rolling out in phases all across the resort's hotels starting this month at the All-Star value properties (where the initiative was originally tested two years ago, incidentally). Orlando Park News has all the details: self-service beverage stations, located only at the various Disney hotels, will allow special mugs equipped with radio frequency identification (RFID) chips to be refilled as many times as one would like throughout the course of a given day. Just how many days the mugs will be good for is up to the patron: non-resort guests can choose from one-, two-, or three-day options, while those staying on-site can purchase refills for the duration of their entire stay, even if that may be two weeks or more – as long as the days are all consecutive, of course. Additional days can always be added on later.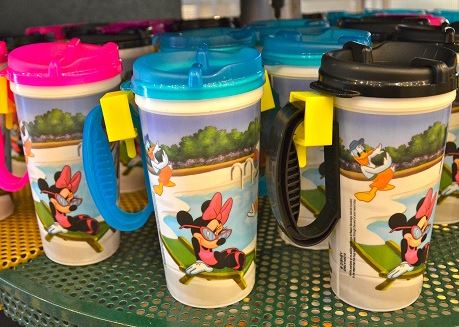 The good news in all this is that no cashiers will be needed once the mug is sold – just stroll on up to a self-service soda fountain and go to town, kinda like what is already going on at the two Disney water parks, Typhoon Lagoon and Blizzard Beach. What's more, an LCD display at the stations will inform guests how many days are remaining on their cups. And in case you're wondering, yes, Disney Dining Plan participants will receive the Rapid Fill mugs as part of their package automatically.
The bad news is that Rapid Fill will completely replace any other refillable mugs that may have been available previously, and this new program is looking to be a little on the pricey side: $8.99 for one day, $11.99 for two, $14.99 for three, and $17.99 for length of stay (4+ days). And in typical Disney fashion, future add-on options are already being leaked, such as the ability to allow the Rapid Fill containers to work at the water park beverage stations (although the water park cups won't work at the resorts). There's also the tidbit that the new RFID mugs won't be microwavable, in case nuking soft drinks was your particular thing.
Why the change? By incorporating drinks into its RFID umbrella of projects, Disney is continuing to extend its $1-billion-plus NextGen initiative into more and more aspects of its parks, attempting to ultimately link everything up to those all-encompassing MagicBands. Oh, and by linking your cup to a massive database, the company ensures that guests will no longer be able to sneak previous years' mugs in.
…and some quick hits:
Construction has started on the first Halloween Horror Nights haunted house in the Disaster queue at Universal Studios Florida! Could this be Cabin in the Woods, or is it something brand new? We'll need intrepid readers to let us know – but, in the meantime, be sure to enjoy this snapshot Dan grabbed yesterday: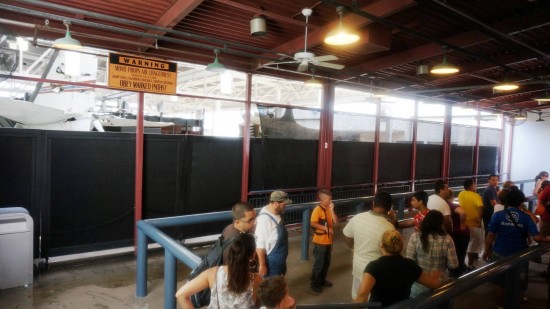 In other Universal quick hit news, construction seems to have also begun in Jurassic Park over at Islands of Adventure. While this isn't for that hotly rumored E-ticket ride, it is – apparently – for the slew of midway games that are said to be making their way from their original home in the Lost Continent, just as their Universal Studios Florida counterparts started off in Amity and found their way over to The Simpsons Ride. According to Screamscape the extended queue of River Adventure, which hasn't been used in ages, and part of a nearby sidewalk will be replaced by a new 1,044 square-foot building for the games. Dan's got another photo from yesterday showing concrete markings in the area: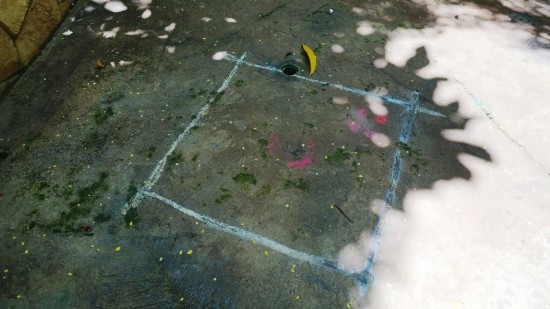 Is the Osborne Family Spectacle of Dancing Lights ending at Hollywood Studios? While there's no definitive answer thus far one way or the other, the rumor has been making the rounds all across the inter-theme-park-net this past week. On the one hand, the move would make absolutely no sense whatsoever, given its popularity — but on the other hand, it's currently in the area earmarked for Cars Land. Look into this, we will.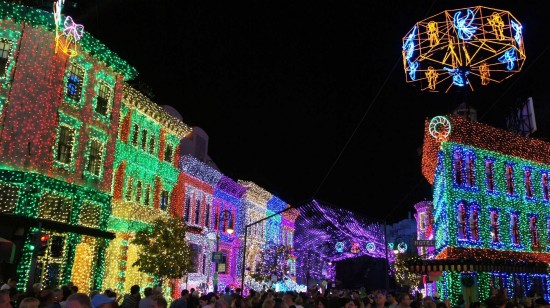 Finally, this isn't a rumor but just a friendly note letting RRU readers know that Orlando Informer posted full construction updates for The Simpsons Springfield expansion and WWoHP Diagon Alley earlier today.
[sws_author_bio user="msunyata@yahoo.com" size="105″ authorposts="More OI posts by Marc" name_format="About the author"] [/sws_author_bio]