Look, up in the sky! It's a bird…it's a plane…wait, it's a train?!
This week an incredible picture showed up at Screamscape showing the Hogwarts Express train track that is currently being built between the Diagon Alley area at Universal Studios Florida and Hogsmeade Village at Islands of Adventure. The massive size of this structure – even at this early stage – is staggering to behold. The picture also allows us to see the track splitting into two at one point, allowing separate trains the ability to pass each other.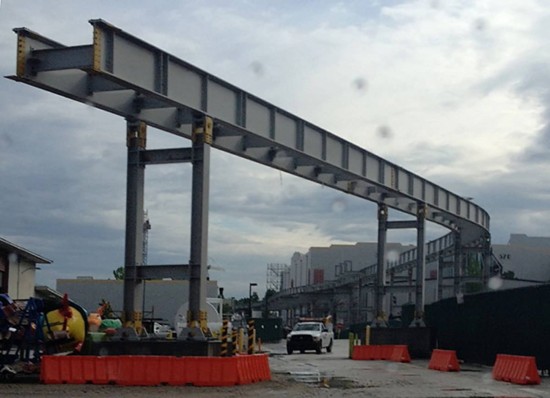 There is also speculation from Potter related circles that the Hogwarts Express attraction could possibly have something in common with Disney Hollywood Studios' Star Tours: The Adventures Continue. There is early word that the ride could have some sort of randomization. Since it is believed that the "windows" of the train will be digital screens, guests might have the opportunity to have different shows each time they ride. Star Tours has 54 possible different experiences, and it would be interesting to see what Universal Creative could do with that type of ride option.
Other rumors say the randomization could come in the place of live actors, such as one Hogwarts Express trip being more like the quiet and peaceful one Harry Potter had in the first movie (where he interacted with a trolley selling chocolates and candy) while others offer more dangerous with encounters with Death Eaters. It's very early for speculation, but seeing pictures of this track – and the work Universal has already completed on King's Cross station – sets the imagination racing on what we could all be doing as early as next summer!
Editor's note: Orlando Informer was invited by WESH News, our local NBC affiliate, to discuss Universal's plan to expand Harry Potter at their parks. While our phone interview was 15 minutes long, just a few quotes made it into the final piece. Nevertheless it is a great report with some amazing visuals, and we assume they got most of their info from our interview and our incredibly detailed page dedicated to the Harry Potter expansion at Universal!
Another indication that MyMagic+ is coming later than sooner?
This past week the staff of the Rumor Round-Up, long time Annual Passholders to Universal, finally buckled down and bought their first-ever Disney annual pass (AP). Unlike Universal, who prints their APs on paper stock, the Disney annual pass came on a plastic RFID-enabled card. However, this is a recent development, as it was only in March that Disney started converting over the old paper stock APs to the new plastic ones. What this tells us is that the MagicBands, a key component of the $1 billion dollar (and growing) MyMagic+ program, are probably going to be delayed even further.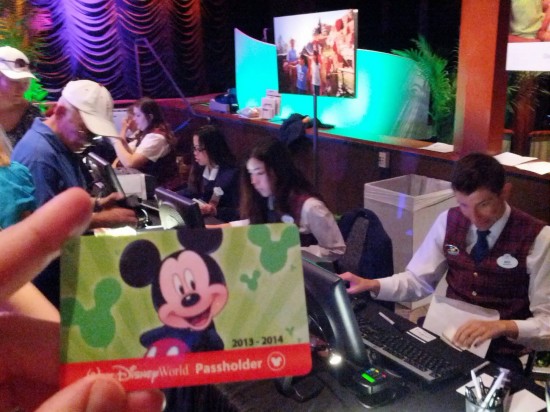 We've covered the news of MagicBand testing in previous Rumor Round-Ups, but the Bands that were supposed to debut back in January seem to have been pushed back even farther, possibly to 2014. If the bands were right around the corner, it's doubtful Disney would go through the trouble – or expense – of converting all these APs over for something that would be short term.
The Lorax does not speak for these trees…
There is an interesting development going on over at the Magic Kingdom. Not long ago Disney unveiled the elaborate Tangled restroom area, which is definitely the best themed public facilities in the history of theme parks. Next to the Tangled bathrooms they also built a phone charging area, with charging stations cleverly hidden in fake tree stumps perfectly at home in the Tangled movie theme. With apps and social media becoming a bigger part of each guest's day in the park, a charging area was long overdue. However, despite this new area being very popular with guests, don't expect it to be around for all that long.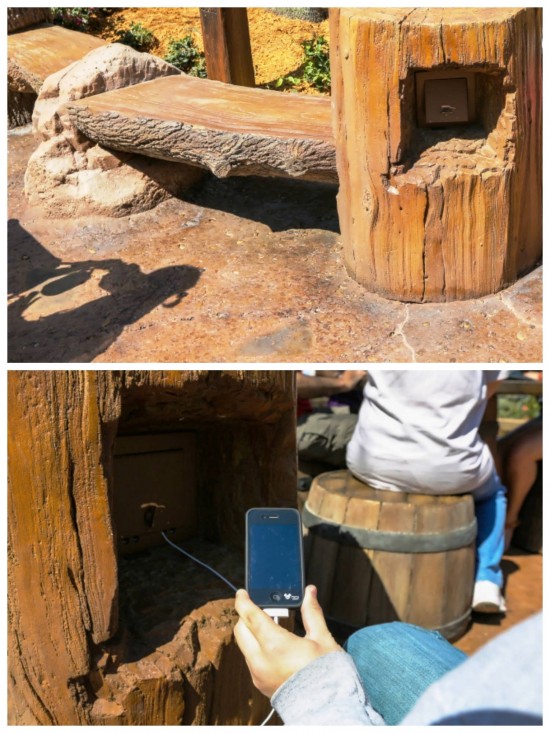 On the recent Disney Dish Podcast with Jim Hill we were told that this phone charging stations are just a stop gap until Disney puts in a station that will allow guests to convert their FastPass+ in case an attraction goes down. Once again this is tied to the boondoggle that is MyMagic+, and Disney knows that when the program rolls out people who chose their FastPass attractions days/weeks/months earlier are going to need a replacement if that particular attraction is down in the time they are allotted to ride.
The current plan is to have two of these stations that will allow Disney to change over guests FastPass+ attractions to a replacement ride. One station will be at the front of the Magic Kingdom near City Hall, and another will take the place of the phone charging station area next to the Tangled restrooms. The original plan was to use this area for a Rapunzel/Flynn Rider meet n' greet, since their area got taken over by Merida (from the movie Brave). Long story short, this is a classic lose-lose scenario. Kids drawn to the Tangled castle "weenie" are going to be disappointed that it's only a bathroom. Guests using their smartphones to check their Disney dining reservations or tweet pictures of their vacation are are losing a place to charge it.
On a lighter note, this week the OI Blog had a good article on the FastPass system as we know it today, giving the top 10 things to know before you go to the parks — check it out.
Captain EO to go away again?
Buzz picked up this week on the rumors circulating that Disney is working on a top secret project for Epcot. It's not the "Future Fest" technology based festival that we talked about last time. Some thought it may be a replacement to the nighttime spectacular Illuminations. Others thought it may be a long-needed overhaul to the Universe of Energy. But it's looking more and more like the project is a replacement for the Captain EO 3D movie. Featuring Michael Jackson and directed by Francis Ford Coppola, 1986's Captain EO was the most expensive film ever made when considering cost-per-minute-of-film. Captain EO was replaced by Honey, I Shrunk the Audience in 1994 but returned to Epcot in 2010 after the death of Michael Jackson.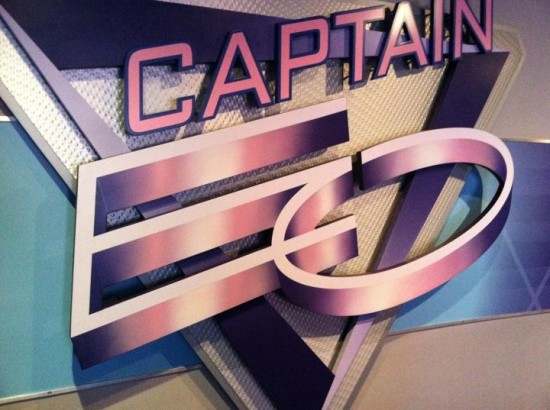 Its rumored that Jerry Rees, a longtime Disney collaborator who has worked projects such as the original Tron film and the Indiana Jones Stunt Spectacular, is currently filming what will eventually replace Captain EO in 2014. Rees himself says that he is working on a mystery project for Epcot on the Season Pass Podcast hosted by Doug Barnes. What's unknown is exactly what the new movie will be about and if it ties into another rumor we have discussed, the possible Imagination Pavilion being rethemed over to a focus on Disney Channel's extremely popular Phineas and Ferb character.
Agree, disagree, or have your own rumors? Leave a comment below. Or, check out all of our rumor posts.
[sws_author_bio user="derekburgan" size="105″ authorposts="More OI posts by Derek" name_format="About the author"] [/sws_author_bio]