No Harry Potter in the new Potter expansion?
News out of London this week gives us an update that many won't want to read. It doesn't look like Harry Potter will make an appearance in the Diagon Alley expansion currently being built at Universal Studios. That's right, Daniel Radcliffe — the actor who played Harry Potter in all eight of the Potter films and in the Forbidden Journey ride at Islands of Adventure — says he is done playing the younger version of The Boy Who Lived.
"Because the theme parks are expanding there was an enquiry whether I'd do more filming from them and I was like: No, I can't get away with that any more. I'd just look foolish. I'd never totally close the door for the reason that Joe's a great writer. But no more school boy stuff. A cameo as Harry's dad? That would be perfect!" – Daniel Radicliffe, now-here-this.timeout.com
Surely this comes as a huge disappointment to almost every single Potter fan. While it has been confirmed that fellow Potter film stars Rupert Grint (Ron Weasley) and Helen Bonham Carter (Bellatrix Lestrange) have filmed new scenes that will most likely be seen in the new Gringotts bank attraction, it was widely assumed that both Radcliffe and Emma Watson (Hermoine Granger) would reprise their roles as they did for Forbidden Journey. In fact the "musion" technology that allows Michael Gambon (Albus Dumbledore) and the trio of Harry, Ron & Hermoine to appear in front of guests within Hogwarts is a favorite feature of the attraction for many.
[youtube_video]U54P_KVJwr8[/youtube_video]
It's about seeing old friends again in a new setting when you never thought you would, not unlike the comfort of having C3PO and R2D2 in Star Tours the Adventure Continues or the recent release of a new season of Arrested Development on Netflix.
Could this be a misdirection? While the betting money is on no, don't discount how much JK Rowling and the handlers of the Potter brand like to keep things a surprise. A bonus feature on the blu-ray edition of the Deathly Hallows part 2 movie showed some of the lengths the cast and crew went through in order to fool fans and the press. JK Rowling herself has been incredibly secretive, keeping anything but the most inconsequential details about her books from getting out early. JK Rowling and Dan Radcliffe have a close relationship, and you never know if Radcliffe dismissing any involvement in Potter going forward is him just letting Rowling at the Potter brand have an ace up their sleeve when Diagon Alley opens in 2014.
"Beer. Now there's a temporary solution." – Homer Simpson
We're another day closer to the opening of The Simpsons expansion at Universal Studios Florida and more possible details are leaking out. This week over at MyBeerBuzz they showed what looks to be the labels for Duff Beer, Duff Lite, and Duff Dry. The very idea of just being able to enjoy a nice cold Duff while sitting lagoon side at Duff Gardens had us pretty excited last week, but now it looks like we'll be able to get our Duff on tap and in bottles.
Unlike Hog's Head Ale available at the Wizarding World of Harry Potter, Duff Beer appears to be coming out in 12 oz bottles as well as draft form. This is good for several reasons: some people prefer to drink their beer out of bottles, it can be more convenient to carry bottles around rather than a large cup, and – most importantly – it adds another item for guests to collect. In fact, like Potter's own Pumpkin Juice, expect many a bottle of Duff Beer to be sold and brought back with guests as gifts for their friends and family back home.
In the television show The Simpsons, one of the better gags happened when Homer visited the Duff brewery and discovered that Duff Beer, Duff Lite, and Duff Dry were all the exact same beer with different names. In all likelihood though, Duff Lite in Universal Studios will be a lower calorie alternative to Duff and Duff Dry.
The recent Springfield concept art was full of details we love to look at, including what looks to be the "Seven Duffs" in front of Duff Gardens.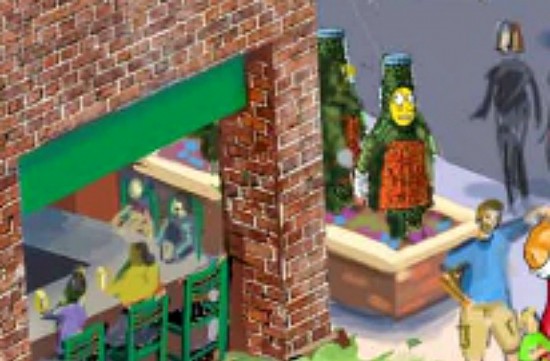 The Seven Duffs are the mascots of Duff Beer and are a satire of Disney's Seven Dwarfs. Their names are Surly, Queasy, Sleazy, Tipsy, Dizzy, Edgy and Remorseful. While the kids are getting their picture taken with Homer and Bart, look for more than a few adults to grab a bottle of Duff Beer and take a picture with the Seven Duffs. There are rumors that there will be a lot of ways for guests to be surprised in the new Springfield, and one of those just may be a talking Surly….
Why you can't eat at Kentucky Fried Panda in Springfield
It seems we can't go one week without Universal making a major announcement, and as we said last week, they outdid themselves with new concept art on the major expansion coming to The Simpsons area (see my Special Edition BIG 5). Readers of Rumor Round-Up know we've been on top of all the Springfield rumors for a long time, and we've previously written about how the area was going to include a Kentucky Fried Panda restaurant until at the last minute that plan was scrapped and Universal ended up using Cletus Chicken Shack.
Kentucky Fried Panda is a long running joke on the television show, whereas Cletus' Chicken Shack is literally the only brand in the entire area that isn't taken directly from the source material. Moe's tavern, Krusty Burger, Comic Book Guy's comic shop, Lard Lad, Duff Gardens and even "Krustyland" that houses The Simpsons Ride have all be on the popular animated show, whereas Cletus' Chicken Shack will exist solely in Orlando.
The reason? Universal felt the joke would not translate well to some international guests, particularly those traveling from China. The idea of "Kentucky Fried Panda" satirizing the real-life fast food chain "Kentucky Fried Chicken" could be lost on guests who instead would have seen Universal presenting a beloved animal like the Panda – currently an endangered species – as theme park "food".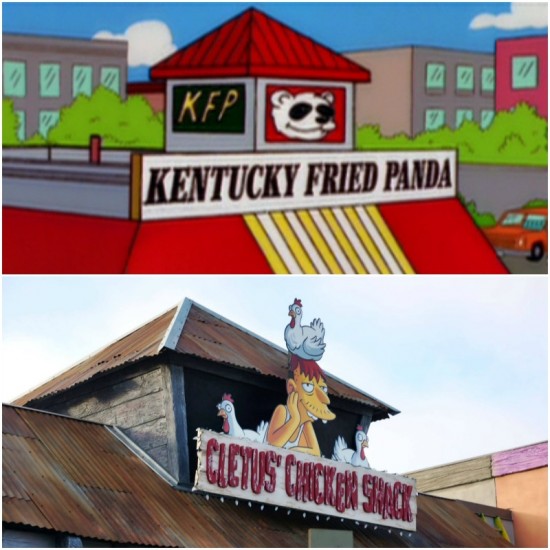 Pandas are native to China and can actually be considered big business to American theme parks, especially here in southern Florida. Busch Gardens in Tampa has negotiated in the past to have pandas on exhibit, and rumors have been going around for a LONG time that Disney has been trying to get a deal in place so that they could have a panda exhibit in Animal Kingdom. American zoos typically pay a million dollars a year or more for the rights to display pandas, and those fees come with a ten-year contract as well.
[sws_author_bio user="derekburgan" size="105″ authorposts="More OI posts by Derek" name_format="About the author"] [/sws_author_bio]