Say it ain't so – Cars Land without Radiator Springs Racers?
We start with a scorching rumor out of Screamscape this week about what may — and more importantly what may not — be coming to Disney's Hollywood Studios. We've been talking about the smash hit Cars Land at Disney's California Adventure making its way to Orlando for a while now, but the latest word says that we might have set our expectations too high. That's right, the ultra popular E-Ticket attraction Radiator Springs Racers may not be taking the trip when Cars Land is recreated in DHS.
Sources say the ride system is too close to the recently renovated Test Track at Epcot along with the "story" problems we have discussed in previous editions of the Rumor Round-Up (in short, you travel through the town of Radiator Springs during the Radiator Springs Racers ride only to be let off the ride and walking out into Radiator Springs). Disney is already dealing with complaints from guests who can't believe the ultra-detailed area themed to the movie Tangled is nothing more than a bathroom. To that end, expect the Internet to have a complete meltdown if it becomes official that WDW won't be getting the most talked about attraction Disney has built in almost a decade — and instead end up with…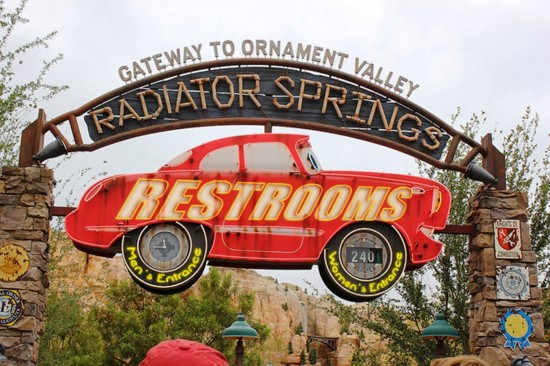 Would fans be satisfied if Orlando got a brand new dark ride instead of the much praised Radiator Springs Racers? Doubtful. Magic Kingdom originally opened in 1971 without a Pirates of the Caribbean ride, despite it being one of the most popular attractions on the west coast. Walt and Co. believed Florida was too close geographically to the actual Caribbean to garner guest interest. They were wrong. After thousands of complaints piled up, the company streamlined the installation of a Pirates attraction similar to the one built in Disneyland. What would the response be if Disney elected to create Cars Land without its staple attraction? One only has to look to the past.
If there's any good news here, it's all but confirmed now that the disastrous Luigi's Flying Tires attraction will also be staying "exclusive" to DCA, much in the same way Stitch's Great Escape is "exclusive" to the Magic Kingdom and TriceraTop Spin is "exclusive" to Animal Kingdom.
Changes to Be Our Guest more Beast than Beauty to consumers
As predicted, the mega-popular Be Our Guest restaurant in Magic Kingdom has been going through some changes. Prices have slowly inched up from its debut in late 2012, and some of the menu items have started to change. Pretty much every appetizer and entrée on the dinner menu has gone up in price and at lunch the popular grilled steak sandwich has been replaced with a roast beef sandwich. Considering how many people loved the steak sandwich, it was probably removed not because of "guest demand" but as a cost savings measure. The popularity of the Disney Dining Plan (DDP) knows no bounds, but because of the DDP many of Disney's restaurants start to dumb down their menu to optimize their profits. Guests on the DDP often choose the highest price item in order to feel they are getting more value for their money — or because these items seem like the "best" offering a venue serves — so selections that include steak are always in the cost-saving crosshairs.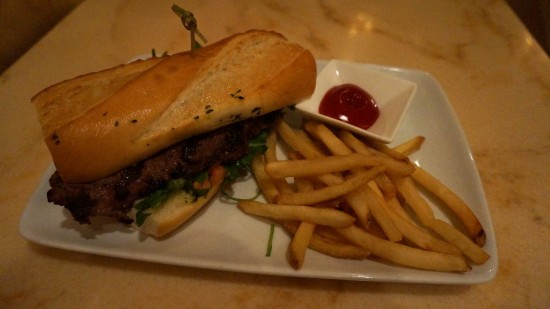 Right now lunch is a quick service credit while dinner at Be Our Guest counts as one table service credit on the DDP, but it's rumored that this fall at least the dinner service will require two table service credits. Similar to how Epcot's Le Cellier restaurant increased to two table service credits a few months ago, this is more Disney trying to capitalize on the overwhelming popularity of the restaurant rather than providing a providing a signature dining experience like the California Grill or the Hollywood Brown Derby.
So why did Universal choose last week to unveil Diagon Alley?
We're still reeling from Universal releasing their official plans for Diagon Alley earlier this month. But one thing we've been wondering for a while is simply this: Why now? There's been speculation about a Harry Potter expansion ever since Universal announced that JAWS was closing in late 2011. Rumors really heated on up New Year's Eve of that same year when seemingly leaked information came online just hours before Disney was about to unveil its heavily hyped "surprise" of One More Disney Day. That was almost a year and a half ago, and construction has moved at a rapid pace without a peep from Universal about what was going on behind those construction walls. Most had given up on expecting an announcement anytime soon, so why now?
Word behind the scenes is that Universal finally saw an opportunity that wouldn't negatively affect their bottom line. We've written before that when Universal announced the first Wizarding World of Harry Potter in 2007, it lost almost 30% of its Annual Passholders who decided to wait until WWoHP was open to renew. Not wanting to repeat past mistakes (which should ring a bell to anyone who read the previous story about Cars Land), Universal didn't want to risk anyone putting off their visit deciding to wait until Diagon Alley was open.
But now Universal is confident that Transformers: The Ride is strong enough to drive attendance throughout the summer. In addition, The Simpsons Springfield expansion will not only bring in guests but also provide big bucks in terms of merchandise and food sales. Then, this fall comes Universal's signature event, Halloween Horror Nights, followed by the very popular Grinchmas. This leads us into early 2014 where Mardi Gras comes in as another crowd pleaser. By this point it's expected that the Gringotts coaster will be in soft open status, giving Universal a straight-through line of events for guests to be hungry for.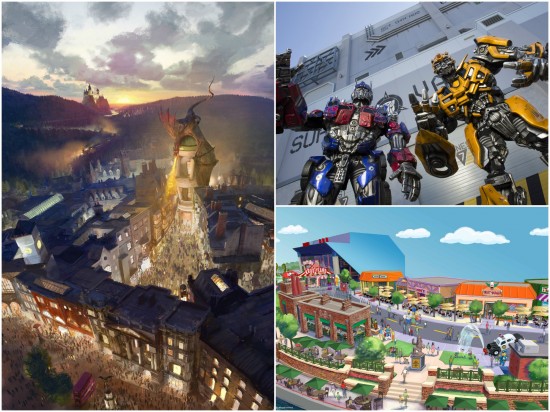 Unlike 2007, Universal made sure that guests would be almost overwhelmed by new experiences (and returning favorites) to even consider "holding off" until Diagon Alley was completed. And word going 'round is that guests won't even be able to catch their breath, because changes could be coming to Jurassic Park and USF's KidZone in the near future to keep that excitement going. But that's a story for another edition of the Rumor Round Up. See ya next week!
[sws_author_bio user="derekburgan" size="105″ authorposts="More OI posts by Derek" name_format="About the author"] [/sws_author_bio]