More themed rooms coming to Universal's on-site hotels
Last week Portofino Bay Hotel at Universal Studios announced that it will be converting all 18 of its kids suites over to a Despicable Me theme. It is expected that these rooms will be able to be booked any day now for stays starting as early as August 1st. These new rooms will join the Jurassic Park kids suites currently available at Royal Pacific Resort as ultra-detailed rooms targeting families with young children. Much like the new Art of Animation suites over at Disney, the kids suites at Universal allow the parents and children to sleep in separate "rooms" but still be in the same hotel room.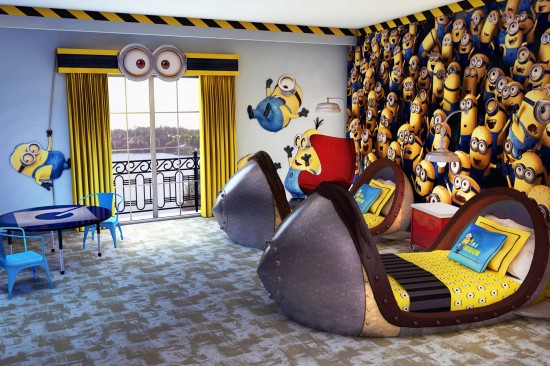 Other rumors circulating: Universal (and Loews, who operate all of the on-site hotels) are developing more themed rooms for their guests. It's reasonable to expect at least some of these rooms would replace the "little rocker" themed kids suites at the Hard Rock Hotel, while others could be a part of the upcoming Cabana Bay Beach Resort opening next year. Which themes would be coming is the big question. Since the Wizarding World of Harry Potter's debut in 2010, guests have wanted to "stay" at Hogwarts Castle, so it's fair to say Potter themed rooms would be a huge hit. We're hearing that Potter rooms have a 50/50 chance of coming right now, and if they do arrive you can expect Universal to be able to name their price for them, not unlike Disney's Polynesian resort with their rumored DVC bungalows.
Why you won't see Mowgli again in the parks
This week, for fans of character meet n' greets, there was a rare surprise at Walt Disney World. Mowgli from The Jungle Book was on hand to take pictures with guests and sign autographs at Animal Kingdom. Mowgli started off the morning solo, but later in the day he joined fellow Jungle Book characters Baloo and King Louie for pictures.
[youtube_video]1CVneGSuk_Q[/youtube_video]
The activity of getting photos and autographs of characters at WDW is growing by the year, and many fans search out the harder-to-find characters. The separately ticketed events, like Mickey's Not-So-Scary Halloween Party, always have character meet n' greets that you can't get anywhere else, such as meeting all seven dwarfs at once. It's also widely considered that the most popular Limited Time Magic event this year in Orlando was the one focused on "Long Lost Friends" meet n' greets with characters who are rarely around the parks.
Don't get your hopes up on seeing Mowgli again in the parks anytime soon — this wasn't a Limited Time Magic event. We're hearing the Mowgli appearance was a one-time deal solely designed to appease a wealthy individual who travels around the world to Disney Parks and loves to meet the rare characters. Disney treats its V.I.P. guests very seriously, with private guided tours throughout the parks, getting "backdoored" onto attractions, and even opportunities to spend a night in the Cinderella Castle suite located within Cinderella's Castle itself. If you have the money, Disney will be more than happy to help you spend it, and in this case they actually worked with this 1%'ers to develop the costume Mowgli would wear for the meet n' greet. (In other 1%'er news this week, some folks are using a very controversial method for skipping the lines at Disney — read the original NY Post report.)
Regarding Mowgli, I personally find this meet n' greet character just a little bit on the "creepy" side. The bodysuit under the hot Florida sun (in Animal Kingdom, pretty much the "hottest" park in Florida) caused weird looking sweat stains later in the day. Regardless, meeting characters in both WDW and Universal can be fun and there is something to be said for the "thrill" of running into a character you rarely see. I know I really liked seeing Frank the Pug from Men In Black out for pictures on my last trip to Universal Studios Florida. The best site to keep track of where (and when) you can find characters at WDW is kennythepirate.com, while the OI Universal Center is your one stop shop for everything Universal.
Survey says… Diagon Alley to be mind-blowing and so too will the logistics
A select group of Universal guests were sent a survey this week that gives us a lot of grist for the Harry Potter Diagon Alley rumor mill. Reading through this survey we now can say that the Gringott's attraction will definitely have a 3D component and that the Hogwart's Express ride will have at least two unique experiences depending on which way you travel. We also learned the Hogwart's Express attraction may operate differently during certain times of the year. During busy seasons, guests may have to leave the stations (Hogsmeade Village Station in Islands of Adventure and King's Cross in Universal Studios Florida) and walk over to the main entrance to each Wizarding World (Hogsmeade Village and Diagon Alley, respectively). In less busy times guests can exit the train and step directly into the Potter-themed lands. This could be very interesting if guests have to exit the attraction only to find the WWOHP is at capacity and they are issued a return time ticket.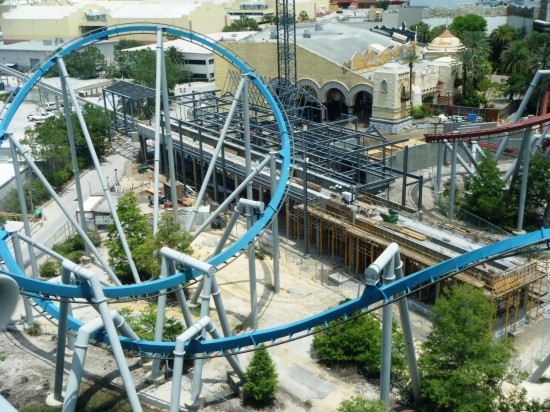 (Thanks to OI contributor Maureen for that fabulous photo above. Look for her next Islands of Adventure trip report with more construction photos early next week on the OI Blog!)
This month Universal added a huge perk for all its Annual Passholders (AP) by allowing them early access to the Wizarding World of Harry Potter May 25 through September 2, a perk usually reserved for on-site hotel and vacation package guests. We're also are expecting the AP "exclusive ride times" for Transformers to fall during USF early admission starting in July. However, the Diagon Alley survey leads us to believe that one group of AP holders may find out some bad news, as one question specifically deals with putting in more block out dates for Power Pass APs. The survey also suggests that the name of the Power Pass may change possibly to Thrill Ticket, Seasonal Pass, or – my favorite because it's so goofy – the Super Fun Card (would it really be that much better than SeaWorld's plain ol' Fun Card?).
But likely the biggest news coming out of this survey is Universal's sideways acknowledgment that it has a HUGE ticketing problem to deal with and has one year in which to solve it. Try to imagine the day a guest arrives at Universal to explore Diagon Alley is hit with options for Single Day Base Tickets that don't include all of Potter, Park-to-Park tickets for WWoHP and WWoHPDA, Express Passes, unlimited Express Pass, Q-Bot, unlimited Q-Bot, Wizarding World return tickets, Hogwarts Express coach or first class, Super Fun Card or Mega Fun Card, etc.
You can see the survey and analysis provided by our friends at Parkscope by clicking here.
Transformers watch
Quick note: Next week is the first real opportunity we have of seeing Transformers open to the general public for technical rehearsals. You can learn everything there is to know about this topic by visiting the Transformers: The Ride page in the OI Universal Center!
[sws_author_bio user="derekburgan" size="105″ authorposts="More OI posts by Derek" name_format="About the author"] [/sws_author_bio]