Another day another (Avatar) dollar
The rumor mill never stops churning on the upcoming (?) James Cameron's World of Avatar at Disney's Animal Kingdom. The latest news this week is that the boat ride attractions (which would have been the "C-Ticket" attraction while a Soarin'-like flying attraction would be the "E-Ticket," comparable to Mater's Junkyard Jamboree and Radiator Springs Racers out at Cars Land) has been possible downsized to a walkthrough experience. If you remember, there was an article last year on Engadget that talked about Disney Research's "Botanicus Interacticus" providing a real world equivalent to the experience one would have interacting with the plants on the planet Pandora. The current buzz is that the walkthrough experience would have guests interacting with audio animatronic creatures along with the various forms of bioluminescent plant life.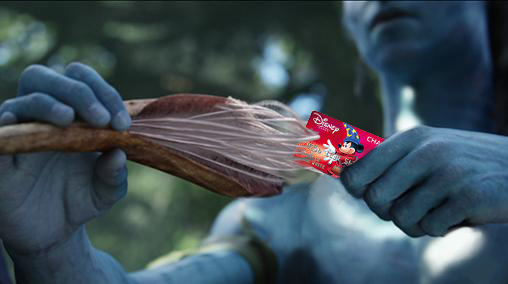 Here's what we know: Because of massive cost overruns on the MyMagic+ program, several interactive areas of Walt Disney World have been delayed. It's not hard to believe that a ton of money has been spent on developing plants that not only can replicate what everyone saw in the movie Avatar, but can also withstand the daily abuse by theme park guests who took exactly one week to deface a picture of Imagineer Tony Baxter in the Big Thunder Mountain queue. Despite reporting a massive 73% increase in Walt Disney Parks & Resorts operating income, the bean counters at the Mouse House are always looking at the bottom line. If too much money is going in a proposed Avatar land, expect something in that land to get downsized to make up for it. It's hard to believe a company reporting over $1.5 Billion in profit for the quarter (the quarter!) would provide less to the very guests who gave them that profit, but this is the company that nickel and dimed its own Annual Passholders by slashing the merchandise discount earlier this year.
Optimus Prime looking thirsty in that hot Florida sun
While the latest updates on the Wizarding World of Harry Potter – Diagon Alley stole the lion's share of attention this week (I even wrote a Special Edition of the The BIG 5 covering the top five features of the stunning Diagon Alley concept art for the OI blog), Transformers: The Ride 3D has continued to chug along, working up to its official opening on Thursday, June 20. This week the  "Wait Time" sign was installed. Then next week, on Wednesday, Universal team members have been invited to a Battle Readiness Event at Soundstage 33, where they will learn more about the ride and find out details on their preview dates. Once team members have their preview, expect guests to be let into the building for soft openings a few days later.
Now we just have two more things to really look forward too: The rumored Optimus Prime audio animatronic that will be stationed outside the ride as well as the signature drink Energon. We're hearing from sources that the gigantic Optimus should be in place this upcoming week, while guests will be able to enjoy a refreshing glass of Energon in June.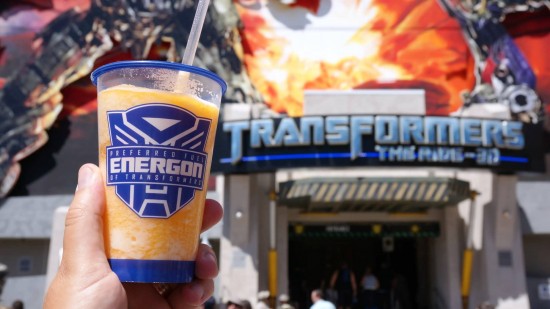 The hold up on Energon, which is already being successfully sold at Universal parks in Singapore and Hollywood seems to be language in the licensing contracts. Once everything is sorted out, Energon will join Butterbeer, Hogs Head Ale and even Moose Juice over in Seuss Landing as drinks of choice for Universal guests to wet their whistles with.
Visit the Transformers: The Ride page in the OI Universal Center for so much more info and the latest updates!
Halloween Horror Nights not the only scare in Central Florida
While Universal was busy announcing the dates of its popular Halloween Horror Nights, over at Screamscape we got some rumors about a new year-round haunted house experience coming to Orlando this summer. Replacing The Haunted Grimm House that closed early this year, "Legends Dark Amusements" is taking the center stage at Old Town and will have the Legends Ghosts of Old Town haunt experience, a Haunted History Tour, and the requisite gift shop. The entire haunt is being renovated inside, and the belief is that the new owners will use more Scareactors than the previous tenants along with some pretty cool animatronic effects.
As you see the tag line for the new haunt is "Old Town. New Fear." which is actually pretty cool, but the entire experience better be spectacular if they are going with the name of Legends Dark Amusements. That brand name doesn't roll off the tongue and is going to cause potential customers to think about what it is for a bit — not something you want to do when so much of tourism (like mini-golf, haunts, etc) are impulse based decisions. Regardless, a year ago – before it was known Universal was building Transfomers: The Ride 3D – many people wanted Universal to use the space occupied by Soundstage 44 as a year-round haunted experience. There is an opportunity here so let's hope Legends Dark Amusements can take advantage of it.
More Star Wars fireworks in the future?
Last Saturday on Star Wars Day (May the "fourth" be with you) there were a whole bunch of interesting events at Disney Hollywood Studios (DHS) concerning Star Wars. As part of a special Limited Time Magic event, characters from the Star Wars universe rode with guests on Star Tours: The Adventures Continue, the Jedi Training Academy was open to kids along with their parents, special merchandise was released and it was all capped off with "Symphony in Stars", a fireworks spectacular set to music from the Star Wars movies.
[youtube_video]EDEJR0vw0-M#![/youtube_video]
We're hearing that the fireworks may have been a test to gauge interest in fireworks at DHS during Star Wars Weekends (SWW). Each year the crowds pack in to DHS for the SWW to get autographs with various Star Wars celebrities, exclusive merchandise, and Hyperspace Hoopla dance party. Having a nightly fireworks show would keep many people in the park until the very end of the night, allowing for extra food and beverage sales along with the extra opportunity to get one last merchandise bump. To say people were excited about the "Symphony in the Sky" show is an understatement, as throngs of guests camped out on Hollywood Boulevard to watch a relatively short experience (by Disney's standards), all seemingly giving rave reviews. Judging by the success of last week, don't be surprised if a longer version of the fireworks show is in place during Star Wars Weekends in 2014.
Agree, disagree, or have your own rumors? Leave a comment below. Or, check out all of our rumor posts.
Special Thanks to Matt Cleary for his help in this week's update.
[sws_author_bio user="derekburgan" size="105″ authorposts="More OI posts by Derek" name_format="About the author"] [/sws_author_bio]