The Transformers Supply Vault is open, but is there More Than Meets The Eye to this gift shop?
If you followed OrlandoInformer on Twitter this past week you were treated to up-to-the-minute coverage of the grand opening of the Supply Vault, the official gift shop of Transformers The Ride 3D.
The Supply Vault is open! Today is the first official day of business. #Transformers @universalorl twitter.com/OrlandoInforme… — Orlando Informer (@OrlandoInformer) March 4, 2013
While there were plenty of items for sale, one thing missing was the Energon drink. Word going around is that Universal has yet to secure the license to sell the drink in Florida, despite it already being available in Universal Studios Hollywood. This is just one of the undoubtedly frustrating things Universal has to do deal with on a daily basis that, for the most part, Disney does not (consider that Disney's attempt to create their own version of Butterbeer was introduced as "Red's Apple Freeze" in Cars Land last summer, brought over to the Magic Kingdom as "LeFou's Brew" in December, and recently made its debut in Disneyland as "Boysen Apple Freeze").
Other rumors buzzing around involving the Supply Vault involve the shop currently containing only 40-50% of the amount of merchandise it will hold once the attraction is up and running, plus the store itself getting an expansion in the future. Universal clearly fast tracked this store in order to generate buzz with guests visiting the parks, and generate online chatter: mission accomplished. Between the merchandise being sold within the Supply Vault and the amazing meet n' greets with Optimus Prime and Bumblebee (in stilt walker suits said to have cost between $25,000 – $35,000 each) interest is way up in when it comes to Universal's latest ride.
Speaking of the walk around characters, did we mention that we heard a third Transformer could be coming to Universal Studios Florida soon? One that may already be in Orlando? One that doesn't quite get along with the Autobots…
Breaking the Transformers code
For a while now we hear at Rumor Central have been trying to decipher what the markings on the Transformers NEST building are referring to. This week Universal put up a new stencil that reads "S 44," a clear nod to Soundstage 44, the building that was demolished in 2012 to make way for the Transformers attraction. One of the residents of Soundstage 44 over the years was the Hercules and Xena: Wizards of the Screen attraction, and the boys over at Orlando United throw out the idea that the "H" and "X" that have been labeled on the building for a while now refer to that show. Makes sense.
Here are some more markings: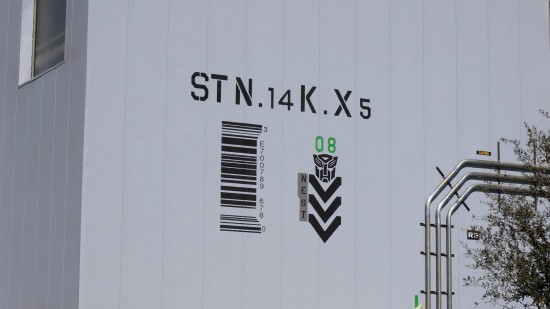 What you see above first appeared on the Transformers more than a month ago, and no one has cracked 'em yet. Think you know? Then you can win a free Orlando Informer t-shirt. See the Transformers page in the OI Universal Center for more information.
WHY FOR NO I-4?
This week the new and improved WDW Fanboys podcast came back in a major way. Bret Bennett takes over as full time host and his first guest was none other than the Dave-Meltzer-of-theme-parks, Jim Hill. Listeners were treated to many great stories from Mr. Hill, who is about as connected as anyone can be in this industry, and one of the juicy nuggets he talked about was why Disney will not be getting a dedicated ramp off of I-4 leading straight to Downtown Disney. The word going around is that the state of Florida was all set to take care of this new exit, but it was Disney itself, specifically the management of Team Disney Orlando, who nixed the deal.
For those who have been in the Downtown Disney area, Team Disney is located basically across the street from the shopping complex, and it has several large, colorful buildings you can see from the road. The proposed ramp would go right near these buildings, and word is that the Disney executives did not like the idea of cars buzzing by so close to their offices. So be sure to thank Mickey Mouse and company next time you are sitting in traffic congestion on SR 535 waiting to make the turn into the Downtown Disney area!
New Downtown Disney venues might make traffic worth sitting in after all
Breaking rumors came to us right at deadline from the dedicated crew over at the Save Pleasure Island blog that also concern Disney Springs. We just may have gotten a peek at some of the brands that will be part of the new shopping and dining components replacing what we knew as Pleasure Island.  Two new retail stores are looking to be focused around Apple and Marvel (the same Marvel brand we discussed as needing a presence in Downtown Disney in last week's Rumor Round-Up). But what really has people talking is what we could be seeing for new dining locations, which include everything from full-on restaurants to food trucks.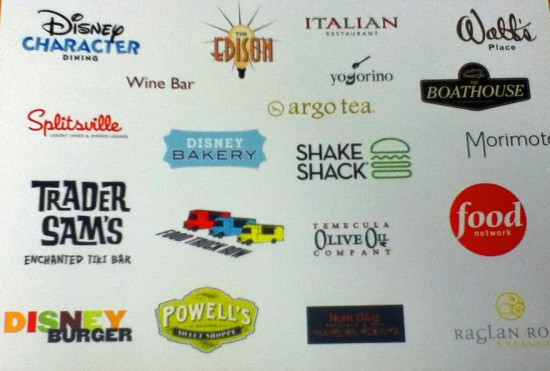 The one rumored spot that sticks out like a flashing red light is Trader Sam's Enchanted Tiki Bar. The Disneyland Hotel out in California currently houses a Trader Sam's bar that is extremely popular with Disney fans. Filled with props and in-jokes (Trader Sam himself should be known by anyone who has ridden the Jungle Cruise at the Magic Kingdom), this bar even serves a famous signature drink of Downtown Disney's past, the legendary Kungaloosh from the Adventure's Club. Much like Universal's upcoming Moe's Tavern, bringing Trader Sam's to the Downtown Disney area will be giving Disney a license to print money.
Universal ScreenPlay is coming
Back in January Orlando Informer reported on the strong possibility of a new Universal Orlando app coming our way. This week, the crew over at Parkscope discovered more about the possible project. It seems that Universal is replacing their "100 Years of Movies" posters with sharp looking posters that focus on past, present, and future Universal Studios attractions. We've seen posters for Back to the Future: The Ride, Jaws, and Transformers: The Ride 3D. In the corner of all these posters is a little logo that looks exactly like picture of an app for your iPhone or Android device, for "Universal ScreenPlay". Not too much is known about this, but the rumors are indicating that ScreenPlay will be Universal's new official app for the parks. This will replace Universal's old and completely useless app, which thankfully has been thrown into the fire pits of Mordor and destroyed.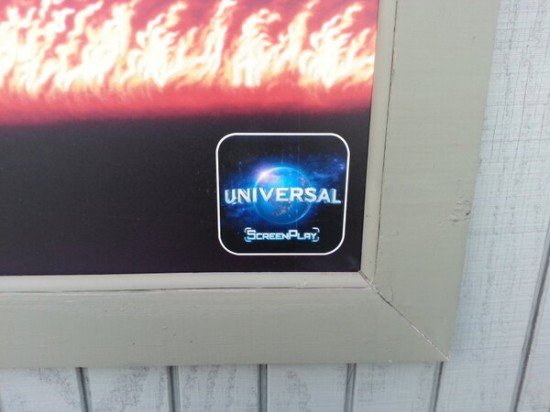 It would appear that ScreenPlay could be Universal's version of Disney's MyDisneyExperience app. Although Universal's track record in this area is horrendous, an app that allowed guests access to wait times (promised but never delivered in their old app) and entertainment features while could be a very good thing. Because this new app is specifically for cell phones and wireless devices like an iPad, this news also all but confirms that free wifi will soon be available in the theme parks and CityWalk. Yes folks, soon both Disney and Universal, theme parks approaching the $100 per-person-per-day ticket price, will finally offer the same wireless internet option you can get by going to any McDonalds or Wal-Mart. Have a magical day.
Agree, disagree, or have your own rumors? Leave a comment below. Or, check out all of our rumor posts.
[sws_author_bio user="derekburgan" size="105″ authorposts="More OI posts by Derek" name_format="About the author"] [/sws_author_bio]