Johnny Depp to appear in another Magic Kingdom Attraction
Lots of changes have been coming to Big Thunder Mountain at Disney's Magic Kingdom. After a lengthy refurb, an interactive queue was installed that involved both a new backstory for the ride and an opportunity for guests to cause "explosions" in the attraction. Meanwhile, Jim Hill is reporting that Disney is considering new audio animatronics, similar to the Jack Sparrow ones added to Pirates of the Caribbean in 2006. The new characters would be based around The Lone Ranger and Tonto (played by Armie Hammer and Johnny Depp) in this summer's The Lone Ranger film.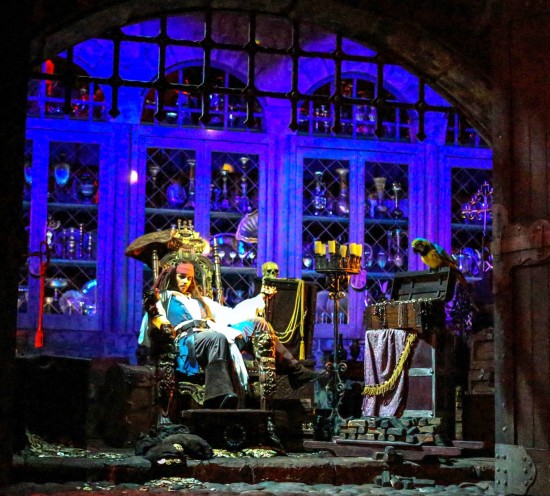 Many people were unsure about how adding Depp's Sparrow character to the Pirates attraction would affect the guest experience, but other than the fact that one character is much more realistic than all the others in the ride, its not a bad addition. Disney is more than likely waiting to see how well the Lone Ranger does at the box office before committing to this major change.
One can imagine Universal is probably having second thoughts about the movie Battleship appearing so prominently in its fantastic Cinematic Spectacular lagoon show, and the last thing Disney wants to remind guests in the park about a gigantic flop.
Cinematic Spectacular Speculation
Speaking of USF's lagoon show… I was lucky enough to be a part of the audience viewing the first ever public rehearsal of Universal's Cinematic Spectacular on April 22, 2012. The Cinematic Spectacular instantly became none of Orlando's best shows, but its theme of "100 Years of Movie Memories" had a shelf life considering 2012 was Universal's 100th anniversary in the movie making business. We're now in 2013, but it looks like Universal will be keeping the current theme for another year or more. Insiders report to us that discussions have been taking place for the next version of Cinematic Spectacular to involve the Harry Potter Universe and debut when Diagon Alley opens to the public.
Cinematic Spectacular @universalorl is still so exciting to watch… twitter.com/OrlandoInforme… — Orlando Informer (@OrlandoInformer) February 24, 2013
If you remember, Universal was able use the Potter library as it projected images on the Hogwarts rock work during the premier of the Wizarding World of Harry Potter back in 2010 — see a video. The Potter films edited into a similar manner as the current Cinematic Spectacular (with sections dedicated to various parts of the franchise, such as Heroes, Villains, Romance, Comedy, Battles, etc) would possibly give EPCOT's Illuminations a run for its money as a show guests would go way out of their way to see. The Potter fan base is a large one, and for the most part it has been underserved considering how successful the movies have done. Part of the reason is JK Rowling's iron fist when it comes to licensing, but another part is how little respect the series gets from the American film community. Consider this: the first time Potter star Daniel Radcliffe had ever been to the Academy Awards was this year, two years removed from the last Harry Potter film release.
Could The Croods be the key to a Universal KidZone makeover?
For a while now we've been hearing rumors that Universal's Woody Woodpecker's KidZone would be getting a much needed renovation. As great as the area is for those with children, the properties that make up the majority of it are getting long in the tooth. We're hearing part of the reason work has been delayed is because of a little tension behind the scenes with Universal and Dreamworks Animation. There was a time when characters from Dreamworks' franchise Madagascar had a presence in Universal Studios Florida, but disagreements between the two companies led to those characters leaving. Soon the Madagascar group will debut in Tampa, Florida's Busch Gardens and SeaWorld in San Diego, California.
 [youtube_video]BKhmTbW-oX0[/youtube_video]
However, many connected industry sources, including forum member HateToFly over at Orlando United, tell us that the Dreamworks deal with Busch Gardens/SeaWorld may not be exclusive and the door could possibly be open for Universal to strike a deal. The key to all of this may lie in the movie The Croods, which opens on March 22, 2013. Dreamworks already has a huge franchise on its hands with Shrek, while Madagascar joined the Heavy Hitters Club when its last installment earned slightly under $750,000,000 worldwide. If The Croods opens to big numbers and gets a high score from the viewing audience, it just may be time for Universal Studios Florida to play nice with Dreamworks and go all in on a new KidZone that is relevant to today's youth. Universal already has a very popular Madagascar attraction at its park in Singapore, and it might be a good time to start getting something ready in Orlando for the popular Madagascar penguins' debut film feature coming in 2015 as well as the upcoming How To Train Your Dragon sequel in 2014.
Having access to the Madagascar characters would also help Universal in two other major areas. First, they could join the Superstar Parade along with SpongeBob SquarePants and Despicable Me characters. And secondly: merchandise, merchandise, merchandise. While Universal is maximizing its retail opportunities all across the park, outside of the new SpongeBob StorePants there isn't all that much going on for kids. A Dreamworks themed store selling merchandise for Madagascar, How to Train Your Dragon, and The Croods would put smiles on both kid's faces and Universal's accountants.
The latest on Disney Springs
As we've said in previous Rumor Round-Ups, expect to hear a lot of rumors and news on the recently announced Disney Springs project at Downtown Disney. There are going to be so many moving parts to this story. The latest word comes via the Grand Poohbah of Pleasure Island, Thommy Sandvick, as he was recently interviewed on the Wakefield Report podcast. Sandvick reports that certain cast members have been informed that change is going to start very shortly on the transformation over to Disney Springs. Several locations look to be on their way out — including Apricot Lane and Disney's Pin Traders — while the World of Disney Store is rumored to be expanding.
The World of Disney store, which topped my BIG 5 list of the Top Five Reasons to go to Downtown Disney, can become a complete zoo of congestion when it is busy. The buzz going around is that the Lego Imagination Center next to the World of Disney may be relocated to another area within Disney Springs, allowing World of Disney to expand into that space. We're also hearing that when Pollo Campero's lease expires this summer Disney will exercise its right to take over that space as well, allowing the World of Disney to push its border even farther out. If all this plays out in that direction, World of Disney becoming a Mega Store would have several benefits, including the ability to blow out the Bibbidi Bobbidi Boutique into a much bigger area and give them the capacity to possibly allow guests over the age of 12 to participate.
Agree, disagree, or have your own rumors? Leave a comment below. Or, check out all of our rumor posts.
[sws_author_bio user="derekburgan" size="105″ authorposts="More OI posts by Derek" name_format="About the author"] [/sws_author_bio]