Never too early to get scared by Halloween Horror Nights
It's time to start getting excited for Halloween Horror Nights 23 as a couple red hot rumors have come our way thanks to a person who seems to be embedded within Universal Creative, HateToFly over at Orlando United. The first rumor concerns a property we're being told is signed, sealed, and delivered: a haunted house experience based on An American Werewolf in London. The buzz going around is that Werewolf was scheduled to be in the mix for HHN 22 but Universal couldn't get the rights in time, so they went for a quick fix with another property. This year the Werewolf brand makes even more sense, especially if it can be located near the new Harry Potter expansion that conveniently takes place in the London side of that universe (although to be honest, it probably makes more sense to be held within one of Universal's Soundstages).
Thanks to the huge ticket sales for HHN 22 last year as well as themed merchandise flying out the door, there are those in the know who also believe The Walking Dead franchise will be brought back for a second year.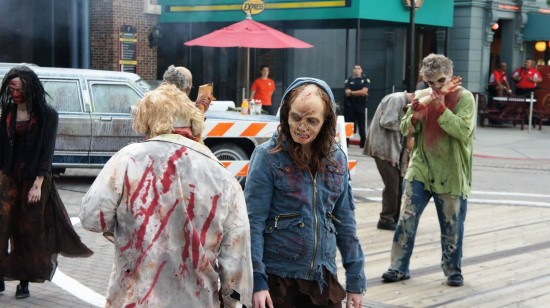 The ratings for The Walking Dead TV show pushed the brand from being a considered a surprise hit to now qualifying as a legitimate phenomenon. One element missing from last year's Walking Dead experience at Universal was any of the actual characters from the show. If Universal can strike a deal to use likenesses, even if only for merchandise, expect a whole new slew of cash to be added to the Universal coffers.
Park hopping on the Hogwarts Express
A lot of muggles are curious how Universal will deal with park tickets once the Harry Potter expansion opens and the Hogwarts Express Experience can take guests from one park to the other. Here's the latest intel we've been able to gather, working over our Universal spies Zero Dark Thirty-style. Those Who Would Know tell us that Universal doesn't expect ticketing to be a major issue once the expansion opens sometime in 2014, as they will be spending a large amount of money advertising the fact that Universal Studios is a multi-day destination vacation. Just as Disney stresses the importance of the Park Hopping option available for their tickets, Universal plans to double down on getting out the information that you need Park-to-Park admission if you want to enjoy the new Simpsons area, Transformers: The Ride 3:D, Marvel Super Hero Island, and of course the two Wizarding World of Harry Potter areas.
The new structures inside the #HarryPotter expansion are coming along fast (and look awesome) twitter.com/OrlandoInforme… — Orlando Informer (@OrlandoInformer) March 15, 2013
However, what about the guests who don't pay much attention to advertising, don't go on theme park related message boards, and just show up at the park with a 1 Day 1 Park ticket? Well, we're hearing they will be told before even entering the queue for the Hogwarts Express Experience that a Park-to-Park admission must be shown. Not unlike having to show your on-site resort room key to enter the Express Pass line, guests without a Park-to-Park admission will not be allowed to even enter the Hogwarts Express queue in either Hogsmeade Village or Diagon Alley.
However, there will be elaborately themed ticketing kiosks on both sides of the Hogwarts Express stations, allowing those with 1 Day 1 Park tickets the opportunity to upgrade to a ticket that includes Park-to-Park admission. While Universal expects this to be a non-issue, we saw from the outcry after the opening of Harry Potter and the Forbidden Journey in 2010 that guest complaints can cause the company to act fast in reaction (in that particular case it was modifying the attraction's benches to accommodate people of size.) We're entering into uncharted territory with the Hogwarts Express Experience, and Universal better have all their ducks in row on this one.
Disney's Second Best Kept Secret? Grand Flo DVC is going to cost you
Construction on the Disney Vacation Club (DVC) villas at the Grand Floridian Resort is really shaping up, and word going around is that – like standard hotel rooms at the Grand Flo itself – Disney is going to put a big premium on the newest on-site property. DVC is a timeshare program where guests buy "points" they can then use at the DVC properties around Walt Disney World including Saratoga Springs and the BoardWalk Villas. It's a lot more complicated that that, but the big picture idea is that guests are in effect pre-paying for their vacations.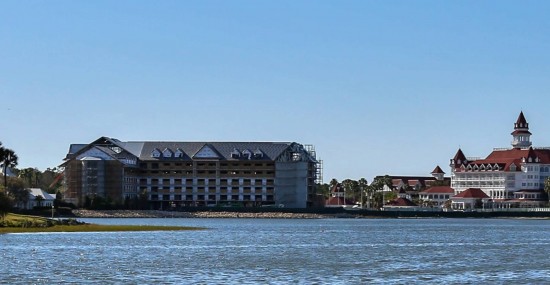 Right now the average cost per point is about $150. It's a little more to buy points at the newer DVC properties such as Bay Lake Tower, and a little less at the older places such as Old Key West. The rumored price for points at the Grand Flo DVC will be close to $200 per point. With the Aulani DVC property in Hawaii being considered — at best — financially underperforming, expect Disney to try and start work on a rumored DVC at the Polynesian resort much sooner than later. Many Disney guests thought that DVC would never touch "the big three" deluxe resorts, but once Bay Lake Tower went up at the Contemporary, it was just a matter of time. These forbidden fruits were just too tempting for Disney to pass up.
Maybe that asteroid from Armageddon will destroy Planet Hollywood
We've been discussing a lot of rumors concerning Downtown Disney lately, so lets go over one of the proposed changes to this area in the Disney Springs makeover we discussed in last week's Rumor Round-Up. One of the biggest icons of Downtown Disney is the huge globe that contains the Planet Hollywood restaurant. While food quality can be subjective, it speaks volumes that Planet Hollywood is one of the only restaurants on Disney property you can easily get discount coupons or vouchers for. It has a unique concept — filled with incredible movie memorabilia — but considering only nine Planet Hollywood restaurants remain open worldwide, it seems the public has spoken and they don't want to eat at this particular chain.
The rumored replacement for Planet Hollywood would take advantage of the gigantic sphere the restaurant is housed in and re-theme it into an observatory in the fashion of the famous Griffith Observatory in Los Angeles. Rumored to be aptly named The Observatory, this new restaurant would have more of a steam punk inspired feel. The toned-down exterior would also fit in much better with the new, more tranquil, environment that makes up Disney Springs.
Expect to hear even more on the recently-confirmed Disney Springs in future Rumor Round-Ups, as there are a lot of moving parts to this story, including the possible relocation of some current Downtown Disney residents such as the vegan bakery Babycakes NYC. Yes, we all lived through Flamingo Crossing and, yes, we all remember the Hyperion Wharf announcement, but this time it really does look like Lucy won't be pulling the football away from Charlie Brown and we'll all get the Downtown Disney improvements we've always wanted.
Agree, disagree, or have your own rumors? Leave a comment below. Or, check out all of our rumor posts.
[sws_author_bio user="derekburgan" size="105″ authorposts="More OI posts by Derek" name_format="About the author"] [/sws_author_bio]