Followers of Orlando Informer on Twitter got the scoop earlier this week on Universal announcing a brand new Universal Dining Plan, giving the obsessive-compulsive trip planner a whole new level of resort features to account for — and giving everyone else potentially small-to-major headaches.
Walt Disney World, whose own dining plan is both popular and controversial, recently made every single dining location (restaurant or otherwise) get on the Disney Dining Plan, while Universal's plan has some high profile exceptions including The Simpsons Fast Food Blvd, anything within the Wizarding World of Harry Potter, and all the on-site hotel restaurants. Surely people accustomed to staying on Disney property and being able to use their dining credits anywhere are going to be in for a shock when, lo and behold, they check into Hard Rock Hotel and discover they can't use a table credit at The Kitchen restaurant or a snack credit at Emack & Bolio's.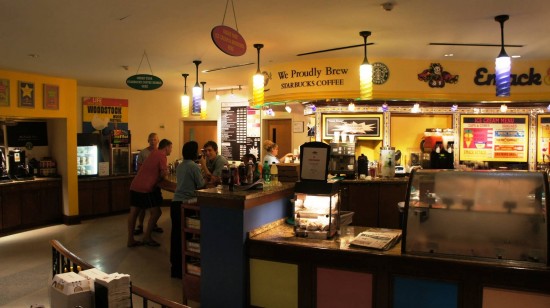 Since the Universal Dining Plan is only available as a vacation package add-on, one must wonder how its introduction will affect the average park-goer. Time will tell, but let's hope we don't start seeing some of the negatives that came along with the Disney Dining Plan, such as the homogenization of many restaurant menus and all but forcing guests to book dining reservations six months in advance.
If you'd like to learn more about how the Universal Dining Plan works, check out this 'first look' blog post.
"Is Al there? Last name is Coholic."
Work around The Simpsons Springfield expansion continues at a rapid pace. We talked last week about the grand opening of Fast Food Blvd and Bumblebee Man's Taco Truck on the way, and this week comes news of more of the "little touches" coming to Springfield (as well as "huge touches" like the Duff Gardens and Kang & Kodus Twirl 'n' Hurl). There's buzz going around at OrlandoUnited that the payphone prop in Moe's Tavern will soon be changed over to an interactive one like the phone currently outside the Kwik-E-Mart.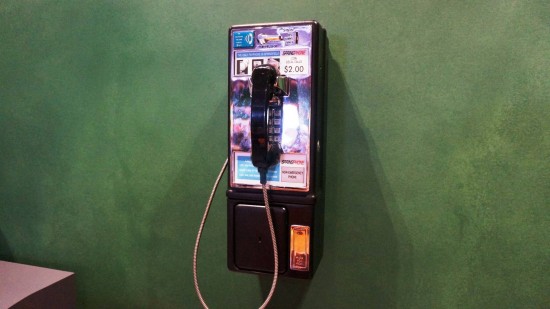 What? You didn't know about the Kwik-E-Mart phone? Well, read all about it in OI's Five More Things You Didn't Know You Could Do at Universal Orlando.
It's rumored that the new "red phone" at Moe's will allow the guests the chance to overhear a classic phone prank to Moe's. Guests will walk near the phone, hear it ring, and pick up to hear Bart Simpson as for a "Oliver Klozoff" or "Amanda Hugginkiss".
While you are at Moe's enjoying an ice cold Duff Beer, we're also hearing that another Simpsons brand of drink will be arriving shortly. Those who have been inside the Kwik-E-Mart recently have noticed the new Squishee cups have been sitting on the shelves and the new Squishee service stations should be ready by the projected June 20th opening date.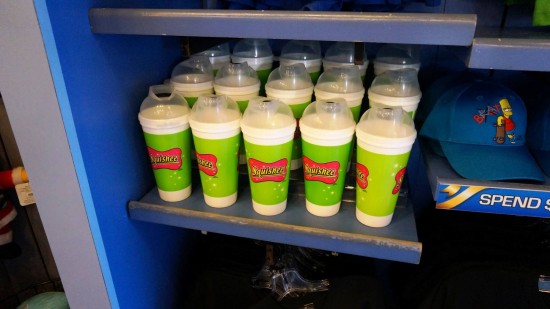 The new Universal Dining Plan references a Simpsons Slush in the snacks section, but you'll get a big "HA HA!" from Nelson Muntz if you don't refer to this signature drink as a Squishee.
The Simpsons Photo Connect
You've probably have already seen the photos of Krusty the Clown joining The Simpsons characters for meet n' greets, but there's huge buzz going around that The Simpsons will soon have a legitimate Photo Connect picture station opening soon, not unlike the one near the Transformers: The Ride 3D.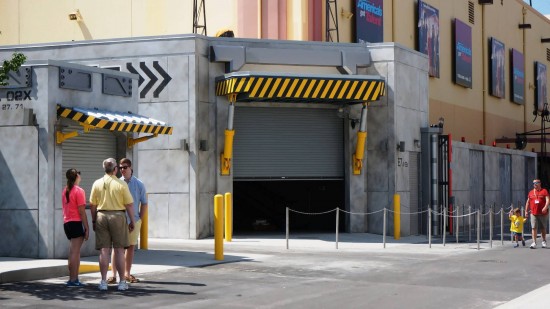 This will allow for the opportunity for better backdrops for pictures along with guests being able to add the photos directly onto their Photo Connect Star Card. The staff here at the RRU consider the Star Card to be the best overall value in any theme park, and this new area will only add more value to that deal — learn more.
My name is the Lorax, I speak for the survey takers
Thanks to IzzyB over at the OrlandoUnited forums we've got several interesting rumors on what may be coming to the Universal parks in the years to come. This summer has been filled with survey news, whether it's Disney asking their guests about the Star Wars brand, or the recent survey Universal used to gauge guest reaction to the upcoming Diagon Alley expansion. The survey IzzyB was sent focused on The Lorax and The Smurfs, and it gave scenarios for a 3D based simulator attraction (like Despicable Me Minion Mayhem) or a dark ride (much like E.T. Adventure) for both brands and then asked the survey taker what they thought: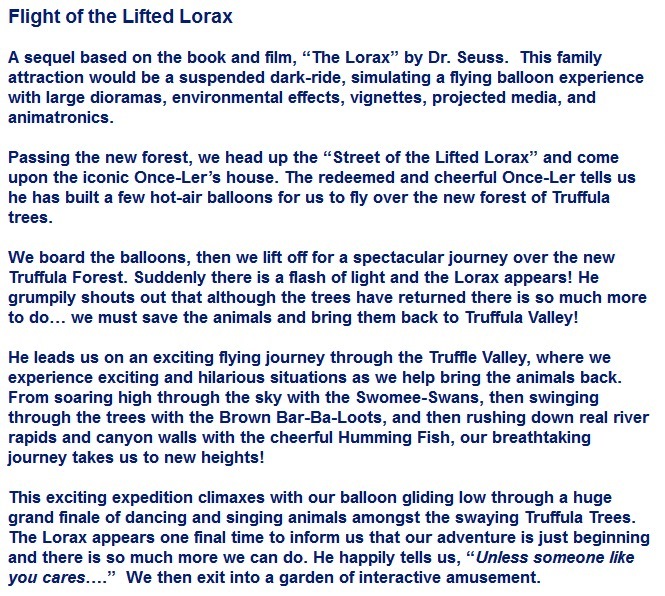 Where these attractions would go is the bigger question. The description of the dark ride and 3D movie all but make it appear like the new attractions would replace E.T. Adventure and Shrek 4D. Even though E.T. is the last man standing when it comes to opening day attractions, its hard to imagine Universal would get rid of such a beloved ride. The E.T. Adventure queue is among the best queues in any theme park. It also would be hard to believe that a Dr. Seuss character like The Lorax would be in Universal Studios Florida when the rest of Seuss Landing is in Islands of Adventure. There's plenty of expansion room within Seuss Landing for this attraction (or the long rumored Mt. Crumpit), but this news came out of nowhere.
As for the Smurfs, well, what can be said? Is there really anyone in America clamoring for a Smurfs attraction? While the characters have been around for over 50 years, most likely a new attraction would tie-in with the Smurfs movie from 2011 (a modest hit here in America but admittedly did quite well worldwide) and the upcoming sequel due out in August. Would a Smurfs dark ride fit into Woody Woodpecker's KidZone, or a Smurf based simulator replacing Shrek 4D? Or could either of these concepts somehow be a part of the rumors of a possible expansion coming between MEN IN BLACK: Alien Attack and the Simpsons Ride?
Early to tell, but at the very least it appears Universal is not content with sitting on their laurels now that Transformers and Springfield are almost complete and we're only a year out from the opening of Diagon Alley.
CAUTION: Slow moving vehicles ahead
Word coming out of WDWMagic is that Space Mountain at the Magic Kingdom will be going down several times during the month of September. While most of this downtime will probably be devoted to routine maintenance (don't expect any Ghost Galaxy overlays or improved sound system like the Disneyland version of Space Mountain has), it's being speculated that trim brakes are being added along the track. While these brakes — which will reduce the speed of the ride in certain sections — are surely being added for safety and to relieve maintenance issues, it did allow the crack staff at PARK NEWZ to come up with their own "what if?" graphic to cover the story: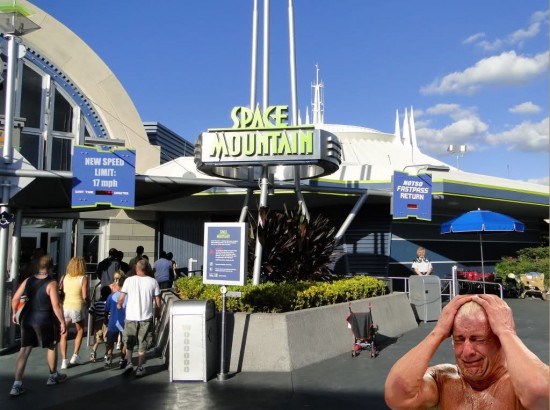 [sws_author_bio user="derekburgan" size="105″ authorposts="More OI posts by Derek" name_format="About the author"] [/sws_author_bio]