Talking Transformers coming to Universal
This past week #BattleWatch was in full gear as Transformers: The Ride 3D began its "technical rehearsals" and the staff at Rumor Round-Up was even able to ride it last weekend. Our review for the new review feature on OI would be simply, "wow." It's only like Spider-Man in the sense there is no other ride in Orlando to compare it to. The 3D is the best in any attraction or show and rivals the movie Avatar as one of the only times I felt being brought into a film. A great queue and cool physical effects during (and after) the ride combine to make this E-Ticket attraction the new Must Do in Orlando.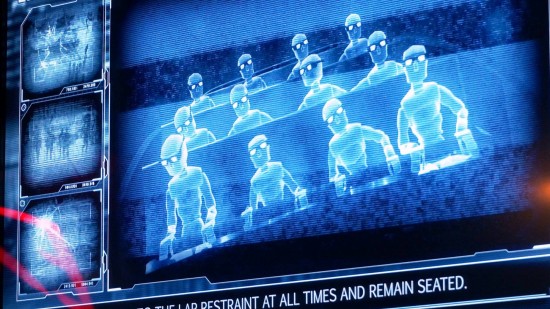 However, video surfaced last week of another Transformers shocker. While we know that the Transformers meet and greet in Orlando was already impressive, out in Hollywood the characters have started to actually interact with the audience. In Florida, Optimus Prime and Megatron have prerecorded voices that work quite well, but seeing these characters actually reference guests in front of them is a whole new level of entertainment.
[youtube_video]VHsF1lg2-mY[/youtube_video]
That actually looks like an entirely new character costume than the ones currently used in Orlando, lighter weight and more nimble.
So now you have the best of both worlds. You have the impressive Transformers characters, but also personalized interaction that you currently see in the hilarious meet and greet with Donkey outside of Shrek 4D. This type of truly interactive meet and greets almost become an attraction in and of themselves, as I find myself easily spending 5, 10, and 15 minutes just listening to Donkey play off what guests tell him. The guest experience with Megatron is even more impressive because we get to see a villain's perspective, something extremely rare in the parks but making a comeback as Gaston in New Fantasyland is also a huge hit over at Disney World.
Rumors are going around that when the new meet and greet area near the Transformers building is finished, we may also get the new interactive characters as well. A hot new E-Ticket attraction, a fantastic meet and greet that will even impress people who aren't Transformers fans, and – hopefully one day – the Energon signature drink will combine to make Transformers a powerful presence in the Orlando theme park scene.
NEW FEATURE! You can now read reviews of the individual attractions at Universal Orlando and write your own. This is brand new functionality, so OI hasn't rolled it out across all pages yet. But it is live on the Transformers page, and these pages too:
Hollywood Rip Ride Rockit | E.T. Adventure | Popeye & Bluto's Bilge-Rat Barges | Mythos restaurant | Harry Potter and the Forbidden Journey | Horror Make-Up Show | MEN IN BLACK Alien Attack | The Blues Brothers Show | Revenge of The Mummy | Despicable Me Minion Mayhem
For your convenience, all those links will open in a new window even though they're going to another page on Orlando Informer.
Tacos on wheels
We're all still reeling from Universal opening up Fast Food Blvd last Saturday. Universal just officially announced the Springfield expansion on May 23, and many of us were thinking that hopefully the Fast Food Blvd part of the land could be open by June 20, the same day as the official opening of Transformers: The Ride. Low and behold, guests were able to walk into Moe's Tavern at 11am on June 1, a date which no one saw coming. No one.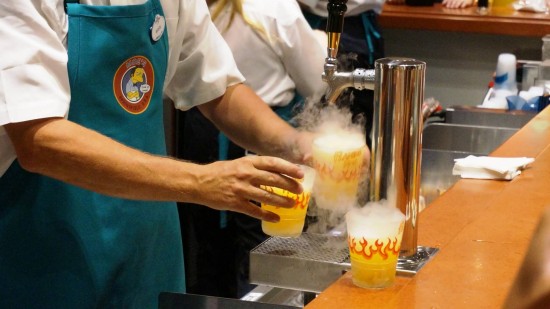 While OrlandoInformer is your go-to place for everything you need to know about Fast Food Blvd, from Cletus' Chicken Shack to Lisa Simpson's Teahouse of Horror (see full menus, full-screen photos, read and write reviews by clicking here), word is that another dining experience will be coming shortly. Bumblebee Man's Taco Truck is expected to arrive later this summer and be parked on the side of Springfield closer to Woody Woodpecker's KidZone. Our sources tell us that this food truck will resemble a gigantic Bumblebee Man, complete with one of his wings being used as an awning over the ordering/pick up window. Once complete, the food and drink options in Springfield will rival anything Orlando has to offer and could be a destination for locals looking for a bite to eat, something Universal has never had before.
Could Tony Baxter or Joe Rhode show up on Universal Creative's doorstep?
Lots of chatter this week on the possibility of longtime Walt Disney Imagineers (WDI) Tony Baxter and Joe Rhode leaving the Disney family and walking their way across the street to Universal. While not likely, as both men surely have strong ties to the Disney legacy regardless of how they feel about the current shape of WDI, Universal signing either man would be a huge shot across the bow in the current Theme Park Wars.
Baxter, responsible for several of Disney's most well known attractions including Big Thunder Mountain and Splash Mountain, retired from full time work at Disney back in February.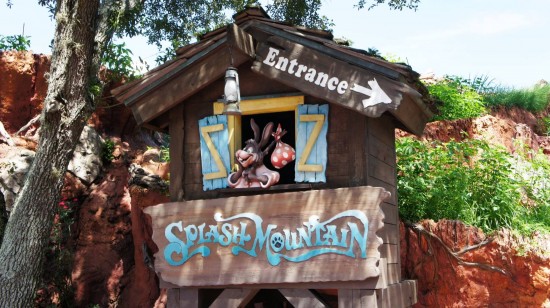 Even so, there have been persistent rumors that he does not see eye to eye with current Disney management. There's also buzz going around that Rhode, another longtime Imagineer whose biggest claim to fame was being the lead designer on Disney's Animal Kingdom, is also not happy about being pushed aside in the current state of WDI. It's been said that Rhode was not a big proponent of James Cameron's Avatar coming to Animal Kingdom and – for reasons not explained – was a noted absence on the recent 15th anniversary celebration at Animal Kingdom.
Both men have been seen on private tours of Universal, but it's relatively normal for creative people from all the theme parks to visit and see what the competition is doing. And again, with such a big part of their history being devoted to Disney, it's hard to believe that either would join Universal, as such a move would be seen as a huge slap in the face to the Mouse House. But it is worth mentioning that, whereas we couldn't even dream of such a scenario five years ago, with Universal's substantial successes in the last few years maybe now such a transfer doesn't seem beyond the realm of possibility.
Diagon Alley springing to life
Now that almost all the work is completed on Transformers: The Ride 3D, word coming out of OrlandoUnited is that we are going to start really seeing Diagon Alley take shape. Right now we can see the basic framework of King's Cross Station and the other buildings that will effectively "hide" the London side of the Wizarding World, but word is we're going to start to see a lot of detail work start to show up, including exactly what will be coming in Diagon Alley itself.
 [youtube_video]YEagRrhhGZA[/youtube_video]
People who have been inside the Gringotts bank show building say that it is unbelievable how much work has been completed within the massive structure, and that Universal is still on track to be testing the attraction by September. While the Disney Parks Blog had a post this week that the track for the upcoming Seven Dwarfs Mine Train attraction was finally completed, it's rumored that almost all the track for the Gringotts ride is together as well. With the demolition of Soundstage 44 and opening of Transformers all happening within one calendar year, Universal has erased the word impossible from the theme park lexicon, but the work currently going on within the Wizarding World of Harry Potter expansion seems almost too amazing to be true.
Learn more about the Harry Potter expansion at USF
[sws_author_bio user="derekburgan" size="105″ authorposts="More OI posts by Derek" name_format="About the author"] [/sws_author_bio]