#Occupy Lights Motors Action!
Unless you were living under a rock late last week, the news of Disney's Hollywood Studios getting a huge makeover was "leaked" ahead of its rumored official announcement at the D23 Expo in August. This is not the first time plans for something big have leaked at the Mouse House, as a similar situation happened several years ago in regards to New Fantasyland. Theme park fans around the world have been aflutter with the idea that Cars Land would indeed come to DHS, and also an expanded Star Wars presence, subjects we have discussed in previous editions of Rumor Round-Up.
However, this week over at Screamscape it was reported that a Disney cast member of the Lights, Motor, Action Stunt Show said that the current show will be running at least well into next year, thus delaying the start of any work into a new show or area.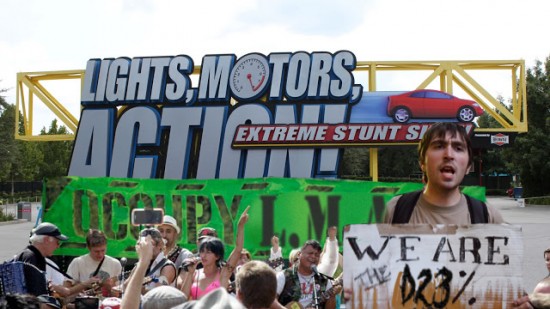 There has been buzz that Lights, Motor, Action could get a complete overlay into being 100% related to the Cars franchise, or – as many guests want – completely torn down and replaced as part of the area for Cars Land. Looking at how long Disney takes to build things (it's a business decision to spread the cost out over time), we wouldn't be stepping into Radiator Springs until 2018 anyway. But Disney fans who have been desperate for anything to come to DHS are going to want to see at least something start to develop in front of their eyes, or it could be another Avatarland situation.
Latin Quarter to close in August?
Hot story coming out of the Save Pleasure Island blog this week that reports Universal CityWalk's Latin Quarter restaurant will be closing in August. The closing includes the Churrascaria Brazilian steakhouse located upstairs. It's rumored that Latin Quarter will be replaced by Don Quixote's, a Mexican themed restaurant, after a complete overhaul. Located next to a thriving Margaritaville, word is that Latin Quarter has not been bringing in the business, especially with such other high profile Brazilian steakhouses in Orlando such as Fogo de Chao and Texas de Brazil not far away.
We've been hearing a lot of buzz lately about some big changes coming to the Universal Orlando Resort in the near future, specifically CityWalk. From small stores to places with a huge footprint like NBA City, the landscape of CityWalk could be changing as Universal prepares for a whole new era once Diagon Alley and Cabana Bay Beach Resort open in 2014.
Reworking Disney's Guest Assistance Cards
Remember last month when the Disney online community went wild after a story in the NY Post discussed how "rich Manhattan moms" were hiring handicap tour guides at Disney in order to obtain Guest Assistance Cards? With not many actual facts used in the story, there were many who believed the rate of GAC abuse is more fantasy than reality. Well, the story got even bigger as NBC's The TODAY Show did their own uncover investigation, showing that that there are indeed travel agencies using handicapped guides to allow their customers to cheat the system.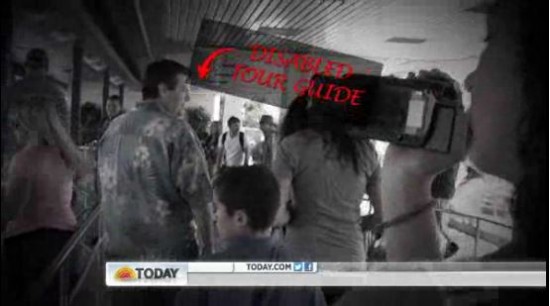 Like anything, GAC abuse has been going on since the day GAC was put into place. A percentage of people are always going to try and find the loophole in anything, you just have to hope the vast majority will do the right thing. For the most part, Disney hasn't done anything about GAC abuse, but the widespread attention the TODAY story forced them to take a more public stance on the situation.  Officially, Disney is reviewing the situation and "will take appropriate steps to deter this type of unacceptable activity."
We're hearing rumors that changes to the GAC program will be coming this August. What Disney will do is unknown, but we're hearing one of the options Disney may go with is limit the amount of guests that can "use" one GAC. Right now a GAC card accommodates one person and five additional guests. With many attractions letting the GAC user through the FastPass line, another rumor going around is that the GAC could soon work on a system not unlike Universal's Attraction Assistance Pass system, where the GAC user would come back to a ride after the equivalent wait of the current standby time.
Whatever ends up happening will be sure to cause a furor. The GAC card is a hot button topic in the theme park world, but thanks to the NY Post and the TODAY Show, Disney is now having to do something to wipe the egg of its face.
Carthay Circle Theatre at Universal Studios Florida?
While not an Olrando story, RRU was intrigued to see a story in Screamscape earlier this week about Universal Studios Hollywood creating a Carthay Circle Theater replica in the parks, or at least another theater that feels inspired by Carthay Circle. This is the same Carthay Circle that Walt Disney famously held the world premier of Snow White and the Seven Dwarves at in 1937. This is the same Carthay Circle Theater that is a corner stone of the revamped Disney California Adventure and has a smaller presence in Orlando's own Disney's Hollywood Studios. While the real life Carthay Circle Theater was definitely a major player in Hollywood in general – not just Disney – it would appear to this humble author that Universal Studios would be out of their minds to take such an iconic Disney "landmark" and put it into their parks. This also got the creative juices firing up for the PARK NEWZ crew, as they came up with what Disney could take from Universal and use in front of their parks…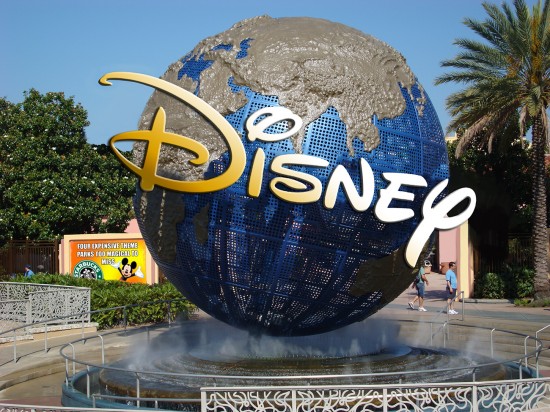 [sws_author_bio user="MattCleary" size="105″ name_format="About the illustrator"] [/sws_author_bio]
[sws_author_bio user="derekburgan" size="105″ authorposts="More OI posts by Derek" name_format="About the author"] [/sws_author_bio]