DVC bungalows at Disney's Polynesian Resort
Hot new rumor this week coming straight from the DisUnplugged podcast. We discussed in the March 15th Rumor Round-Up about the buzz around the idea of the Disney Vacation Club opening up at the Grand Floridian with a price approaching $200 per point (compared to the average of about $150 for the other DVC resorts across property). Well, an upcoming project may make the Grand Floridian Resort DVC look cheap by comparison. That's right, DVC bunaglows at Polynesian Resort – located on the Seven Seas Lagoon – could began construction as early as this year.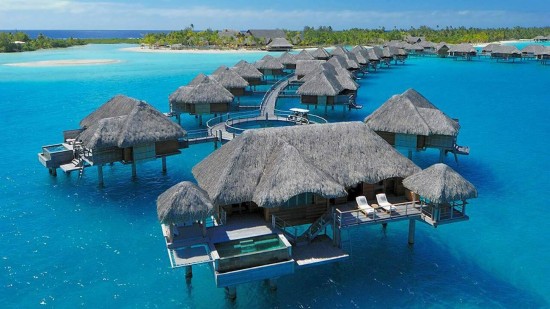 Similar to the stunningly beautiful bungalows that the Four Seasons resort has in Bora Bora pictured above, the new DVC property would have one- and two-family bungalows located off the beach of Polynesian Resort. Like the upcoming Grand Flo DVC and Bay Lake Tower at the Contemporary, these bungalows would be part of a "monorail" resort and be priced accordingly. Having the unique quality of Disney's Tree House Villas and the feel of Disney's Aulani resort in Hawaii, the Polynesian bungalows would allow the Mouse House mix truly exotic accommodations with an exceptional theme park vacation. Where do I sign up?!
Lagoon show at Islands of Adventure featuring a seventh "island"
Word has been buzzing around for a while now concerning the prospects of a new lagoon show coming to Islands of Adventure. In past columns we've talked about reports of fireworks tests after park hours and several times guests have seen "markers" throughout the lagoon that are generally used by Universal Creative when planning where show elements will end up (similar markers were used in Universal Studios Florida before Cinematic Spectacular was built.) This would not be the first time IOA had a lagoon show, see the video below, but it has been well over a decade since the park had a nighttime extravaganza using its spectacular lagoon setting.
 [youtube_video]VgdMbJZZDyQ[/youtube_video]
While nothing is concrete, an idea that has been running around is that a seventh island would rise out of the lagoon (the other islands being Marvel Super Hero Island, Jurassic Park, Toon Lagoon, Seuss Landing, the Lost Continent and the Wizarding World of Harry Potter) and wreck havoc. Word going around is that Universal Creative wants to avoid using the water screens in order to differentiate the show from Cinematic Spectacular. Whether it's a brand new story, or one that incorporates elements from the current six islands at IOA, a nighttime show is an event that will help draw people back over to the park once USF has opened Transformers: the Ride 3D, The Simpsons expansion, and Harry Potter phase 2.
Imagination Pavilion: Be careful what you wish for…
The Imagination Pavilion at Epcot can be a hot button topic for many Disney fans. Longtime guests remember when the park opened, with headline attraction Journey into Imagination – featuring the Dreamfinder and the cute dragon Figment – being beloved by many. The attraction was renovated in1999, reducing Figment's role to all but a footnote and completely getting rid of the Dreamfinder. Renamed Journey into Your Imagination, this incarnation of the attraction ranks on many Disney fan's lists as one of the worst rides in the history of Walt Disney World.
After two years and many guest complaints, Disney retooled the attraction again and brought it back as Journey into Imagination with Figment, which is the ride that we have today. While Dreamfinder is still missing, Figment was given a much more prominent role in the new ride. While the complaints aren't as loud, not many guests love this version either and the attraction is one of the few within Epcot that almost never has a wait.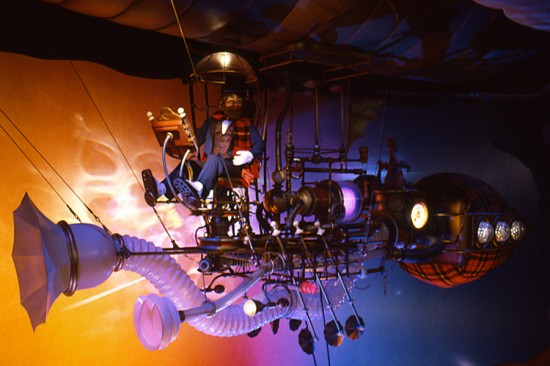 This week on the WDW Fanboys podcast discussed rumors around the Pavillion getting a makeover. While Figment would surely stay in some capacity – being such a huge revenue earner in terms of plush dolls and other merchandise – the overall theme would go to Disney Channel's popular Phineas and Ferb characters. Epcot has already started bringing this brand in the park, first by replacing Kim Possible's World Showcase Adventure with a similar game based around Agent P. Also, a signature drink was introduced earlier this year based around the character Dr. Doofenschmirtz, but much like LeFou's Brew in New Fantasyland, this "frozen raspberry with passion fruit sorbet foam" (served in a beaker) isn't making anyone forget butterbeer.
If Disney does go through with the much needed makeover for the Imagination Pavilion, it may be the rare accomplishment of serving no masters. The long time Epcot fans, already upset that the Finding Nemo brand took over the park's original The Living Seas Pavilion, would have to see one of the most beloved characters in Epcot – Figment – superseded by characters relatively new to pop culture. On the other hand, while Phineas and Ferb may be very popular now, there's a good chance that heat may cool off in the near future. Kim Possible was also an extremely popular show for a while, and now there is almost zero demand for the brand. Disney is a tough spot here as trying to cater to everyone could end up giving them a pavilion that no one wants.
Disney's Hollywood Studios update
Speaking of the WDW Fanboys, they also discussed some of what we may getting in the Disney Hollywood Studios makeover. We've discussed in previous Rumor columns about a version of Disney California Adventure's Cars Land coming to Orlando and replacing the Studio Backlot Tour, thereby allowing the park to expand Pixar Place. Nearby, we're hearing that the Indiana Jones Stunt Spectacular will also be leaving, as the Studios plans on using that area, and nearby parking lot space outside the park, to create an expanded area focusing on the Star Wars brand. Speculation is that we'll hear official details of this shortly, when Star Wars Weekends comes to Hollywood Studios in May.
What's interesting is hearing about using the parking lot space to expand the park footprint. Parking at the Studios is already bad in terms of limited capacity. During the popular Star Wars Weekends the parking lot regularly fills up and people are sent over to nearby Epcot to park. The fix for this would be a parking garage, similar to what Universal Studios uses and what will be coming to the upcoming Disney Springs project at Downtown Disney. For a long time I've held an I'll believe it when I see it philosophy when it comes to the Studios as much speculation surrounds that park and very little of it pans out. However, many sources are saying the same things now, and with new management in place looking to make their mark, some real change is coming to DHS.
To bring it all full circle, DHS was only created in order to take the wind out of Universal Studio's sails over 20 years ago. Knowing Universal was going to build a park in Orlando, Disney management used the benefits that come along with having their own "government" with the Reedy Creek Improvement District, allowing them to open DHS before Universal Studios Florida could. Because it was a rush job, many guests have felt throughout the years that DHS is only a "half day park".  And now it's the work being put into Universal Studios Florida, with Transformers, The Simpsons expansion, and the upcoming Potter expansion that is likely going to make Disney finally bite the bullet and make DHS a "full day park".
Agree, disagree, or have your own rumors? Leave a comment below. Or, check out all of our rumor posts.
[sws_author_bio user="derekburgan" size="105″ authorposts="More OI posts by Derek" name_format="About the author"] [/sws_author_bio]