Are we looking at the London waterfront in Universal Studios Florida?
In the March 30th Rumor Round Up we discussed the rumors buzzing around how the entrance to the London side of the USF Wizarding World expansion may shape up, and since that time the rapid construction in the park only seems to confirm our speculation. Thanks to Sean over at Orlando United we have a mock up of what the waterfront area of the new Harry Potter expansion may look like when completed: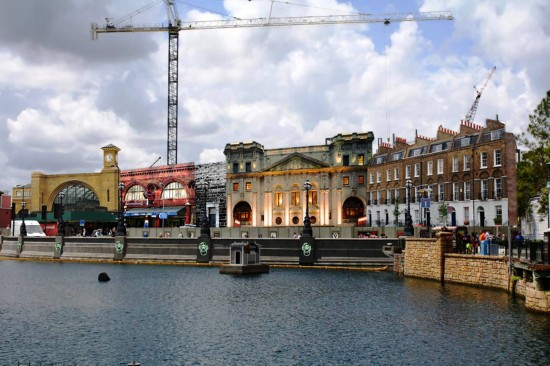 Based on this picture we see (left to right) King's Cross Station, Leicester Square Station, the entrance to the Leaky Cauldron, Wyndham's Theatre, and Grimmauld Place. This picture also shows the detail of the lion heads that will be adorning the lagoon wall.
Why Universal isn't announcing the Potter expansion just yet…
Previously we mentioned that Universal may not be announcing the Simpsons' Springfield expansion because Kentucky Fried Panda – one of the rumored dining locations in the area – is now off the table and will be replaced by a different restaurant. This week we are also hearing a reason why they haven't said a peep about all that construction for London side of the Wizarding World… and it isn't what you think.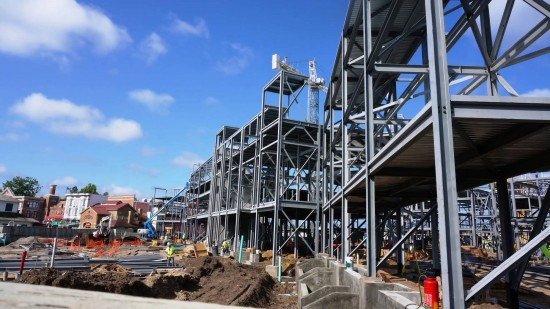 Conventional wisdom would indicate the reason Universal is keeping their mouths shut on Potter is because they don't want to take away from the any-day-now opening of Transformers: The Ride 3D and – eventually – the Simpsons expansion. Another reason may be that Harry Potter author JK Rowling has to sign off on everything related to WWoHP, and we mean everything, including press releases. However, we're also picking up chatter that Universal isn't going public because of lesson they learned the hard way when building the original Wizarding World in Islands of Adventure, one that affects the bottom line.
Universal announced it was building WWoHP in summer 2007 and opened the area in summer of 2010. Word going around is that Universal lost 30% of its Annual Passholders (APs) during those three years. Having been burned once, it makes sense that Universal doesn't want to make the exact same mistake now , which could be an even bigger financial loss considering how many more APs there are now combined with the price increases. Even though WWoHP phase 2 is much further along than phase 1 was at the same time frame, there's not much to gain in an official announcement while there is a big potential to lose a lot of money if some AP holders decide to not renew until everything is finished. In addition, countless one-time guests will delay their vacations to Universal once they learn the new Harry Potter area won't open until next year.
Epcot technology festival
A lot of buzz is circling around the idea that Epcot will be hosting a new festival in 2014 that will be based around the technology sector. Right now Epcot has the Flower & Garden Festival in the spring and the massively successful Food & Wine Festival in the fall. The new festival is rumored to be taking place in the January/February time frame.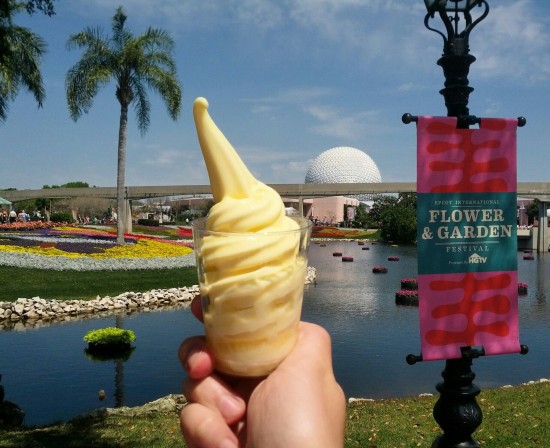 While nothing is set in stone, this is one concept that could really take off if done right. Other technology/electronic based events like the Consumer Electronics Show and E3 are extremely popular, and bringing that dynamic to a theme park could deliver some serious revenue while attracting new audiences. Think of how much Disney Hollywood Studios changes when Star Wars Weekends come around: what many consider to be a "half day park" often has to have guests park their vehicles at Epcot because the Star Wars theme draws in so many more people than usual. Now, instead of Star Wars fans, imagine if it was people who wanted to see the latest products from Apple, Google, or Panasonic.
Unlike Food & Wine and Flower & Garden, this festival would not be based around World Showcase and instead would take place primarily in Future World. While the recent addition of "healthy" food kiosks to Flower & Garden did not generate anywhere near the interest of the Food & Wine kiosks, expect brisk sales of alcohol at a Technology festival. The demographic they would be drawing the most from is the same that Universal gets for Halloween Horror Nights and Mardi Gras, and both those events rack up major dollars in alcohol sales.
More MyMagic+ problems
MyMagic+ is the foundation of Disney's "Next Gen" technology initiative, which the Mouse House has spent over $1,000,000,000 developing – and it's still not ready to go into full testing with current rumors circulating that another red flag has popped up. Recently Disney Hollywood Studios has shuttered two parades, the Pixar Pals Countdown to Fun parade and the Disney Channel Rocks parade. Some had suggested it was to get ready for an upcoming major overhaul of the park, but we're hearing from WDWinfo that the wireless microphones used by the parade performers may have been interfering with the RFID card readers at the front of the parks.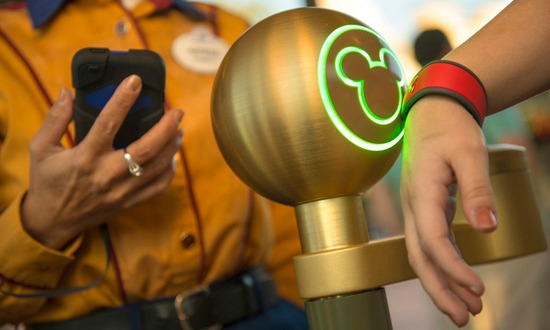 One of the components of MyMagic+ is that everything will be going to an RFID based system instead of the old paper system. Right now Disney is between stages — having guests use paper and plastic tickets encoded with RFID chips — until the introduction of RFID enabled MagicBands roll out later. Right now the RFID cards only get you into the park, but eventual the cards/MagicBands will also be used at attractions as your FastPass, they key to your on-site hotel room, and allow you to pay for food and merchandise along with other features.
Much like the film Jurassic Park, Disney has spared "no expense" on this new initiative but is also finding one problem after another trying to get the new program online. Some guests who have gone through beta testing report the Disney website and mobile apps not being able to sync their various reservations together. Other guests say the system is flawed because, unlike the current paper FastPass system that puts your return time on a paper ticket, the MagicBands don't have that simple reminder, so guests find themselves required to hand write their FastPass times on a piece of paper. And now with the parades, Disney is finding out the frequency being used by the RFID readers is having adverse affects on other areas of park operation. Will MyMagic+ be the big revenue stream Disney hopes it to be (their internal studies show guests should spend up to 20% more per trip), or will it turn out to be the biggest boondoggle in Orlando theme park history?
Agree, disagree, or have your own rumors? Leave a comment below. Or, check out all of our rumor posts.
[sws_author_bio user="derekburgan" size="105″ authorposts="More OI posts by Derek" name_format="About the author"] [/sws_author_bio]