Hogwarts Express lays new tracks in the sky
With the intermittent closings of Dragon Challenge over the last few weeks, it seems that some major work getting done during the day on the Hogwarts Express attraction that will link Islands of Adventure and the existing Wizarding World of Harry Potter to Universal Studios Florida. Over on Screamscape an anonymous source sent in pictures that show vertical construction of the Hogwarts Express track well underway, with the track elevated high enough to still allow Universal to use the backstage roads underneath.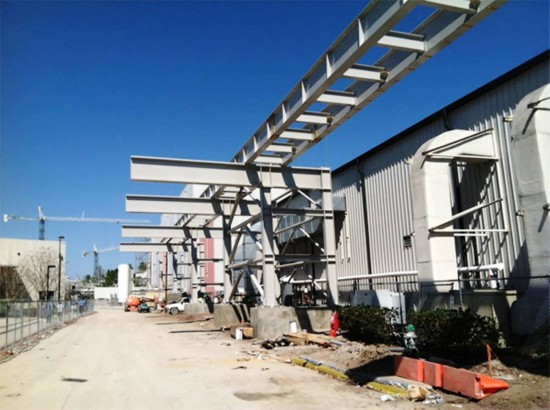 We've reported on the rumors of the Harry Potter Phase 2 opening as early as next summer, and while even I was skeptical at first, all signs are pointing to Universal putting a major rush on this project. Even though I find it almost impossible to believe even a month ago, the OI reader who suggested the coding on Transformers indicated King's Cross Station — where the Hogwarts Express leaves from on the London side of the Potter universe — would open next May could be right after all.
The Simpsons expansion to open before Universal announces it
Construction for Universal's expansion of The Simpsons area has been underway for a while now. The International Food & Film Festival restaurant is completely gone and in its place has popped up some very recognizable locations from The Simpsons universe, including Moe's Tavern and Krusty Burger. Recently Universal itself put out the word that it was looking to hire people to work in an "exciting, new new themed restaurant that will be opening soon." Well, there are no other restaurants opening anytime soon at Universal except the venues in Springfield. What's interesting is that Universal, who is already tight-lipped about construction projects on property, has yet to officially announce details of The Simpsons expansion. The only formal recognition has been this teaser in the last issue of the Universal Orlando PASSPORT mailer: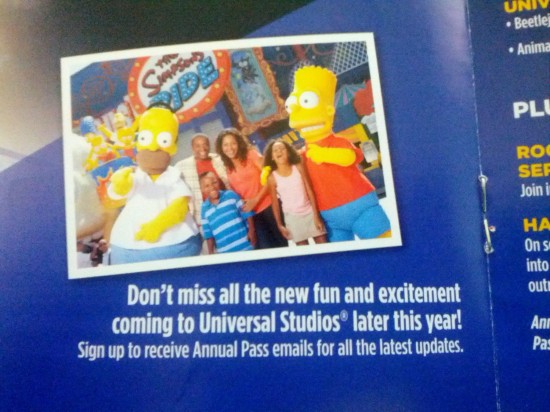 One rumor flying around this week comes to us straight from HateToFly over at the OrlandoUnited forums: the reason an official announcement hasn't been made is because some last minute changes are going on behind the scenes. Kentucky Fried Panda, one of the restaurants in Springfield's Fast Food Boulevard, appears to be cut from the expansion. Why it was cut is unknown, although one could speculate that Universal was looking ahead and cutting off the sure-to-come complaints from guests who did not understand the joke or found it to be in poor taste. What will be replacing KFP is unknown, but there is a wealth of material to mine from in the Simpsons catalog.
Bridges here, bridges there, bridges everywhere
This a 4-3 vote by the Orange County commissioners approved the use of taxpayer funds to build a pedestrian bridge on Universal property. This bridge will allow guests to walk from the upcoming Cabana Bay Beach Resort over to Universal's theme parks and CityWalk. Meanwhile, over at Downtown Disney, in the upcoming Disney Springs makeover, another bridge also looks to be coming to Orlando.
Rainforest Cafe, which has been in the process of a lengthy refurbishment, is rumored to be having a bridge built that will connect the restaurant with the area right in front of T-Rex and the LEGO Imagination Center.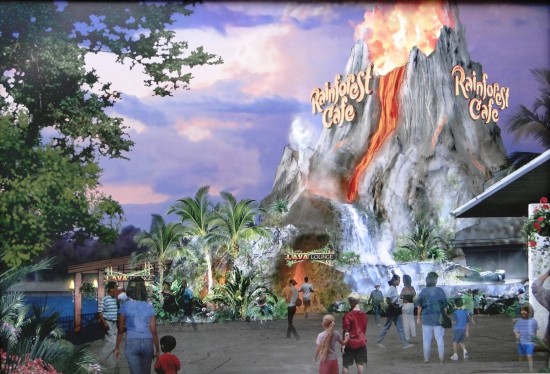 The current version of Downtown Disney has its flaws, and one of them is the sheer distance guests have to walk in order to get from one place to another. Located at the end of the Marketplace area at Downtown Disney, Rainforest Café can be quite a walk from many of the shopping district's other attractions, including the World of Disney Store.
The latest on James Cameron's World of Avatar
Over on MiceChat, Kevin Yee wrote about the prospects of Disney's Animal Kingdom actually getting James Cameron's World of Avatar. It looks like the incredibly popular Festival of the Lion King show will be moving over to the Africa section of the park, allowing Disney to use that space for part of the Avatar project. While we've discussed in the past that the original "plan" for this new area involved One E-ticket attraction and two other smaller rides — not unlike what Universal did for the original Wizarding World of Harry Potter and Disney California Adventure has for Cars Land — we're hearing now that the scope of the land may just be an elaborately themed and immersive environment that only includes one actual ride.
While I still don't believe there is any demand from guests for an Avatar "land" at a theme park (and I say that as a person who loves the movie), I will put my trust in James Cameron's quality control and the level of theming that Disney's Imagineers have been doing for the last several years. If James Cameron's World of Avatar does get built — and we'll probably start seeing construction start as early as this summer — its pedigree assures us that it will be breathtaking and a standard of excellence, regardless of its size.
Agree, disagree, or have your own rumors? Leave a comment below. Or, check out all of our rumor posts.
[sws_author_bio user="derekburgan" size="105″ authorposts="More OI posts by Derek" name_format="About the author"] [/sws_author_bio]