King Kong & Skull Island, meet Jurassic Park & Islands of adventure
Over at Screamscape this week there was a hot rumor that seemed to drop straight from the sky concerning Islands of Adventure. It's concerning a new attraction being brought into IOA, but has nothing to do with the Middle Earth rumors we've reported on in previous Rumor Round Ups. While this attraction would be based around a Peter Jackson film, but we're not talking about Lord of the Rings, instead it's King Kong.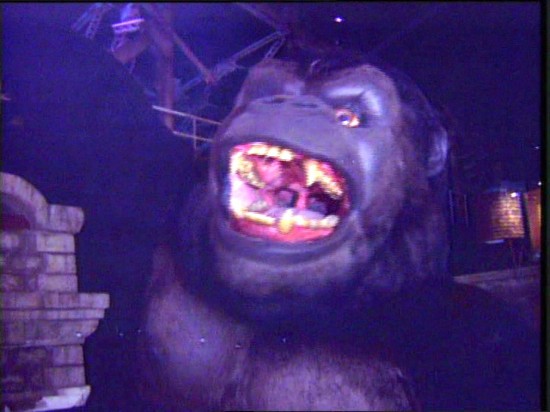 King Kong is one of the few properties that Universal actually owns, compared to having to license the rights for brands such as Marvel, Harry Potter and Dr. Seuss. Universal Studios Florida had Kongfrontation as an opening day attraction back in 1990, but it closed in 2002 to make room for the current Revenge of the Mummy coaster. Out at Universal Studios Hollywood, the King Kong Encounter was part of the famous Studio Tour until a massive fire burned it to the ground in 2008. King Kong: 360 3D was built as a replacement and opened in July of 2010. The new rumors suggest that the possible attraction for IOA would be part outdoor tram ride until something goes terribly awry, giving guests a chance to go inside and experience something similar to the immersive atmosphere of King Kong: 360 3D.
There is definitely space in IOA for this attraction, and it's always great to bring an iconic character like King Kong back into the parks. As good as brands like Despicable Me are, and as much of an improvement as The Simpsons Ride is over the Back to the Future attraction, intellectual properties like King Kong, JAWS and BTTF transcend mere popularity. These iconic brands resonate with every demographic and have shown they will last generations. It also helps that there is a natural segue between King Kong's Skull Island and Jurassic Park itself, especially the Skull Island in the 2005 Kong movie.
If you'd like to listen to more discussion on this topic, check out my appearance on Universal NOW! podcast episode 2.
Is James Cameron's World of Avatar less likely than Beastly Kingdom?
Earlier this week the Disney Parks Blog posted what seems an innocent story on guests being able to meet Mickey Mouse and Minnie at the new Adventurers Outpost in Animal Kingdom (formerly the Beastly Bazaar). To use a newspaper term, Disney "buried the lead" with this story, announcing at the end of the article that Camp Minnie-Mickey and the Festival of the Lion King will remain open to guests. To many, this confirms the rumors that the creative battle between James Cameron and Disney have neared a breaking point, and the proposed Avatarland will not be coming in.
It's widely believed that the attractions based on Avatar would go exactly where Camp Minnie-Mickey and FOTLK currently stand. In fact, at the time many believed as soon as the popular Mickey meet n' greet could be moved, Disney would close the Camp area to start getting ready for Cameron's version of Pandora.
This could all be a swerve by Disney to throw people off the scent, although who knows what they would gain by that. Keeping Camp Minnie-Mickey open so that guests can meet characters other than Mickey and Minnie will more than likely confuse many guests, so look for a name change in the near future unless the area does close later this Spring/Summer and this is a short term move by Disney.
SeaWorld getting into the Theme Park Wars with new attractions and makeovers
Last week SeaWorld announced that it would be bringing the Madagascar Live! Operation: Vacation show to Busch Gardens in Tampa, FL as well as SeaWorld in San Diego, CA. However, word is going around that they also plan to bring the show to the Orlando park as well, but are possibly holding off until 2014 as to not cut into the attention of the new attraction Antarctica: Empire of the Penguin — opening May 24.
In Orlando, the Madagascar show could possibly replace Allure in the Nautilus Theater. The Madagascar brand is hotter than ever, with the latest movie Madagascar 3: Europe's Most Wanted bringing in almost three quarters of a billion dollars at the box office. That's what we call a SMASH and to put those numbers in perspective, Disney's Brave and Wreck-it-Ralph could not cross the $550 million mark world wide, a full $200 million less than the latest Madagascar offering.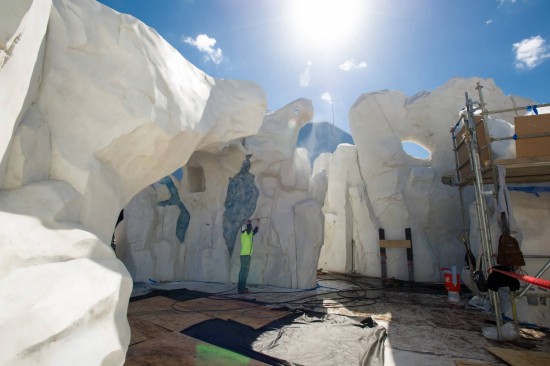 More rumors coming from SeaWorld involve the popular Clyde and Seamore Take Pirate Island show. SeaWorld Orlando is an interesting hybrid of a park that is family-oriented, with a focus on animals, but also has some great thrill rides with Manta and Kraken. While One Ocean, featuring Shamu and other killer whales, is the signature show at SeaWorld, Clyde and Seamore might be the overall best show in the park — especially if you include the hilarious preshow antics of the mimes. However, the comedy based show has seemingly been running forever, so buzz is building that it will be getting a much needed overhaul in 2014. With the new attractions online, including TurtleTrek, SeaWorld will be able to shut down this popular attraction and give it a makeover without having major capacity issues.
Optimus Prime opening a few doors to guests in the near future
The sleuths over at ParkRumors have done some digging and discovered that Universal has filed a permit to open retail space that is currently part of the Transformers: The Ride 3D project. This would mean that they would like to have a fully operational gift shop even as construction crews are finishing up the ride itself. Universal has already successful used this tactic before, when it opened the Super Silly Store a full month before the Despicable Me Minion Madness went into "technical rehearsals."
Social media is already exploding with guests sharing pictures of their Autobot or Decepticon t-shirts – emblazoned with the Universal Studios Florida logo – as well as the exclusive Transformer figure EVAC, bought at various kiosks and stores around the resort.
I'm telling her it's the hottest thing I've ever seen but she won't buy in! #Transformers @universalorl twitter.com/OrlandoInforme…

— Orlando Informer (@OrlandoInformer) January 26, 2013
An official Transformers gift shop would get all these items in one place as well as give Universal the opportunity to sell even more merchandise for fans awaiting the official open of the attraction. While they are at it, let's get an Energon station up and running to give Butterbeer a run for its money!
Agree, disagree, or have your own rumors? Leave a comment below. Or, check out all of our rumor posts.
[sws_author_bio user="derekburgan" size="105″ authorposts="More OI posts by Derek" name_format="About the author"] [/sws_author_bio]